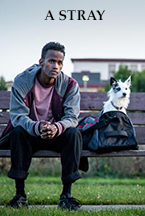 (The 2016 SXSW Film Festival kicked off March 11 and runs all the way until the 19th. We have boots on the ground and reviews coming in by the truckload so stay tuned to HtN throughout the fest!)
A stray? Astray? The ambiguous graphic placement of the letters in the title of this quietly moving new film from director Musa Syeed (Valley of Saints) leaves their meaning open to interpretation. As does the story, itself, which is ostensibly about a man and the dog he first hits with a car and then (reluctantly) adopts. Given that Adan – that man – is a Somali immigrant who finds himself homeless in the streets of Minneapolis, it's never clear who is the real stray. Not that it matters, as both dog and man are lost and in need of saving. In the grand neorealist tradition of films like Vittorio De Sica's 1952 masterpiece, Umberto D, Syeed gives us a sweetly melancholy tale of human-canine bonding that is about far more than that simple interspecies friendship.
It's a hostile world for a young man without close friends. When we first meet Adan (Barkhad Abdirahman, Captain Phillips), he's in the midst of fellow Somalis, yet clearly an outsider: the junior man of the group. A misstep leads to the death of one of their pets, and he flees, cast away. We soon learn that he does, in fact, have family, but has left home to make his own way. Now homeless, however, he has no choice but to take refuge in the local mosque, but even there things go wrong. And so it's to the streets, where he and a Jack Russell mix he names Laila make do with the scraps they can find. Unfortunately, however, Adan being a Muslim means that, to him, all dogs are impure, which kind of complicates the budding relationship.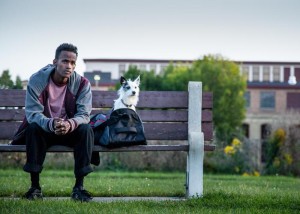 Without revealing his dramatic hand with big plays, Syeed creates a gentle meditation on American identity, particularly as it concerns new immigrants. Throughout human history, all strangers in strange lands have fought to hold on to their own traditions while adapting to their new homes. Adan's fraught (to say the least) interactions with Laila act as a perfect metaphor for that immigrant experience; he knows he should throw her aside, but he can't quite do so. It helps that she is ridiculously cute (Syeed has cast his animal well), with a face that not even an animal hater could despise, but even so it takes Adan a long time to choose a side. Abdirahman – a fine actor – more than holds his own next to the dog (proving W.C. Fields wrong), and it is a joy watching him (and the dog) ponder life's big questions. There are some other over-written moments in the film (including scenes with an FBI agent) that are less successful, but every time we are alone with Adan and Laila, the film is a marvel.
– Christopher Llewellyn Reed (@ChrisReedFilm)