2017 Oak Cliff Film Festival Wrap-Up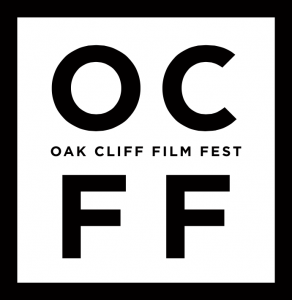 The 2017 Oak Cliff Film Festival ran June 8-11 and I was fortunate enough to attend for the second time as a juror. I truly adore the Oak Cliff Film Festival as well as festival founders Adam Donaghey, Barak Epstein and Jason Reimer. Each of these guys is completely different from one another personality wise but their passion for cinema and moreso, bringing amazing cinema to their home turf of Oak Cliff is a bond they share. If ever there's a cool, fun film festival to attend to see what a film festival is all about, it's the Oak Cliff Film Festival. I arrived in the late afternoon on Thursday, June 8 and was greeted at the airport by one of several amazing volunteer drivers. After I quickly dumped my stuff in my room, I headed over to the historic Texas Theater in the heart of Oak Cliff (which is an extremely cool neighborhood populated by artists, foodies and a longstanding Hispanic community) to get the lay of the land. Once there, I honestly felt myself audibly sigh just being inside such a glorious old movie house. The Texas Theater is a treat in and of itself all year round featuring indie films as well as cult and art house favorites. The theater has an amazing wall of famous directors, classic movie posters and an actual Robocop video game from the early nineties. Since I got in a bit late, I didn't really catch any films that night but rather caught up with old friends and drank loads of awesome local beer. Quite a start to a weekend of fun and cinematic exploration.
Friday morning started off slow as I came in fairly hot the night before. Plus, I still had a few short films to catch up on before my jury deliberations the next day. After getting my act together, I made it out to another classic "Only at the Oak Cliff Film Festival" event, the annual party at The Turner House. Being a lifelong west coaster, I'm a huge sucker for old school houses and architecture that are quintessential to a specific area. The Turner House, to me, is a classic Texas style ranch mansion (or, something). Featuring a beautiful front yard and glorious porch, we were all treated to complimentary Lone Star and Don Julio tequila and drinks. I stuck with the Lone Star as I wanted to have my act somewhat together for Alex Ross Perry's Golden Exits at 7:00. The film was indeed as wonderful and prickly as I'd heard and right afterwards, another party kicked into gear until the wee hours.
Saturday morning (o.k., early afternoon) again was a slow start for yours truly but I made it a point to get out and wander around Oak Cliff a little bit. The excellent microbrews at Oak Cliff's Small Brewpub were a welcome addition to my day and their unique "Pepper Pilsner" (a great, light Pils made with black pepper) quickly set me straight as I headed across the street to legendary local record store "Top Ten Records" which was recently bought by the Oak Cliff Film Fest trio of Donaghey, Epsetin and Reimer. The store was pretty vacant as refurbishing had just begun but trust me, it's going to be cool. As many of us meandered around drinking more awesome local beers, our drivers soon came in to pull us away for our jury deliberations.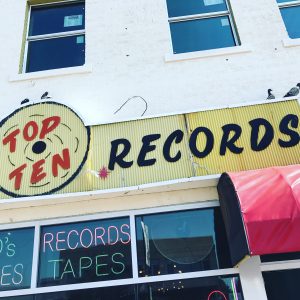 It's become fairly cliché (or in some cases, merely polite) to note just how great every film in a jurors category is. But in the case of the Oak Cliff Film Festival shorts, they were all very, very unique and very solid. My co-jurors, local filmmaker Sai Selvarajan and David Sedman, Associate Dean and Professor of Film Studies at SMU and I made quick work of our deliberation and ended up awarding Joe Sackett's Pregnant, a film HtN readers know well top prize. (I added the list of winners at the end of this wrap-up). Luckily our deliberation was smooth as I was anxious to check out Alejandro Jodorowsky's Endless Poetry.
If I'm being honest, I have to admit that sometimes Jodorowsky can leave me a bit frustrated. While I admire his creativity and outrageousness, I'm honestly not a huge fan of psychedelia or avant-garde most of the time. I guess I'm a closed minded prude. But in terms of Jodorowsky, I'm always willing to give his work a try and where better than on a huge screen in a classic movie theater with a sold-out crowd? Endless Poetry turned out to be a wonderful, inspiring surprise and by far one of Jodorowsky's most honestly personal films. While it's easy (and, lazy) to say all of his films are personal, Endless Poetry is actually autobiographical in nature, detailing Jodorowsky's coming to terms with himself as an artist who simply must be creating at all times and at all costs. Portraying the auteur is his son Adan Jodorowsky and while the film is every bit a coming of age tale, it also features many excellent…shall we say….off-beat Jodorowsky flourishes. I found myself completely drawn in by the film and inspired by the time it ended. Also fun was a behind-the-movie-screen concert later that night featuring Adan Jodorowsky.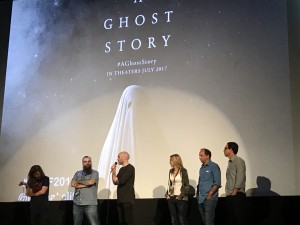 I took it a bit easy Saturday night as Oak Cliff features an awards brunch Sunday morning. I definitely felt better than many of my fellow jurors looked as 11:00 am on day 3-4 of a film festival comes early. After the brunch many of us meandered around and hung out, all anxiously awaiting hometown hero David Lowery's much anticipated A Ghost Story which I'm honestly still reeling a bit from. In a good way. Wait, maybe a sad way. Well, ask me in a few hours how I feel and also, please make it a point to see the film when it hits theaters July 7. I also caught Jeff Baena's hilarious and outlandish The Little Hours which is well worth your time and sneaking into theaters now.
I get to attend a few film festivals a year as Editor of HtN and it's truly an honor to attend the Oak Cliff Film Festival. It's the kind of fest that is late enough in the year to pick the coolest, most buzzed about films from the festival circuit (such as Lemon, Person to Person and Infinity Baby) as well as territorial premieres and classic like Jonathan Demme's awesome Something Wild. I hope I get to add the Oak Cliff Film Festival to my list of permanent attendance as I love the fest, the city, the people and the films. I highly recommend the fest to everyone who loves a great film fest in a cool area that does a great job combining great films with local flair.
Jury Selection Prize Winners
Narrative Feature – Grand Jury Prize: La Barracuda, Dir. Julia Halperin & Jason Cortland
Documentary Feature – Grand Jury Prize: True Conviction, Dir. Jamie Meltzer & The Men of True Conviction: Christopher Scott, Johnnie Lindsey, and Steven Phillips
Documentary Feature – Special Jury Prize for Visual Portraiture: World Without End, Dir. Jem Cohen
Narrative Shorts – Grand Jury Prize: Pregnant, Dir. Joseph Sackett
Documentary Shorts – Grand Jury Prize: The Polaroid Job, Dir. Mike Plante
Documentary Shorts – Special Jury Prize: Richard Twice, Dir. Matthew Salton
Student Shorts – Grand Jury Prize: South Texas Cow Punk, Dir. Carlo Nasisse