A Conversation with Alex Ross Perry (GOLDEN EXITS)
I met with writer/director Alex Ross Perry, on Saturday, May 6, 2017, at the Maryland Film Festival, to discuss his latest feature, Golden Exits (reviewed here), which premiered at Sundance. A profile of existential angst among a cross-section of Brooklynites – and one Aussie – the film features Perry's signature rich dialogue and engaged performances. Here is a condensed digest of our conversation.
Hammer to Nail: Your film starts with a shot of a plane, and then an extended medium close-up of lead actress Emily Browning singing "Back in the New York Groove." It's a nice mood starter. How did you decide to begin that way?
Alex Ross Perry: Well, it was one of those ideas that doesn't necessarily come obviously, but at some point, once it takes hold, you can never conceive of there being a beginning of the movie that doesn't have that. So in this case, it came to me, with Emily, during the shoot. She had done this singing scene, which occurs about halfway through the movie, in her apartment, where she sings a little song. And it was really nice, but people were saying, "This would be a lot better if there were a second moment in the film where she sings, as well." And I really love that song. I couldn't tell you when or where or how that exact idea occurred to me, but once it was in there, there was never a way for me to imagine the beginning of the movie without it. I think the guiding principle was that it's familiar and an homage to a similar beginning in Alice in the Cities [Wim Wenders, 1974], so it felt like we were tipping our hat in the right direction.
HtN: You have a great cast – you always have great casts in your films – including the aforementioned Emily Browning, Jason Schwartzman (whom you've worked with before), Chloe Sevigny, Mary-Louise Parker, and Beastie Boy member Adam Horovitz, otherwise known as Ad-Rock. They work wonderfully together. Could you talk about how you put the cast together?
 ARP: About half of the cast came from people I had been meeting for a movie I had been trying to make at the same time last year. That movie was never that close to happening, but we had one element in place as of about August of the previous year that made us say, "We're going to try and make this movie in April." So I put my entire crew, whom I like working with, on hold – that's the DP [Director of Photography], Wardrobe, Make-Up, Production Design, Editor, Composer – and Jason was also supposed to be in that other movie. He had a hold on April, already. I then started meeting with all these great actresses. That's where I met Emily Browning, Analeigh Tipton…to make this other movie. And then I started to feel, by about October or November – so only about two months later – that that movie is very, very, very obviously not happening in April. If it were, we would know by December.
So I started to read the writing on the wall and get very nervous, but I had everything that I needed. Meanwhile, a lot of the crew, who I didn't make a movie without, started to say, "Hey, I'm starting to get some offers for April. Are we shooting or not?" And I said, "Yeah, we're just going to shoot a different movie." And I was already writing this, and then I was able to just send, in the case of Analeigh or Emily, a quick email, saying, "Hey, we had a great meeting. I wish we were making that movie. We're not. I'm making another movie. If you still want to collaborate, I would love to have you on this." And everybody I said that to, from cast to crew, said yes. And then I was able to write, knowing that they were in. Chloe was in that same boat. I had met her before, on another project, and was able to say to her, "Would you like to make this movie, instead?"
So I had Chloe, Jason and Emily, which is about half the cast, and I was able to write and think, "So who do I want to be Chloe's husband. I've never worked with a guy in his forties. That's a whole new thing for me. Who do I want to be Chloe's sister? That's a woman in her forties and fifties, and that's a whole new world to me, as well." So then I was just thinking of where else can I create characters that will put me with actors that I have never met. I can't just email Mary-Louise and say, "Hey, do you want to make this movie?" I had to start from scratch for some of these roles and meet new people, which was very exciting.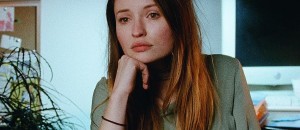 HtN: And why Ad-Rock?
ARP: I said, "I need a guy, a New York local, in his forties, and this guy's got to be married to Chloe Sevigny. So keep that in mind when you're sending me actor suggestions." I got sent a list of potential available talent. I saw Adam's name on it, and I just thought, "Oh, right, he's amazing in While We're Young. If there's any chance that I can work with Adam Horovitz, the answer is yes. He's the guy." We need a guy who's cool, because he lives in Brooklyn with a cool, attractive wife, but we also need a guy who's very sad and disappointed. We also need a guy who looks wickedly smart, and very capable and intelligent. Very meticulous.
So, you know, you're talking about a guy in that demographic…not every guy looks intelligent. I always end up needing characters who seem intelligent. So somebody like Adam, who's a normal guy like me or any guy that I'd actually want to spend time with, looks the part more than a guy who's more on the macho, beefy side. He's like a real man – a real, normal guy – and he fits into my world perfectly. So as soon as I saw his name, I thought, "If there's any chance that this is a possibility, then he's the guy." And I met with him and I said, right away, "If I could just right now be making a movie with this guy, I would do it." And it worked out, and was great.
 HtN: Yes, he's great in the role. So, your film is punctuated by on-screen dates, which take us through Emily's two-month internship in New York. The actual dates we see don't always appear at specific intervals – April 8, April 12, April 19, April 22, April 23, etc – and I'm just curious about the thought process of which dates to show. Were the dates chosen deliberately, or did you just want to show a passage of time, regardless of intervals?
ARP: Well, that's a kind of Eric Rohmer thing. The movie is very deliberately and meticulously inspired by a lot of later Rohmer films, specifically his 80s and 90s films. They, and many of his earlier films, too, usually take a finite period of time, put a character in a place where they don't normally live or belong, and then the movie is just watching what happens when that character is in this new place for, let's say, a vacation, sometimes a week, sometimes a month. Look at a film like Claire's Knee, which takes place over the month of July, and has on-screen dates, but not for every day. Sometimes it'll be four days in a row – July 10, 11, 12, and 13 – and then it'll say … July 17. Now, I didn't know this when I was making the movie, because I hadn't seen Claire's Knee in 10 years, but I revisited it later, after I'd finished this movie and thought, "Oh! This is exactly what we did."
You know, the dates, they're not random random in that, when she comes over to their house for a lunch, that's a weekend, and then when she starts on her first day of work, that's a Monday, so it's like two days later. So, I picked them while looking at a calendar to figure it all out. It's my interpretation of what the story is and feels like, because a lot of the scenes take place during the work week. When Jason ducks out for lunch, you know that that's a Monday through a Friday. And then if it's the day after and Adam is working when it's his birthday, you know these are both workdays. So it's meticulous, but also open to flexibility.
HtN: I also really liked the choice of turquoise color and the drop shadow for those titles. How much time did you spend thinking about that particular design?
 ARP: Well, as always, more than I think most people do, because I have a really talented title designer, who I like working with, and we enjoy cooking up, on each film, the unique elements that we're going to put into play with the visual syntax of the titles. We've been talking for years about wanting to do something with italics. Italics are beautiful when they're used properly and done well. How do we get those into a movie, somehow? We wanted this movie to not have a deliberately retro font. The fonts in both Listen Up Philip and Queen of Earth are deliberately retro, whereas this is just bold italics.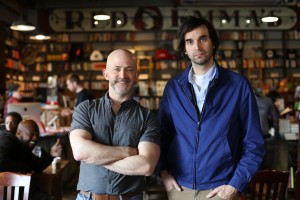 HtN: What font is it? Helvetica?
ARP: I don't think it's Helvetica. I couldn't tell you the name of the font. I doubt that the title designer, Teddy Blanks, would use such a well-known font. I'm sure he would go a little deeper, possibly even create one.
HtN: Although, if you've ever seen the documentary Helvetica, there's nothing wrong with using Helvetica …
ARP: I'm sure that it's not. But it's obviously a similar, blocky font. We just were ready to get italics in there. The titles in Listen Up Philip were yellow; the titles in Queen of Earth are red; so logically, it follows that these ones would be blue.
HtN: Well, I liked them. So, I read, in another interview, that you called this film "very non-commercial." I wouldn't necessarily call it that, and I think it's in line with the aesthetic of your other films. What makes you call this one, in particular, a non-commercial film?
 ARP: Because I made it, and therefore it can't be commercial … I just made this one with no consideration for the marketplace of what people want out of independent movies, at this point in time: what movies do well; what movies sell. I made this one out of a pure desire to create something that was idiosyncratic in its presentation, in its form, in its content, and to take things that I was interested in, not because I have seen them done successfully in successful movies, but because I wanted to explore them, myself, and I wanted to teach myself new tricks and I wanted to find new ways of writing, new ways of working with a crew that I have, in some cases, made five movies with. I wanted to find new ways of writing scenes between two characters.
So there was a lot about this that I felt the need to explore, personally, including the fact that I was writing it during a time when I was mostly working on several paid writing jobs, including for studios. So a lot of what I was writing, I was thinking very critically about the specifics of each moment, and set-up and payoff, and this and that and sticking to the formula so that the movie works and the script is very much what you need it to be for a studio movie, like the one I was writing at the time.
HtN: Weren't you writing a Winnie the Pooh adaptation?
 ARP: Yeah. That's what I was referring to. And I was writing a sitcom pilot that never went anywhere. I was writing a lot of things where I was living or dying by the notes, the structure, the formula, so when I finally made time to write my own thing, knowing I was going to get to make it, I just wanted to write it without any of those rules. To just say, "This movie can have three five-minute scenes in a row." You can't do that on a pilot, you can't do that on Christopher Robin, but you can do that when you're just writing for yourself. So, because I knew I was adhering to none of the beats of what makes people say, "Now this is a movie that we can sell to a lot of people," and I was adhering only to the beats from European art films from 30 years ago, that means that this is a film only for people who care about great cinema and want to sit there and find something that challenges them and ask questions about why this movie is the way it is.
HtN: And what is the significance of the title, Golden Exits?
 ARP: It's my belief that the title is explained twice in the movie, both times by Lily Rabe's character, in two separate scenes where she talks as the only character in the movie who seems to acknowledge her lack of connection to the other people in the movie. She is the only one who is alone – because Jason and Analeigh are married, and Chloe and Adam are married – and doesn't want to be, because Mary-Louise does want to be alone. And Lily is sort of monologuing in two separate points in the movie about the way that she perceives relationships as having a beginning, middle and end. If you were to put a gun to my head, I would say it contains the explanation of the title, twice.
HtN: Fair enough. Last question: filmmakers and others from outside Baltimore really seem to like the Maryland Film Festival a lot. Why do you think that is? You come here all the time, so what makes it special to you?
ARP: It's hard to even know where to start. For me, it's just … the only way to explain what's so nice about it is both in opposition and contrast to other film festivals. I'm seeing 2 or 3 movies a day. In between every one, I'm walking directly across the street into a room full of all filmmakers, all friends, all people I respect and enjoy being around. You can go to film festivals that have a lot going on: a million obligations, meetings, press … this, right now, is probably the only interview I have ever done at this film festival, and I've come here seven times, because there are just no obligations.
The only obligations are to see movies and hang out with filmmakers, which to me hearkens back to my idea, from 1996, of a what a film festival was, when I was in middle school and discovering independent cinema, which was, "This must be a place where all these filmmakers hang out and meet each other." You go to a place like Sundance, you're doing very little of that. You're running all over the place, you have meetings, you have 9am meetings, you have 11pm drink meetings, you have a complete schedule handed to you every day, and you're lucky if you get to hang out with your friends at all. And there's something about that, because that's part of the business, but this is not that at all. This is just about watching movies and being around filmmakers and ultimately, that's really all that it should be about.
HtN: Well, thanks Alex, and good luck with the film.
ARP: Thanks.
– Christopher Llewellyn Reed (@ChrisReedFilm)