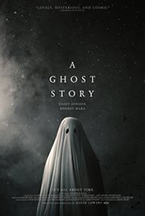 (The 6th Annual Oak Cliff Film Festival ran June 8-11 in Dallas, Texas. A Ghost Story was the closing night film and opens nationally this July via A24.)
I'm getting divorced. After nearly 20 years together and a 16th wedding anniversary coming up in July, the biggest, longest and most important relationship of my life is ending. Scratch that, it's over. At least in this manifestation. Her home is no longer my home, we have separate houses. There's no more family vacations, no more family gatherings at her parents home nor at mine. When her cousin, who I've known since she was 6 gets married, I probably won't get to be there. When I get home tonight, it'll be to an empty house, no hugs or kisses for me. To say it's painful for me would be an understatement. The person I love has moved forward and I'm still lingering behind, trying to pick up the pieces of my broken heart.
While David Lowery's A Ghost Story is about many things, obviously the loss and inability to move on struck a powerful chord in me. It's not a spoiler to say that the lead character played by Casey Affleck (and named only "C") is a ghost. The name of the film is A Ghost Story and promo material features the ghost front and center. C's pre-ghost existence was that of a musician living in a house with girlfriend "M" played by Rooney Mara. After a tragic accident C becomes a ghost in the classic bed sheet style which, if you try to explain that to someone, will not come off as interesting as it does in the film. But essentially he lingers around his former home as life moves on all around him. The film isn't horror at all but it strikes at some deep truths about life, death, love and loss. Those can be terrifying truths.
Time and temporality are also major themes in the film and my soon-to-be-ex-wife and I talk about time frequently. Maybe we had "our time" and that was all we were supposed to have. We still love each other, maybe more than ever but…time. Will it heal this or drag it out? She and I had a beautiful talk about how time can look like an accordion and kind of meet at different junctures or maybe loop back on itself. It's malleable and can be used or wasted. A Ghost Story gets at this as well. There's a fantastic scene at a party where Will Oldham deep dives in a kind of drunken ramble about the existential dilemma we all face at some point. In a nutshell, time is meaningless and, for the realistic (ie; dark and depressing) types our lives are short and we leave behind only what we create. Maybe it resonates with others and maybe no one ever hears the song we wrote or sees the film we make. It's not really up to us. All we can do is use the time we have.
Lowery has easily made the bravest film of the year as A Ghost Story is quiet to the point of discomfort. This is not only gutsy it's also brilliant as it gives viewers the chance to really reflect on what's going on both onscreen and within themselves. It's powerful and quite an accomplishment and the film is beautifully shot and presented in 1.33:1 aspect ration (essentially a squre) which gives a sense of the restrictions C faces as a ghost. For me the most powerful moments in the film are scenes where C 's ghost is desperately trying to get at something hidden in a wall. He spends countless hours scratching at it, perseverating to the point of obsession. Neither his character nor the audience knows what's inside the wall and, that's the point. We can spend our time scratching at something, poking, wondering what it is and what it means but, we only have so much time. Why not step away from what might be or might not have been or what may or may not be an "answer" or closure and move forward? I should listen to the advice in A Ghost Story.
– Don R. Lewis (@ThatDonLewis)