Lauren Wissot's 2016 Florida Film Festival Wrap-Up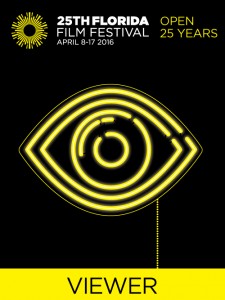 (The 25th Florida Film Festival kicked off April 8 and wrapped on the 17th. Our Lauren Wissot was on the scene and provides this excellent recap.)
The Florida Film Festival (April 8-17), now a quarter-century old, technically takes place in Maitland, a mere 15-minute drive from Orlando, where attendees were housed at the DoubleTree overlooking the lovely Lake Ivanhoe downtown. Orlando itself is a city one might associate more with Mickey Mouse than with Terence Malick. However, one would be wrong. The town boasts an abundance of lakes (surrounded by rapidly gentrifying historic neighborhoods), not rides (it's around a half-hour drive to those theme parks). And this year's FFF hosted a Badlands retro screening with none other than Sissy Spacek in attendance to chat about both "Terry" and her astonishing career. (Who else worked with mavericks like Malick, De Palma, Andy Warhol, Robert Altman – all before turning 30 and winning an Oscar?) Cinephile culture, it seems, is alive and well in "The City Beautiful," and its surrounding towns.
FFF – an Oscar-qualifying fest for both Live Action Short and Animated Short – is run by the friendly folks at the Enzian, an utterly charming, one-screen art-house cinema attached to the Eden Bar (for alfresco dining and drinks) that serves as the festival's main venue. Though I was only able to take in a portion of the whopping 170 films and events, several standout flicks and a one-of-a-kind opportunity – a sit-down interview with the radiant and unsurprisingly gracious Spacek – made my time at the fest memorable.
Too often critics covering festivals focus on buzzy, feature-length works at the expense of many superior shorts – and I'm certainly no exception. I really hadn't planned on writing about FFF's Best Documentary Short winner, yet any film I'll gladly sit through twice is worth championing. I first saw Amy Nicholson's Pickle at the Full Frame Documentary Film Festival – where it was smartly paired with Penny Lane's Nuts! and went on to win the Audience Award in the shorts category – and watched it again in Florida. The 16-minute crowd-pleaser is practically a love letter to Errol Morris in both style and quirky subject matter, as it follows the twisting-and-turning (and true tall) tale of Tom and Debbie Nicholson, an endearing, creature-loving couple whose numerous odd pets died many strange deaths. With delightful animation – used to illustrate the series of whimsical tragedies – bringing to mind Edward Gorey, Pickle treats us to off-the-cuff recollections from Tom such as, "So I built a condominium for Peanut" (a dying cat who ended up living for 13 years). As well as, "I made him a little skateboard" (for the paraplegic possum), and "Debbie found this deformed fish" (which was Pickle – who, sadly, eventually died from electrocution). With truth like that, who needs fiction? (**Note from Florida Film Festival's head programmer: I did want to just mention that we have the Oscar accreditation  in all 3 categories this year (including Doc Short) so Pickle qualified for Oscar consideration with its Grand Jury Award.  This is a huge deal for us, since the accreditation went into effect immediately upon our approval last December.  A big perk for filmmakers that entered this year and didn't know the accreditation was coming!!!")
And though I tried to avoid those already-hyped films, I couldn't help but succumb to the charms of one particular SXSW darling. Magnolia recently picked up Presenting Princess Shaw, and it's not hard to see why. Israeli director Ido Haar's doc starts out on a pretentious note – with Israeli musician, aka Kutiman, showing his YouTube video mash up project at (well, rather "on") the Guggenheim to a packed hipster crowd – but soon transforms into something much deeper. Kutiman, we learn, has discovered a woman in New Orleans named Samantha Montgomery, aka Princess Shaw, an eldercare worker by day and YouTube singer by night, whose acapella tunes become the basis of the artist's work. Without her even knowing it, this African-American woman with a hard-knock life becomes a protagonist in a long-distance, musical love story – the unsuspecting focus of a secret fan on another continent. The doc feels a bit like Once in its sincere sweetness.
It's also interesting in concept. Haar alternates smoothly between filming the optimistic Princess and her daily struggles, and Kutiman's process – as he watches YouTube clips and practices with his orchestra in Israel, remaining nearly silent himself – creating songs for an unheralded singer. Princess's often-chaotic world is artistically juxtaposed with Kutiman's life of solitude and calm.
And the director gets enough access to Princess – including a painful scene in which she discusses sexual abuse with her cousin – that she becomes a full-fledged human being, not just a powerless part of a music (and documentary) gimmick. Kutiman even listens to her heartfelt confessions on YouTube, which gives him a deeper understanding of her creations as well. (Bearded and monk-like, Kutiman also appears to be a truly humble guy – which goes a long way to explaining why he hasn't been sued for his pirated mash ups.) The doc keeps us watching, waiting for that poignant moment when Princess finally learns of the admirer that is using her as his muse from a world away.
Also a world away is another strong-willed woman taking center stage in Nanfu Wang's Sundance-premiering Hooligan Sparrow. Executive produced by Ai Weiwei: Never Sorry director Alison Klayman – the titular main character is one of the nudes featured alongside a naked Ai in that infamous photo – the doc is a harrowing journey that follows China's pseudonymous sex workers'/women's rights activist Sparrow as she confronts the Chinese government. Leaving no one in her orbit – including a young daughter, who's become accustomed to life forever on the run – nor the filmmaker safe.
Our introduction to this declared "enemy of the state" begins with Sparrow protesting a scandal involving a school principal who took six young female students (ages 11 to 14) to a hotel, but was never prosecuted – despite videotape evidence. (When public outrage ensued the educator quickly claimed that the girls had been paid $2K – thus hadn't been raped.) Sparrow, however, is not just the target of Wang's camera, but also of omnipresent hidden surveillance. Like the Stasi the Chinese secret police are everywhere and nowhere. Indeed, Wang is never quite sure who the "background extras" in her frame truly are.
And yet there are some lighthearted moments. When Sparrow discusses the campaign that made her famous – offering free sex at a brothel – she mischievously recalls telling one john that she'd actually been sent by the central government in Beijing. "Communism is great – even sex is free!" she exclaims, laughing. Though when Sparrow later admits that the only connection between her and her rural family, unaware of her activism, is "survival" that playful jab at communism rings more like gallows humor.
But the one film that truly rocked my world was yet another portrait featuring a kickass chick, Garrett Zevgetis's cinematic and breathtaking Best and Most Beautiful Things, which took a Special Jury Award at FFF. The title a nod to the words of Helen Keller, this SXSW-debuting, coming-of-age doc follows Michelle Smith, a young woman, recently graduated and job hunting, in Bangor, Maine, who has a rebel fashion sense and wry comic timing. (She was dressed like any avid fan of Werecat Sisters would when I saw her at the FFF awards ceremony – where she thanked all her supporters, including her cat.) She also happens to have Asperger's syndrome and is legally blind. And by the time Zevgetis starts shooting she's already been through both her parents' difficult divorce and a younger brother's death.
But this film is far from tragic. Using the visual beauty of Bangor as a backdrop to this sightless woman's life, Zevgetis's lens sees things in Michelle that are every bit as awe-inspiring as the untamed nature of Maine. Despite – or perhaps because of – being blind, Michelle is incredibly perceptive, at one point confronting a former counselor who'd had low expectations for her. She complains that the individuality of persons with disabilities is not respected in the same way as the individuality of the nondisabled, who are allowed to have quirks without those quirks being deemed "side effects" of a condition. Other people's ignorance should not be her burden to bear, Michelle declares.
And as she fights against condescension, for her right to be an autonomous adult, she finds online a group of equally nonconforming folks willing to accept her for who she is – the kink community. She's normal in her abnormality in the fetish world. When she begins to explore BDSM it actually makes perfect sense (at least to those of us drawn to the lifestyle for similar reasons). Michelle, with her anime-inspired look, is someone with an intelligent hunger for life, who craves more than what society has deemed acceptable for her. Through submission she's able to reclaim the power she loses against her will whenever others condescend to her. In other words, she's suddenly being treated like a baby on her own terms. (That said, convincing mom to be accepting is something even the most perfectly-abled kinkster might not succeed at.)
In this sense, Best and Most Beautiful Things has a lot in common with Kirby Dick's extraordinary 1997 doc Sick: The Life and Death of Bob Flanagan, another story of the disabled finding refuge in BDSM. At the end of Zevgetis's film, Michelle announces that she's proud to be a nerdy, pansexual, kinkster (as she describes herself). "I'm already living my dream of being myself," she's discovered. And how many able-bodied, "normal" folks can say that?
– Lauren Wissot