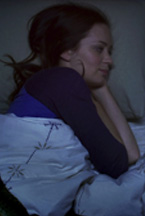 (Your Sister's Sister is now available on DVD
, Blu-ray
, and at Amazon Instant. It world premiered at the 2011 Toronto International Film Festival, where it was quickly snatched up by IFC Films.)
Your Sister's Sister, the remarkably assured fourth feature film from Lynn Shelton (My Effortless Brilliance, Humpday), is the story of Iris (Emily Blunt) and Jack (Mark Duplass), two longtime friends looking to find happiness at the end of a difficult year. When Iris offers Jack the opportunity to get away from it all by staying alone at her family's home in an isolated corner of an island wood, he seizes the chance to spend some time dealing his emotions. But when Jack arrives, he discovers Iris' sister Hannah (Rosemarie DeWitt), in need of her own introspective space, has set up shop in the house. Without revealing the charms and surprises of the story, it's safe to say things get unexpectedly complicated before coming to a graceful resolution that has a lot to say about how we define family in the 21st century.
And it is here, with its construction of new modes of happiness, fulfillment and non-traditional family, that Your Sister's Sister shifts from an elegant, moving comic melodrama into something far more interesting: a vanguard piece of popular entertainment that, at its core, is looking to open minds and hearts to diverse forms of love. Thematically, Shelton's films seem to be expanding one by one, drawing outward from the haunting introspection of We Go Way Back, to the comic dismantling of self-certitude in My Effortless Brilliance, to the limits of masculine social constructs in Humpday.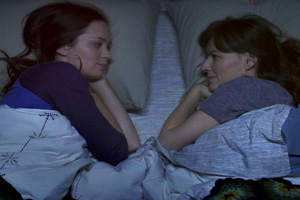 I'll confess that I see Your Sister's Sister as a deeply political film, but of a kind that plays its politics naturally, without even a hint of self-awareness or doubt. With each of her movies, Shelton's storytelling, both visually and narratively, has broadened, enlarging not only the social concerns of her characters but the subversive political impact of her work. Here, as in Humpday, people of differing sexual orientations take one another at face value, their interest in one another generous and moving in its malleability. Shelton's characters are up for a good time, but they also have a lot of emotional unpacking to do. There is sex and love, together and separate, at the core of Shelton's work, but it is the shared recognition of her characters' losses, the pain of their personal relationships, that draws them together.
The performances of the film's leads are of special note here; each actor gives full life to their richly drawn character. And while Mark Duplass is in typically fine form, moving between frustration, shaggy hilarity and genuine regret, I was deeply touched by the natural intimacy between Emily Blunt and Rosemarie DeWitt as Iris and Hannah. For me, the centerpiece moment is a late night confession by Iris to Hannah as the sisters lay in bed; Blunt's whispers are full of longing and need, and as she talks, you can feel everything changing between the two women. The scene does its job of moving the story forward, but it is also a remarkably subtle piece of filmmaking, performance and storytelling, exemplifying Shelton's best qualities as a filmmaker.
Shelton plays pathos for laughs and tears, shifting effortlessly between categories of feeling, and if her stories are ultimately slight in their plotting (they often hang on the complex ramifications of a single decision), the depth of their emotions—and the eloquent ways in which those feelings are expressed—more than make up the difference. In its celebration of empathy and feeling, which proposes that perhaps the greatest aspect of love is how its flexibility draws us closer to understanding one another, Your Sister's Sister feels almost radical. The cinema needs all of the compassion it can muster, which is why Shelton's work is so exciting to me and why I really hope audiences find this movie. More of this, please.
— Tom Hall