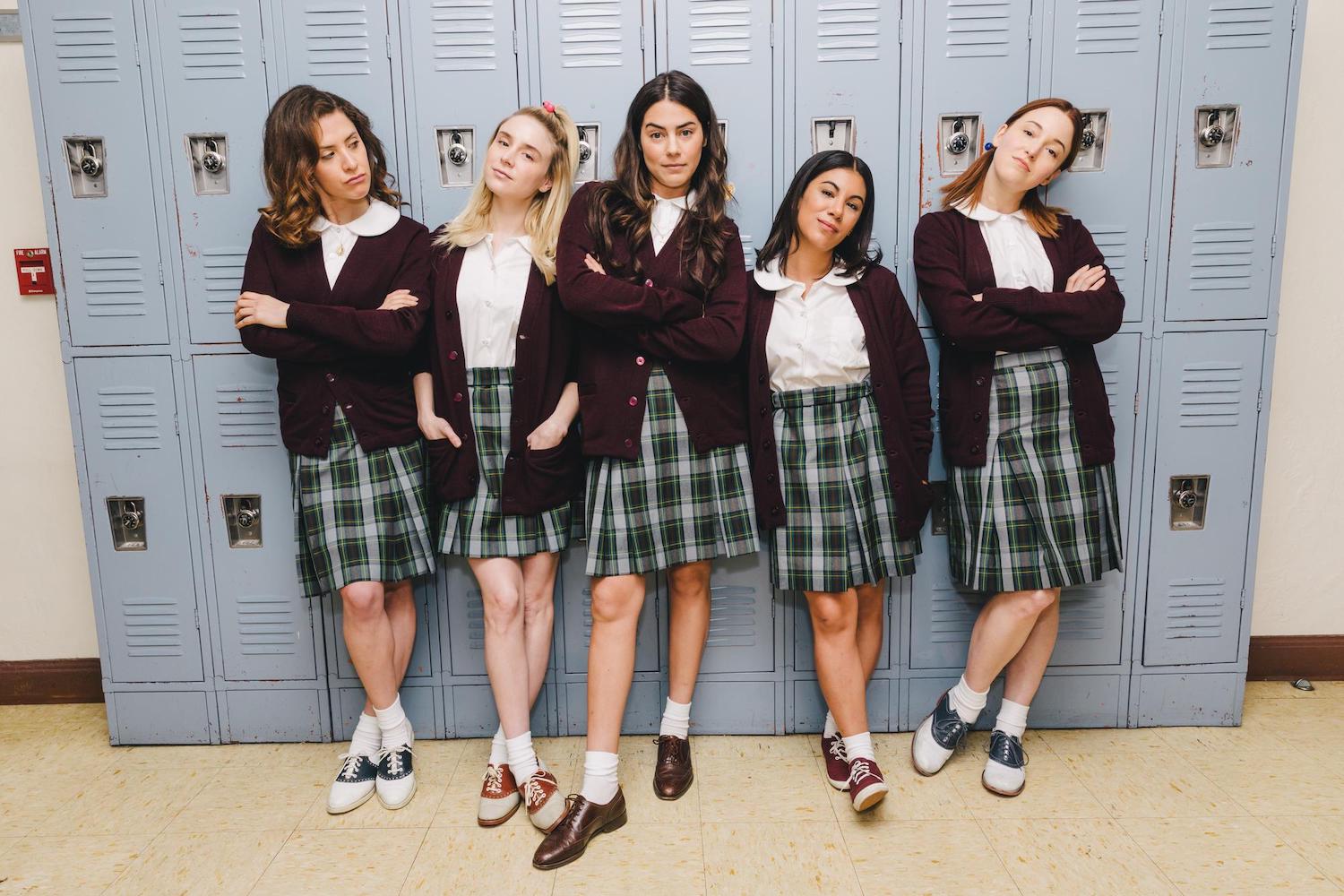 (The 2021 SXSW Film Festival kicks off March 16 and runs through the 18th, all online. Hammer to Nail has tons of coverage coming your way so stay tuned! Like what you see here on Hammer to Nail? Why not give just $1.00 per month via Patreon to help keep us going?)
An inventive feminist fable, Lissette Feliciano's feature debut, Women Is Losers, sets its simultaneously heartbreaking and inspiring narrative in the San Francisco of the 1960s and 1970s, at a time before the women's movement of that era had garnered enough forces to effect change in the social and legal structure of the land. The stylized production design and reality-distorting moments of an actor breaking the fourth wall are grounded in a dynamic lead turn from Lorenza Izzo (Knock Knock). As the main character grows and gains consciousness, so, too, does the narrative swell in scale, achieving dramatic grandeur in its final scenes.
When promising high schooler Celina (Izzo) can't resist the charms of just-returned Vietnam veteran Mateo (Bryan Craig), a night of lovemaking leads to the unfortunately expected consequences. She and best friend Marty (Chrissie Fit, Pitch Perfect 2), who is in the same predicament, do the only thing that women could do in the days before legal abortion, which leads to dire consequences, driving the rest of the narrative forward in tragic ways. Soon, Celina finds herself not at all where she dreamed she would be, doing her best to make it alone in a world fashioned with only its male half in mind.
On top of that, she is Latinx, and women of color are doubly excluded. Her Asian American boss, Gilbert (Simu Liu) takes an interest, teaching her how to save and invest what little money she makes, but at the end of the day, he's a man, and all men want the same thing. Still, smart and hard-working, Celina never gives up, finding solidarity in surprising places, including the initially brittle company of a manager, Minerva (Liza Weil, Gilmore Girls: A Year in the Life). Struggling against a multiplicity of obstacles, she perseveres, ever hopeful. And in this fairy tale, however horrible the monsters, the warrior princess eventually triumphs, though on her own terms and without need of a prince.
Making a period piece on a limited budget is a difficult endeavor, yet Feliciano holds almost all the elements together beautifully. Given how well she manages the task, it's a shame when the occasional wide shot of a street reveals modern cars in the background. San Francisco houses mostly still look as they did back then, so the jarring appearance of 21st-century vehicles in an otherwise perfectly realized universe momentarily destroys the spell. Why not use a lens with even shallower focus, blurring the background completely, or a tighter frame? If such visual disparities were part of the overall aesthetic, as in a movie like Christian Petzold's 2018 Transit, set in the past but photographed in the obvious present, then it would matter less. Still, they are but passing incongruities in an otherwise finely realized affair.
And then there is Izzo, a force of nature. She may look too old for the early scenes, dressed in a Catholic-school uniform, but that dissonance proves less disruptive than the cars, given the power of her performance (and the fact that everyone looks a little too old for high school). It's once things take a dark turn that she truly shines, rising to the challenge of the drama and its polemic. Contrary to the plaintive lyrics of the Janis Joplin song from which the film takes its title, here the men don't always end up on top, the women anything but losers. As the story ends on the dawn of an age where Roe v. Wade has just been decided, the future looks hopeful. That was then, anyway. Whatever tomorrow may hold, Women Is Losers reminds us of the everyday battles fought to get here. 
– Christopher Llewellyn Reed (@ChrisReedFilm)