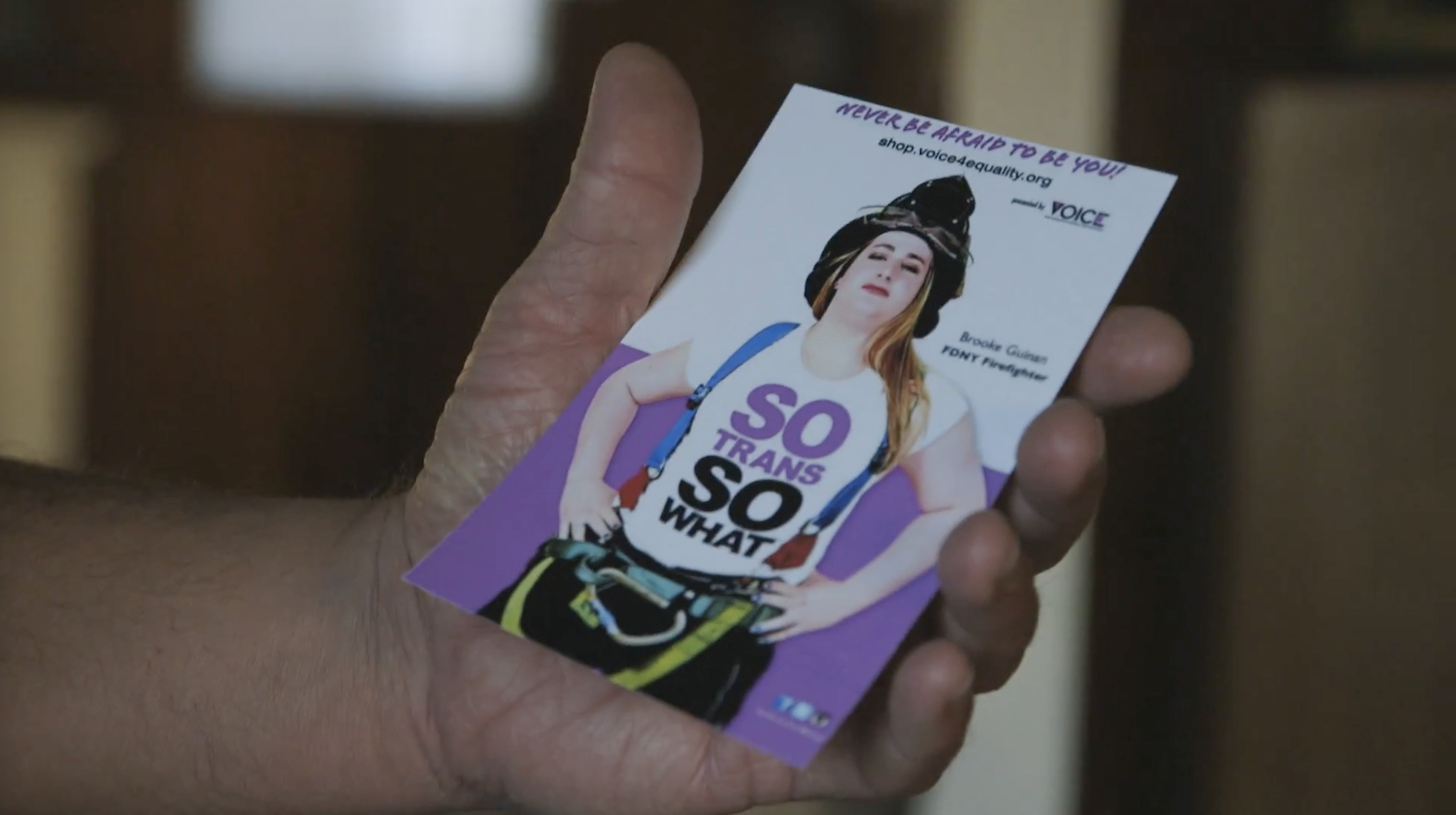 As Woman on Fire begins, Brooke Guinan, a third-generation New York firefighter, steps up to a podium to speak at one of the city's annual LGBT Pride events, introduced by Tituss Burgess (Titus Andromedon on Unbreakable Kimmy Schmidt). What makes Brooke special? She's the first openly transgender firefighter in New York City's history. Her journey, from outcast to celebrated role model, is the subject of this uplifting new documentary feature from Julie Sokolow (Aspie Seeks Love). Brooke is not the only one who undergoes significant change in the course of the story; we also follow her parents, who, as her mother says, must first bury their son before they can accept their daughter.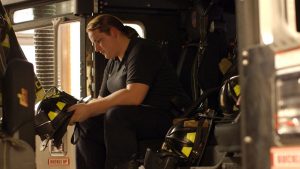 Brooke was born George William Guinan VI. Both father and grandfather served in the FDNY, but early on it looked doubtful that the latest George would follow in their footsteps. A big kid from a young age, he was nonetheless noticeably un-masculine (or not very "butch," as they say in the film), preferring theater to sports, and delivering, at age 11, a letter to his mother in which he explained his belief that he was gay. Mom came from a very traditional family, but loved her son (an only child), so there you go. One of the many wonderful things about this movie is how it portrays the way that love can (and always should) overcome prejudice. Sure, George's parents were initially sad and uncomfortable with their child's declared sexual orientation, and their working-class roots offered little in the way of comparative experience from which to draw inspiration, but they nevertheless found a way to accept George for who he was.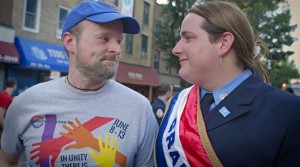 That was then. Later, George realized that he wasn't gay, but rather transgender, presenting yet another hurdle to jump for Mom and Dad. A fan of comic books, he especially loved the X-Men, whose mutations were a source of power, not weakness. And so he began the process of becoming Brooke. After September 11, 2001, however, the pivotal role that firefighters played in the rescue efforts downtown suddenly made his family's traditional profession more appealing to George/Brooke, and so s/he signed up with the FDNY. Which meant that s/he then had to go back into the closet as a trans woman. Being a gay firefighter would be hard enough; try being a former man who now passes as a woman. Women, in general, as we discover, are a tiny minority among firefighters in the New York City, at only 0.4%, or 44 out of 10,000. Still, Brooke soldiered on, fighting harassment all the way. We know from the opening that it all worked out, so it's just a question of seeing how she got there.
Along the way, we meet her boyfriend, Jim, and that love story takes up a significant part of the movie, eventually becoming a second through line that is equally as inspiring as that of Brooke's acceptance of herself, and her acceptance as herself by others. The film offers engaging portrait after engaging portrait, allowing everyone a chance to speak their mind and say things that may occasionally run counter to Brooke's own views and desires, but nevertheless show their commitment to supporting her. "You learn what you live," says Brooke's mom. Indeed, and they have all, at least as presented here, lived a lot.
– Christopher Llewellyn Reed (@ChrisReedFilm)