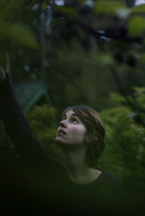 (Since world premiering at the 2011 Slamdance Film Festival, Without has gone on to win awards at too many festivals to mention here. It screens in New York City as part of MoMA/Filmmaker Magazine's "Best Film Not Playing At A Theater Near You" series on Friday, November 18th at 8:30pm and Sunday, November 20th at 3:30pm. Visit the film's official website to learn more.)
Writer/director Mark Jackson's Without is a film of rare, strange, and unsettling beauty. From its opening shot of a ferry churning deeper into the margins of the Pacific Northwest—taking the film's 19-year-old protagonist, Joslyn (Joslyn Jensen), further away from civilization, her troubles, and her past—there's a disquieting stillness in the air. At first, all we know is that Joslyn is taking a job as a caretaker for a semi-vegetative elderly man, Frank (Ron Carrier), in a secluded, rural town. Her iPhone gets no reception, and the house has no Internet service—not even dial-up works. Days are non-descript and mundane: detachedly spoon feeding the elderly man, doing yoga and exercising, driving into town for a chai with skim milk, and avoiding come-ons from a local guy. Nights, however, are more intimate and revealing, offering a rich but reticent counterpoint to her monotonous days, and a fleeting glimpse into her past. As she stares longingly into saved videos and pictures on her phone, we come to realize the true depth of Joslyn's pain. However, like Henry Thoreau by way of Roman Polanski, this retreat into the wilderness is anything but restorative for Joslyn. Isolation can't protect her from her feelings or from the world, and instead of assuaging her worries, it only intensifies her anxiety, paranoia, and emotional instability.
As the title suggests, Without is a film about loss—but Jackson doesn't choose to express this in any obvious fashion. One of the most remarkable things about Without is its script, which manages to walk a difficult, and dangerous, line between being ambiguous enough to be open-ended, and yet precise enough to avoid being vague. The film is as nebulous as Joslyn's own feelings: tangible, but always out of reach. It makes synopsizing the story seem like a futile and reductive task, because so much of the film's power comes from what isn't said, and instead from what the viewer infers. In fact, the inciting incident for Joslyn's trip, and the full details of her mourning, are never made fully explicit. That Without can manage to be so loosely constructed, but at the same time so precise with its details, while still connecting on such a direct emotional level with its audience, is a stunning accomplishment.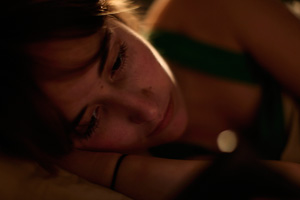 It's hard to believe that this is the first feature film performance by Joslyn Jensen, who won a Special Jury Award at Slamdance, the Debut Performance Award at the Florida Film Festival, and most recently the Silver Astor for Best Actress at the Mar Del Plata International Film Festival. For much of the movie, she is either alone on-screen or acting alongside Ron Carrier who, save for the occasional drool or boner, is mute, unmoving, and barely conscious. It's an incredible challenge for an actor to not only perform under those circumstances, but also to communicate without the aide of dialog, voice-over, or other more obvious means of exposition. Jensen is left to convey so many of Without's tonal shifts through gesture, facial expressions, and other subtle means, and she is emotionally spot-on every step of the way. The rest of the cast excels as well, with Carrier deserving a special commendation. He manages to add a hint of mystery to his mask—after a while, even Joslyn starts to wonder if he is more aware than he is letting on, which adds an increasingly important element of intrigue and paranoia as the narrative progresses.
One of the high points of Jensen's performance is a popular hip-hop medley performed on a ukulele—surely one of cinema's best, and most unique, musical performances in 2011. It is a scene that seemingly exists outside of the narrative, not furthering the plot in any obvious way, yet it provides piercing insight into who this person really is. As Joslyn sets up the iPhone to record the song, we wonder how many times she did this in the past as a way to communicate with another? A spontaneous late-night gift, a coy message, a melodic inside joke—we've all done the same thing with our own cell-phones. If there's remembered joy in Jensen's commanding performance, there's an underlying sorrow that can't be ignored. She plays the song, perhaps like she did in the past, but as much as she pretends that things haven't changed, they really have. This time, there won't be anyone receiving the video (even if she could get service bars).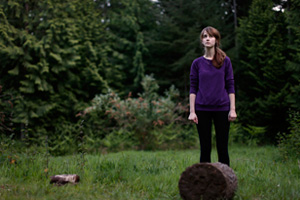 The recent passing of Steve Jobs has been a reminder of how far-reaching his influence was, and how his deeply technological advances have altered the way we communicate and interact as humans. Without also asks similar questions about our own reliance on technology. Joslyn's iPhone is more than just a way for her to connect with the outside world; it is also how she communicates with herself. In addition to her ukulele performance, she also takes nude pictures of herself in the mirror. Since she's not sending them to anyone, it is almost as if she is adding the pictures to her picture album as a way of proving that she actually exists. A recurring video revisited by Joslyn not only gives audiences access to the past, but it enables her to view herself in the third person (much as we view her). In that video, Joslyn's lover tells her, "Never stop looking at me." The camera is not only Joslyn's eyes, but also her lover's. Filming herself is a way of prolonging the illusion of that long-lost gaze.
Like a shape-shifter, Without is always on the move, silently and subtly changing its atmosphere. At times it resembles a psychological thriller, at others an introspective drama, and at others a coming-of-age story. Yet tonally it always hits its mark. The cinematography balances serenity and menace, and the sound design is quiet enough to make even silence deafening. Even when she's all alone, the world seems to be crowding in on Joslyn. She exists in a world of innumerable choices without being able to actualize any. The house she works in has 600 channels, but she's only allowed to watch one: the fishing network. The pantry is stocked with Annie's macaroni and cheese, but she's not supposed to touch it. The Internet tantalizingly offers a world at her fingertips, only she can't connect. The tools are there—iPhones, desktop monitors, cameras—but the best she can do is go through the motions. And, ultimately, Joslyn realizes that wherever she goes, her past goes with her. Even if her phone were to fail, her memories would still haunt her, and those videos would still play out in her mind, forming an endless loop of the past.
Without is a film that will mean different things to different people, and that is one of its core strengths. I could try and boil it down, and pin one or two interpretations on the story, but that would be a disservice to the film. Mark Jackson has created a startlingly impressive movie. It may be enigmatic, but it is also undeniably moving. That it is able to move viewers in mysterious—and individual—ways, makes it all the more special and singular an experience.
— Cullen Gallagher