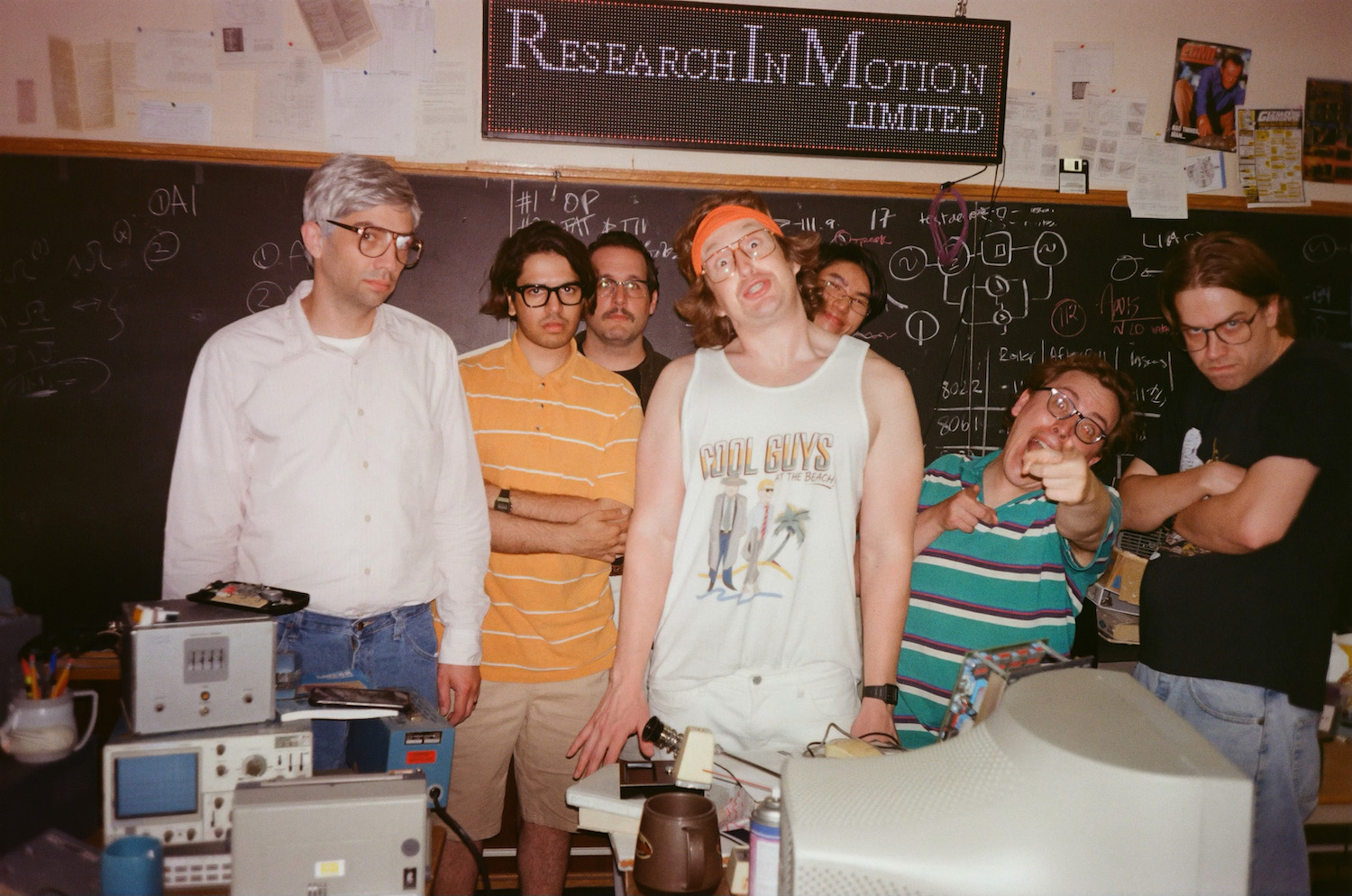 (Check out Chris Reed's movie review of BlackBerry, in theaters May 12, 2023 via IFC Films. Seen it? Join the conversation with HtN on our Letterboxd Page.)
Who remembers the once-ubiquitous BlackBerry, known in its aughts heyday as the "crackberry," so addictive did it appear to its users? Once the peak of technological innovation for handheld mobile devices, it fast tumbled from the mountaintop once the iPhone became a thing. So ended—quickly and ignominiously—a storied, ten-year journey of a Canadian company that took on the world and won, before losing out to Apple. In his new film BlackBerry, actor/director Matt Johnson (Operation Avalanche) gives us his take on what happened, in all its punchy glory. A company's rise and fall has rarely been so much fun to watch.
Based on details recounted in Jacquie McNish and Sean Silcoff's 2015 nonfiction book Losing the Signal, the movie has the imprimatur of verisimilitude and the pace of a comedic thriller. Jay Baruchel (Random Acts of Violence) stars as Mike Lazaridis, inventor of the device and cofounder of its parent company, Research In Motion (RIM). A timid and anxious—if also brilliant—innovator, Lazaridis is hardly the charismatic, confident pitchman that such a radical new invention requires. Nor is his best friend, RIM co-founder Doug Fregin (Johnson). It's when they meet entrepreneurial shark Jim Balsillie (stress on the first syllable of that last name, please)—played by Glenn Howerton (FX's It's Always Sunny in Philadelphia series)—that they suddenly have a chance at making it. Go team.
Much of the delight of the film is in watching the contrast between Lazaridis and Balsillie, polar opposites who somehow manage a magical alchemy for just long enough to strike it rich. Johnson revels in the combustible energy of their conflict, with his own Doug character serving as foil to both. The supporting ensemble is equally strong, each minor character elevating the scenes they're in. The movie is an intense laugh riot, though laden with fraught drama as things fall apart.
Johnson's longtime cinematographer, Jared Raab (The Dirties), deserves a lot of the credit for the immediacy of each sequence, his camera alternating between handheld vibrance—complete with sharp zooms—and steadier shots, as required. His tour-de-force images support the acting in the best possible way, further complemented by the work of editor Curt Lobb (The Kid Detective). Given that so many of the folks here—actors and crew alike—are Canadian (as was the RIM team), our cousins to the north have a lot to celebrate. Sure, RIM went down in flames, but before then, it was hot, hot, hot.
All good things must come to an end, and so must this raucous film. If it has a weakness, it's that the denouement feels a bit rushed: we see Apple's Steve Jobs introduce the iPhone at MacWorld 2007 and then before we know it, we're done. Still, in many ways it's not an inappropriate conclusion, given how quickly the bottom fell out for Lazaridis and Balsillie (with some financial fraud thrown in for good measure). And maybe it hurts to conclude so rapidly because we want one more tantrum from Howerton. There's so much to love here; I just wanted as much as I could get.
– Christopher Llewellyn Reed (@ChrisReedFilm)
Bleecker Street; Matt Johnson; BlackBerry movie review