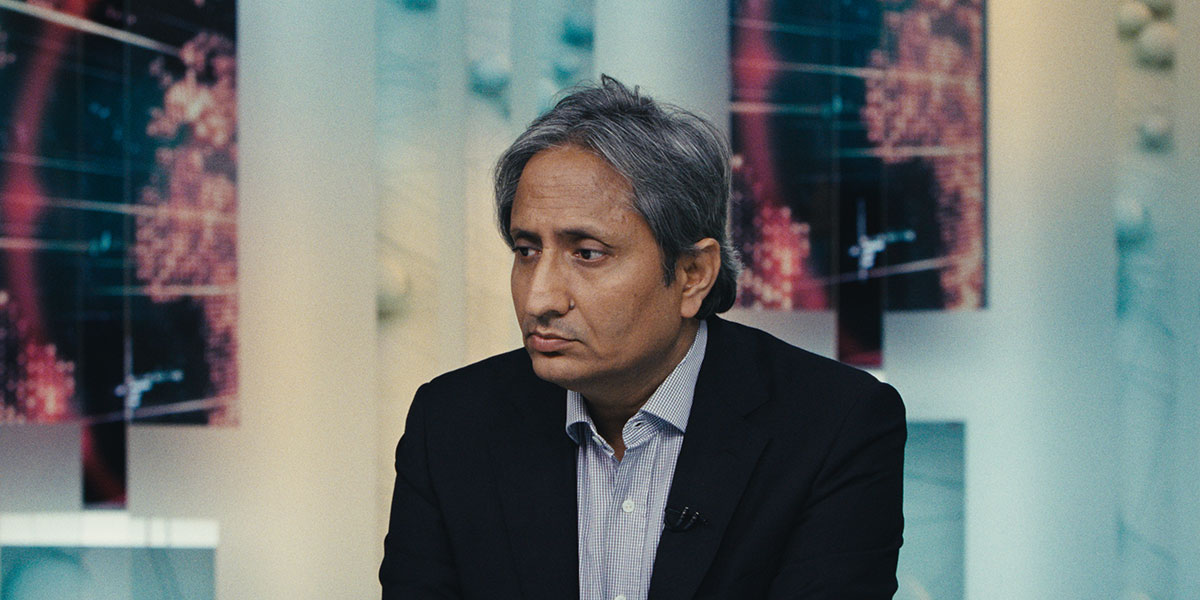 (The 2022 Toronto Film Festival or, TIFF runs September 8-18 in Toronto, Canada. HtN has tons of coverage coming your way so, stay tuned! Check out Chris Reed's movie review of While We Watched. Seen it? Join the conversation with HtN on our Letterboxd Page.)
Ours is an age of unfortunate political regression. Whether this is a harbinger of an eventual turnaround or of a complete plunge into oblivion, we don't yet know. Tyrants rise throughout the world, and here in the United States one of the two major political parties is obsessed with an obvious con man who always blames others for his transgressions. Take heart, America, for you are not alone. In his new documentary, While We Watched, director Vinay Shukla (An Insignificant Man) takes a hard look at the devastating consequences of the rising tide of Hindu nationalism in his native India.
News anchor Ravish Kumar of NDTV is one of the final holdouts in a media landscape that increasingly panders to leader Narendra Modi's Bharatiya Janata Party (BJP). Imagine the nightmare of Fox News, only everywhere. Increasingly challenged and harassed, Kumar and his colleagues continue to fight the good fight. It's harrowing to watch.
Beyond the horrific comparisons to what is happening here in the ostensible cradle of democracy, it is heartening to see how committed Kumar is to his principles. Surrounded by anchors at rival networks who act as sycophants to the regime, Kumar remains thoughtful, insisting that there be no compromise with the truth. Unfortunately, officialdom knows that any liberal voice must be squashed, and so NDTV finds its broadcast signal often blocked.
I am always amazed to watch those who sell their souls to the devil and stand upright. Chief among the rabid ideologues in the movie is Arnab Goswami of Republic Media Network. Imagine Tucker Carlson, only worse. Calling out "anti-nationals" (folks who dare insist on critical analysis) at every turn, Goswami is the face of spineless propagandists masquerading as journalists.
And who is the target of these nationalists, other than anyone who disagrees with them? Muslims and, more specifically, Pakistan. Goswami and his followers rattle the sabers over the contested lands of Kashmir, all the more to mask the failings of BJP to address the real problems facing the country, such as massive unemployment. It's a tried-and-true conservative playbook.
With everything stacked against the network, which rapidly loses viewership and sponsorship, it's no wonder that NDTV sees staff fleeing the station. Shukla treats us to one farewell party after another, each one more painful than the last. There are bright spots, however, amidst the mounting tragedy: towards the end, Kumar earns the 2019 Ramon Magsaysay Award (for courage and leadership), in his acceptance speech calling out his colleagues for their own failures. He may be increasingly alone but is not yet down for the count. Let's hope he doesn't vanish while everyone watches, this film's title notwithstanding. Battle on.
– Christopher Llewellyn Reed (@ChrisReedFilm)
2022 Toronto Film Festival; Vinay Shukla; While We Watched documentary movie review