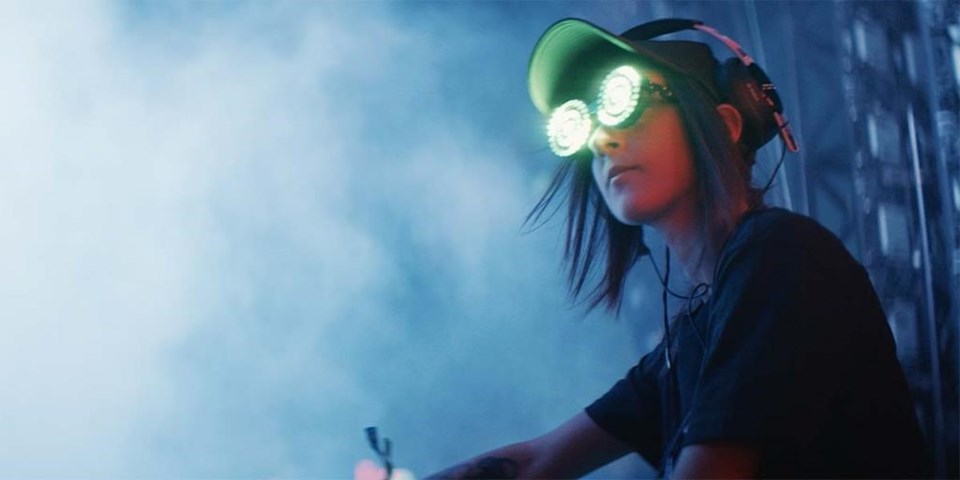 (The 2020 Toronto International Film Festival or, TIFF, runs September 10-20 online. Although Hammer to Nail wasn't granted access to a press pass, we will still be running as much coverage as possible thanks to filmmakers and PR companies who want to see their films reviewed and noticed. Like what you see here on Hammer to Nail? Why not give just $1.00 per month via Patreon to help keep us going?)
For those deeply involved in the electronic-music scene, whether as fans or creators, the new documentary from first-time feature director Stacey Lee, Underplayed, will no doubt come as a welcome wake-up call for better inclusion and diversity within that world. For the rest of us, the film doubles as a primer on the roots of the genre (too vast to be effectively defined by "genre," in fact) and a journey through its main contemporary purveyors and mavens. From Rezz to Tygapaw to Alison Wonderland to Tokimonsta to Nervo and many more, these women DJs and music producers are here to change the way we hear and perceive the beat. Join them to your own eternal benefit.
As the copious statistics listed in this film make clear, the industry overwhelmingly favors men, with only 7% female representation among Billboard Magazine's Top 100 DJs in the past two years. This is strange, given that concerts headlining women tend to do well, or as Jen Fox of the NXNE Music & Gaming Festival says, "It's never a risk to book a woman" (incidentally, the same is true for movies). So why the holdup? Never underestimate sexism (or any "ism," as the film is about more than just gender, featuring people of color and queer folks, as well). Difference from the perceived norm always frightens the establishment.
Beyond the modern-day footage, Lee also travels back in time to visit such musical pioneers as Clara Rockmore (of Theremin-performance fame), Daphne Oram (a composer and inventor) and Suzanne Ciani (a sound engineer and recording artist), the last one very much still alive and a vibrant presence in the movie, opening and closing it as she does. On their foundation, the innovators of the present are building a dynamic new legacy for future generations to learn from, as well as a terrifically fun experience for the audiophiles of today.
Lee benefits enormously from the skill of her cinematography, Zoe Simone Yi, whose beautiful compositions and lighting provide a gorgeous visual backdrop for the film's urgent polemic. With such fine filmmaking elements, Underplayed highlights the great achievements of its many subjects in a manner equally as entertaining as educational. By its conclusion, you will want to check out everyone's playlists, spin some tunes and get a groove on. May they never be underplayed again.
– Christopher Llewellyn Reed (@ChrisReedFilm)