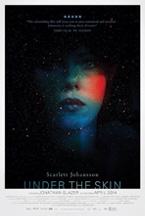 (Under the Skin is being distributed by A24 and opens theatrically on Friday, April 4, 2014. Visit the film's official website to learn more.)
The first images of Jonathan Glazer's Under the Skin are an aptly unintelligible alien origin story: shifting black masses and foreboding lights set against a swarm of sibilating strings and a disembodied voice—the distinctive, honey-coated baritone of Scarlett Johansson—uttering murky syllables that gradually grow more distinct: she's practicing an affected English accent.
Soon after, when we finally see the actress for the first time, she's strikingly near unrecognizable; traversing the rain-swept Scottish streets in a dark, curly wig, cheap mall-chic clothing, and a van. Her character, we come to intuit, is an alien that has come to Earth with the surreptitious goal of luring lonely men to their doom. She seduces her prey and then leads them to an inky-black chamber where, stark naked, they slowly sink and are enveloped in a limpid prison (we eventually see what disturbing end befalls them once ensnared, but not why this is a necessary mission for the alien predators).
Under the Skin is filmed almost entirely on a multitude of hidden cameras and recorded on concealed mics, lifting a technique that Glazer previously used when directing a Motorola advertisement. That's actually Scarlett driving alone in the van, parking precariously in traffic, and chatting up unsuspecting locals. The non-actors seem disconcerted by her glacial friendliness and direct interest ("are you alone? Is there anyone waiting for you?"), but never off-put. And, ostensibly, none of them recognize her.
This is an important distinction not so as to pull back the veil on the technicalities behind Glazer's ingenious filmmaking, but because the "alienation," so to speak, of Scarlett Johansson the Movie Star mirrors that of her otherworldly character. She nails that English accent, and immerses herself an uncompromisingly tricky performance that, not only shouldn't work, wouldn't work if she were, say, on the streets of New York or LA. She's not afforded the same sort of freakishly obvious stage presence as David Bowie in The Man Who Fell to Earth; she must simultaneously appear invisible and irresistible, and is utterly successful.
The men she captures can't believe their good fortune, right up until the moment where they're submerged into the oily murk. As Johansson's marauder disrobes before him, a tipsy Scottish playboy wears a smile of incredulity. A man with a hopelessly disfigured face can't stop pinching himself and murmuring "dreaming," to which Johansson robotically responds, "Yes, we are." We live in a world where even the most offhand gestures or offers of kindness from strangers only occur in our yearning imaginations.
Glazer's previous work, namely 2004's masterful Birth—hopelessly misunderstood at the time of its release—and his iconic music video output, have earned many comparisons to Kubrick due to his startling visual control. He has the ability to evoke resonant emotions through single frames; the doomed opening tracking shot of Birth attains a tone that's near spiritual. Here, alongside cinematographer Daniel Landin (a frequent collaborator in ads and music videos, as well as an additional photographer on Glazer's debut Sexy Beast), he is similarly successful, with the opening montage finding an easily relatable predecessor in Kubrick's 2001. Many other chilling images leaving a lasting impression, from a quick shot of the crying infant of drowned parents alone on a beach, to the eerie, self-reflexive moment where Johansson studies her human body in front of a mirror, curious and sympathetic to it for the first time.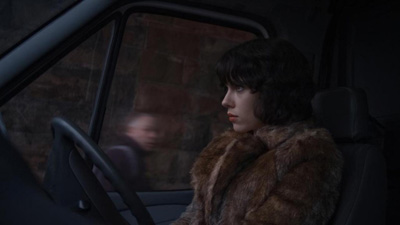 However, Under the Skin might have more in common with roguish French auteur Leos Carax, whose muse, the actor/acrobat Denis Lavant, Glazer worked with on UNKLE's infamous "Rabbit in Your Headlights" video as well as an absurd, giallo-inspired candy bar commercial. The ingenuity of the film in the doc-style sequences is mostly sprung from the necessity of a smaller budget, as is the case more with Carax than Kubrick, and Glazer shares both Carax' hypnotically immersive visual imagination as well as his tendency to photograph his subjects in front of monochromatic backdrops. In the beginning, both the blown out whites of the chamber in which Johansson steals her human form from a corpse and the crushed blacks of the liquid abyss are meant to seem unsettling and unfamiliar to the viewer, though when the tables finally turn and the alien finds herself isolated and not in control, similar properties are placed on the thick blankets of Scottish fog that Johansson walks in front of. Similarly Mica Levi's rattling, dissonant musical cues grow sparser and are replaced with the disarming quiet of the Scottish wilderness as the alien begins to develop and experience her surroundings more as a human would.
All of these elements incredibly feel like a congruous, coalesced whole and strike a singular tone of anxious distress. Johnnie Burn's haunting sound design is pitch shifted and often low-pass filtered to blend with Levi's score, and together the mesh of sounds sells the film's foreign perspective by being constantly vibrant and organic. In an interview with Pitchfork, Levi says that the soundtrack is "like a life form you can't quite understand, but it's carrying on relentlessly, like a beehive," though that description would be just as apt when applied to the film as a whole. Just as an image of a growing eye in the film's opening montage suggests, the film is completely from the alien's perspective, and she's watching us in our most forlorn moments, her brain buzzing with droning, inquisitively twitchy violins. If Under the Skin were not at the mercy of a plot that eventually takes it to a very decisive and definite end, it feels as though it could continue existing eternally: hiding in plain sight and gnawing at the edges of our anxieties and most alluring nightmares.
— Mark E. Lukenbill