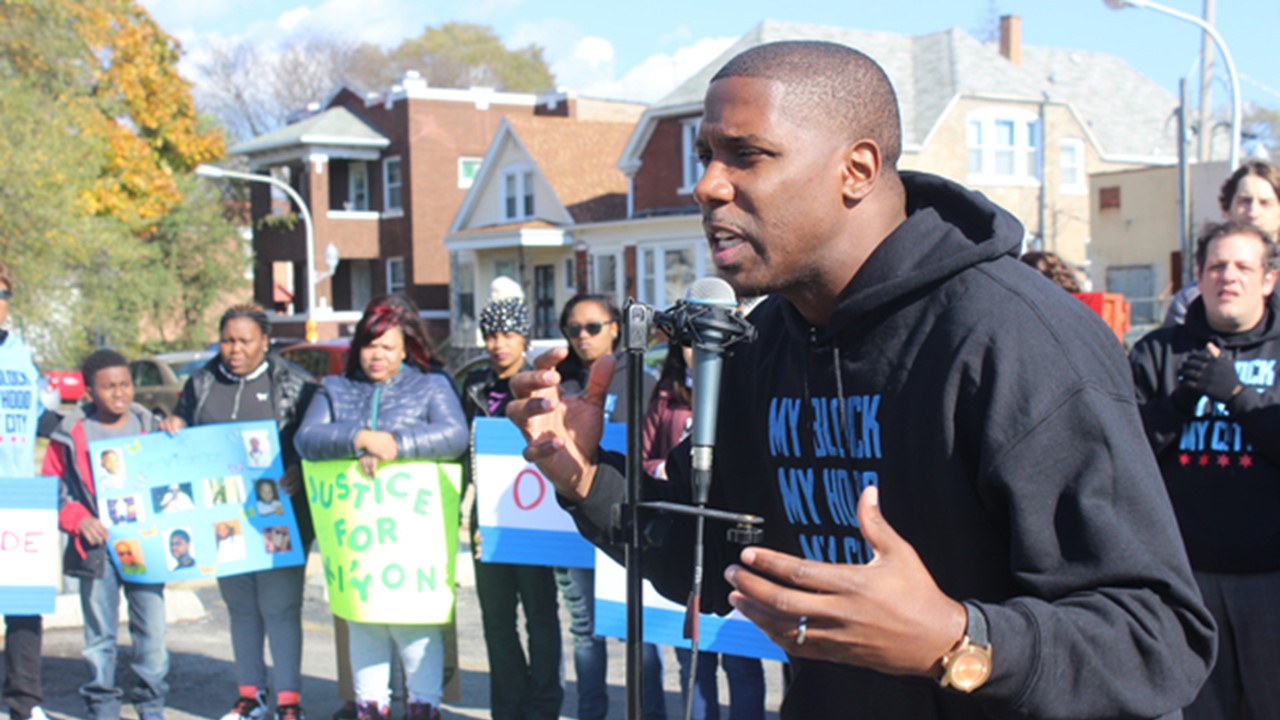 (The 2021 Slamdance Film Festival kicked off February 12 and runs through February 25, all online. Like what you see here on Hammer to Nail? Why not give just $1.00 per month via Patreon to help keep us going?)
Born and raised in Chicago, I approach every documentary about the Windy City with both a sense or trepidation and, dare I say it, 'A Tiny Ripple of Hope.' Chicago is an amazing City with a great history, but also a long history of injustice. Some of our greatest social justice leaders have come from the second city's southside as shown in is the recent Sundance hit Judas and the Black Messiah. Just as Maywood gave rise to Fred Hampton, Jackson Park Hghlands gave us Jesse Jackson, Bronzeville gave us Harold Washington and Kenwood Barack Obama, Chaham has given rise to Jahmal Cole. 
Jason Polevoi's documentary A Tiny Ripple Of Hope focuses on the charismatic leader Cole, who's organization My Block My Hood My City tries to make a positive impact on the smallest level – neighbor to neighbor. In the Explorer's Program, the founder's proudest achievement, children from underprivileged neighborhoods are given tours of different parts of the city to explore Chicago's culture. Field trips, focused on entrepreneurship, include sailing, cooking, or attending art museums. By showing several of these Explorers through a year in the program, the film easily demonstrates the difference a strong leader can make in the lives of youth.
My Block My Hood My creates real change at the ground level with young people, inspiring them take charge of their lives, encouraging things that seem obvious one neighborhood over, such as to go to college. Cole has received several awards and recognition including the Chicago Ideas Award from Mayor Rahm Emanuel in 2011, and the Chicago Urban League Award in 2016 and he uses his platform to turn his success back on everyone else – "What's something simple that I can do that'll have a positive impact on my block?" When a snowstorm hit Chicago, he organized an effort of young people to shovel elderly southsider's driveways. (I remember reading about this on Twitter. It was #trending the way more good deeds should be). Cole believes rather than telling kids what to do, more can be done to help them create goals that will lead away from bad choices. "Having goals will change everything for you," he says in A Tiny Ripple of Hope, and one of the main strengths of My Block My Hood My City is showing the explorers something other than violence, something to take to heart as a goal. Jahmal Cole is an impassioned speaker, consistently flourishing rhetoric equally convincing, condemning, and thought-provoking. The In a WTTW interview (Chicago's PBS station) Cole explains, "Kids I work with, they order their food everyday through 3-inch bulletproof glass windows. Helicopters fly over their house at night…this is their reality. I take those kids, and I show them the world doesn't end at the corner of their block." 
Polevoi's inspiring documentary also shows who our leader is when he's at home. Jamal and Jason do not shy away from the difficulty of being in a spotlight. Fighting to keep his house from being foreclosed on, fighting to keep his marriage alive, and even fighting to stay alive as mistaken identity in his neighborhood can mean getting shot, Tiny Ripple of Hope gives us access to how hard this is. As Cole says "if it were easy everyone would be doing it."
One of the most remarkable sections of the film deals with the bureaucratic stupidness of having to quantify success in order to get grants. While Cole is looking for that unknown factor that will put them apart from everyone else, his team discusses a survey that can collected data for the application. Cole knows that surveys can't change the world like he wants to do. But he also has to be told that legally he can't pay his explorer's phone bills. When it is a matter of life and death for these kids – and believe me, Cole is saving lives – real world issues and regulations only get in the way of 'the work.' This is a man that wants to be mayor but the first thing he has to do it's just pay his rent. 
A Tiny Ripple of Hope is a stirring look at one man changing the world one block at the time. Certainly, it checks all the boxes that a good documentary needs to. By the conclusion of it, I feel like I know Jamal Cole, I know his organization, I know what he wants to do and the various barriers to his success. I've seen him beaten and I've seen him victorious. Of course, the documentary works. But does that really matter? Chicago is a divided city and Jamal Cole is doing what he can do to raise one side up. Just as he asks passersbys on a street, I am tempted to ask readers, what is something simple that you can do that'll have a positive impact on your block?
A Tiny Ripple of Hope screened as part of Slamdance 2021. In 2019, Slamdance awarded a Grand Jury prize to Nicole Brending's Dollhouse: The Eradication of Female Subjectivity in American Popular Culture, a film called out for transphobia by over a dozen critics (See here here here and here for examples) Slamdance has yet to issue an apology. The UK organization TransActual has a great explanation of Transphobia and other useful resources in case you would like to know more.
– Bears Rebecca Fonté (@BearsFonte)