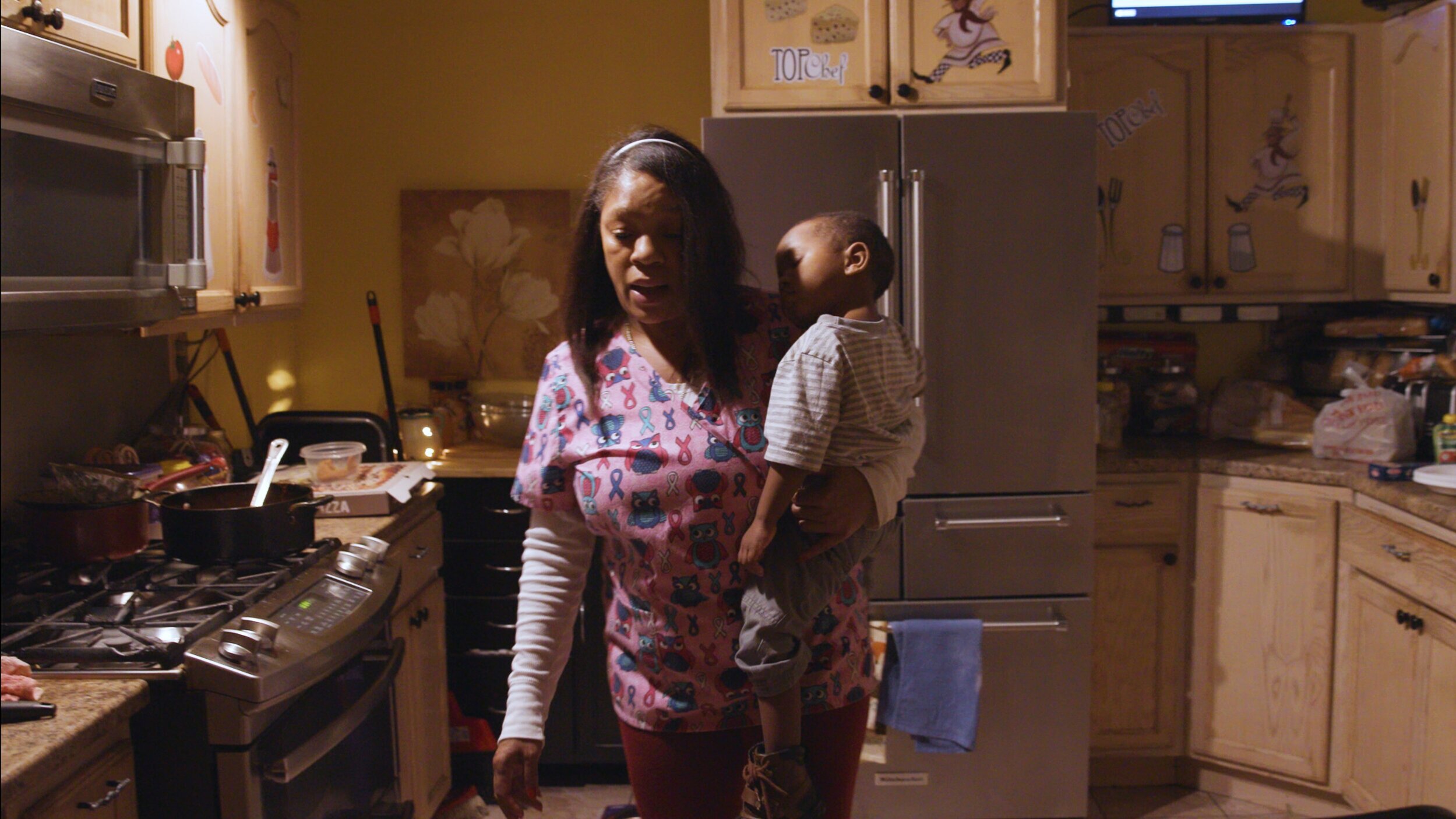 (Loira Limbal's latest documentary Through the Night is available now in virtual screenings via ITVS. Like what you see here on Hammer to Nail? Why not give just $1.00 per month via Patreon to help keep us going?)
Dee's Tots Childcare in New Rochelle, NY, located in Westchester County to the immediate northeast of New York City's Bronx borough, is a haven for working parents and their children, a place where love and safety rule the day…and night. No matter the hour, no matter the need, Dee and her husband Patrick, known by everyone as Nunu and PopPop, are there to provide food, shelter and care. They've been doing so for over 22 years, and have long presided over a delightful space: airy, clean, filled with toys and, best of all, surrounded by a lush garden for when the weather permits outdoor romps. In director Loira Limbal's documentary Through the Night, we spend 75 moving minutes in the company of these dedicated providers and their clients, who treat each other like members of an extended family, all together in this grand, vital enterprise of raising kids to be the best they can be. It very much takes a village, and this one is proud and strong.
But not all is peaceful and calm, for the burdens of those who leave their children with Nunu and PopPop are great, many working long hours and multiple jobs. There is a symmetry between the parents and the daycare managers, all of whom share a devotion to the next generation and as a result get very little sleep. None of the people here profiled have any great means, yet they will do what it takes to make ends meet. Produced and shot by an all-female team of Latinx and Black filmmakers, Through the Night showcases the seemingly limitless work ethic of everyone on screen, most of whom are also Black and Latinx (though not exclusively). Limbal, herself, is the child of a single mother who made similar sacrifices for her own family. As such, the documentary functions not only as a great example of observational storytelling, but as a cinematic paean to unsung heroes who deserve the serenade.
Beyond a straightforward profile, the film also examines the lack of societal resources available to such vital members of the workforce. There is very little aid available to assist parents in paying for childcare, especially once their children are 13 and older. One of the subjects of the movie spends a good deal of time struggling to find just one full-time job that would provide her with healthcare, rather than the two or three jobs she holds down at a time to earn the equivalent salary (without healthcare). Dee, herself, begins to physically break down over the course of the story, her years of backbreaking labor finally taking a toll. Punctuating these moments of high drama are the many scenes of happy children, engaged in their tasks, looking ahead to a future full of promise. Thanks to Nunu, PopPop and others, whatever that future may actually hold, their present is free from harm. Watch and breathe easy, at least for now.
– Christopher Llewellyn Reed (@ChrisReedFilm)