THEY'LL LOVE ME WHEN I'M DEAD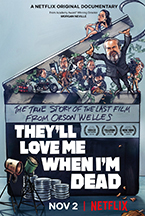 (The Middleburg Film Festival ran October 18-21 in Middleburg, Virginia. HtN Lead Critic Chris Reed was there and per his norm, will have a ton of reviews and interviews coming your way. Stay tuned…)
Coming to Netflix on November 2 are two related films, the one the long-awaited completion of a project first begun in 1970, and the other a documentary about that same movie: Orson Welles' The Other Side of the Wind and Morgan Neville's They'll Love Me When I'm Dead. I haven't seen the former (yet), but did just watch the latter at the 2018 Middleburg Film Festival. A brilliant exploration of the nature of art, celebrity and storytelling, it offers a detailed look at the creative process of one of the 20th century's most visionary cineastes.
The late 1960s and early 1970s were a time of great change in Hollywood. Bloated studio product was failing to connect with audiences in the same way as before, so the keys of the celluloid kingdom were handed over to the young generation of hippie-ish – or, at least, hip – directors, leading to what became known as New Hollywood (or the American New Wave). The inmates, in other words, had the chance to take over the asylum. Some who were more than mere babes in the woods rejoiced, as well, seeing opportunities to make the kinds of films they had long dreamed of making.
Among this older group was Orson Welles (1915-1985), once hailed as a wunderkind of stage, radio and screen – whose 1941 Citizen Kane was and is considered one of the best films ever made – but by this time a man well past his due date, as far as mainstream Hollywood production went. His early meteoric rise, accompanied by no small amount of arrogance and foolishness, had made him a target of resentment and object of suspicion among the movie moguls, and he had since been reduced to begging for financing for his films, most of which were made in Europe, where he was still revered as a genius. But with a change in the air, Welles thought his fortunes might finally be changing, and so launched himself into what would be his – he hoped – magnum opus, a self-referential examination of the power of cinema.
Director Neville (Won't You Be My Neighbor?) walks us through this complicated history with panache, combining artfully staged talking heads with copious amounts of archival footage, both of the behind-the-scenes variety and of the actual movie within the movie. Actor Alan Cumming (After Louie), nattily dressed and photographed in black and white, is our nominal narrator, but there are plenty of other commentators on the action, among them Peter Bogdanovich (a rising directorial star at the time of The Other Side of the Wind, who plays a version of himself in that film), Danny Huston (son of John Huston, who plays an Orson Welles-like character in Wind), Beatrice Welles (daughter of Orson), Oja Kodar (Welles' leading lady at the time, both on- and off-screen), among many others, as well as Orson Welles, himself, featured in most of the period material. It's a terrific snapshot both of the era and of the timeless difficulties of independent filmmaking.
I particularly love how Neville's documentary becomes more than just a chronicle of events, but a showcase of all the ways in which the moving image can be used to tell stories. He even makes a half-joking (or is it?) claim, at the end, that perhaps his movie is the real artifact that Welles intended all along, rather than the ostensible product. As we learn – if we didn't already know – watching They'll Love Me When I'm Dead, Welles was a deeply problematic human being, but there's no doubt that he was an incomparable filmmaker. After all, his art was his life, and vice versa. To stop filming meant death. Fortunately, for both him and for us, he lives on here, as vibrant as ever.
– Christopher Llewellyn Reed (@ChrisReedFilm)