TREE OF LIFE, THE (Noah Buschel)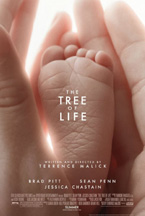 (The Tree of Life is distributed by Fox Searchlight and is now available on DVD
and 3-Disc Blu-ray/DVD Combo + Digital Copy. It opened in NYC and LA on Friday, May 27, 2010, and expands to many more cities in the subsequent six weeks, before opening nationwide on Friday, July 8. Visit the film's official website to learn more.)
One has to face it in an unblinking manner. It demands one's attention in a way that maybe no other movie has. It's that challenging and strong. If you do face it, it will lock you in its death grip and give you nothing to hold onto. One is simply lost in the waves and time, getting rolled by Brahms. It's like riding an Arabian horse.
Terrence Malick is dancing on the high wire. Where he goes on this one—there's no net, there's no craft, there's no story, there's no architecture—the movie is energy. No one else could even try this, except maybe Scorsese a while ago. But because the film is so naked and raw—even the slightest fracture or fraudulence breaks the spell. It's like we're being held up in the cosmos by one man's breath in a hot air balloon. And when you see Malick start to huff and puff, the spell gets broken. And then you're thrown out of the wave. And it's just a movie on a screen. The brutal intensity of the natural wonder sequences crashes and shatters all over the beach. As superhumanly focused as a lot of the film is, it is just as slack and pat and lazy at the end.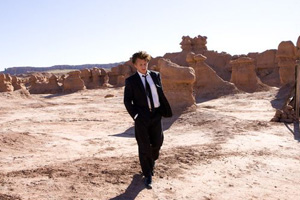 It's Malick's insistence on a certain type of beauty that gets him to heaven, and in the end, won't let him stay there. Something is missing in his arsenal. Eyes, cheekbones, whispers, napes of necks, ghostly glass, summer feet, leaves, dusty clouds, water… yes. Yes. But it never completely opens. For all the images of infinite space, Malick can never quite let go of beauty. And so the movie plummets to earth. Spirals down onto the beach. And the last scene is maybe one of the ugliest scenes I've ever seen. Jessica Chastain reaching with every facial muscle for grace. Sean Penn coked out in the sand, on his knees, surrounded by extras casting. This must be what vanity looks like. A puddle of lost youth clinging to the shore. It's a truly nauseating display. The vulgarity of genius without love.
But, but, before that… It's spirit booming. Uncut brilliance, calmness, diamond mind. And as many times as Malick shoots a little boy's blank face and hollow eyes, and as many times as Brad Pitt and the kids do silly, bad improv and as many times as Malick is cornered by his own specific poetic slant—his elegant force is so liquid and gushing—it doesn't matter. He actually gets to the point where he's playing the wrong notes and they're right. He takes us to that place where there is no mistake. "Did I wrong you?" Our own voice. A flash of light. And then falling. Crashing next to fat Orson and Brando, and mean Charlie, and Kubrick with his eyes wide shut.
— Noah Buschel