(Available now in theaters, on demand and via iTunes David Farr's directorial debut The Ones Below is a gripping, thrilling film about impending parenthood. This film is being released via Magnet.)
Screenwriter David Farr (Hanna) makes his directorial debut with The Ones Below, a simple, low-budget, mostly effective Hitchcockian thriller that uses the sometimes perils and terrors of motherhood as the crux of its mystery. Rich in atmospheric dread, and taking place in a limited number of locations, the film shows how much can be done with very little. Thanks to layered characterizations from the quartet of actors at the center of the drama, we are invested enough in the final outcome to overlook some significant plot holes. It's not perfect, but it's fairly gripping.
Clémence Poésy (The Silence of Joan) and Stephen Campbell Moore (Season of the Witch) play Kate and Justin, a thirty-something married couple expecting their first child. They live in a nice two-story terraced house in London, occupying the second floor. The film opens on a sonogram, which turns out to be Kate's. Does the title refer to her child, waiting to emerge, Rosemary's Baby-like? Not quite. New neighbors shortly arrive, Theresa and Jon, played by Laura Birn (The Girl King) and David Morrissey (Welcome to the Punch), and move in to the downstairs flat. It seems that Theresa is pregnant, as well, and the two women slowly form an acquaintance that may blossom into actual friendship.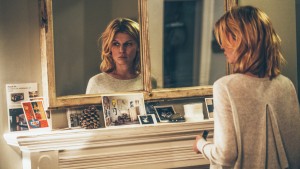 But something is a little off about Theresa and Jon. Unlike Kate and Justin, who feel ambivalent about their upcoming parenthood, the new arrivals confess that they have been trying for years, and desperately want a child. Jon is older than Theresa – he chose a younger second wife after his first wife couldn't, or wouldn't, bear children – and his solicitousness of his partner's health borders on dominance. In these early scenes, Farr very effectively sketches out the relationships within each couple and between the couples, so that when tragedy eventually strikes, we have a nasty premonition that the resultant fallout will not be pretty.
And it's not. Nor is it entirely believable, however. But as the situation devolves, Farr holds our attention through the careful compositions of his brilliant cinematographer, Ed Rutherford (The Silent Storm) and the restrained performances of his leads. In the final shot, as the camera carefully follows one of the actresses, focusing on her Vertigo-like chignon of blond hair, we sense that with a little more practice, Farr will continue to thrill in the years ahead. He's just getting started.
– Christopher Llewellyn Reed (@ChrisReedFilm)