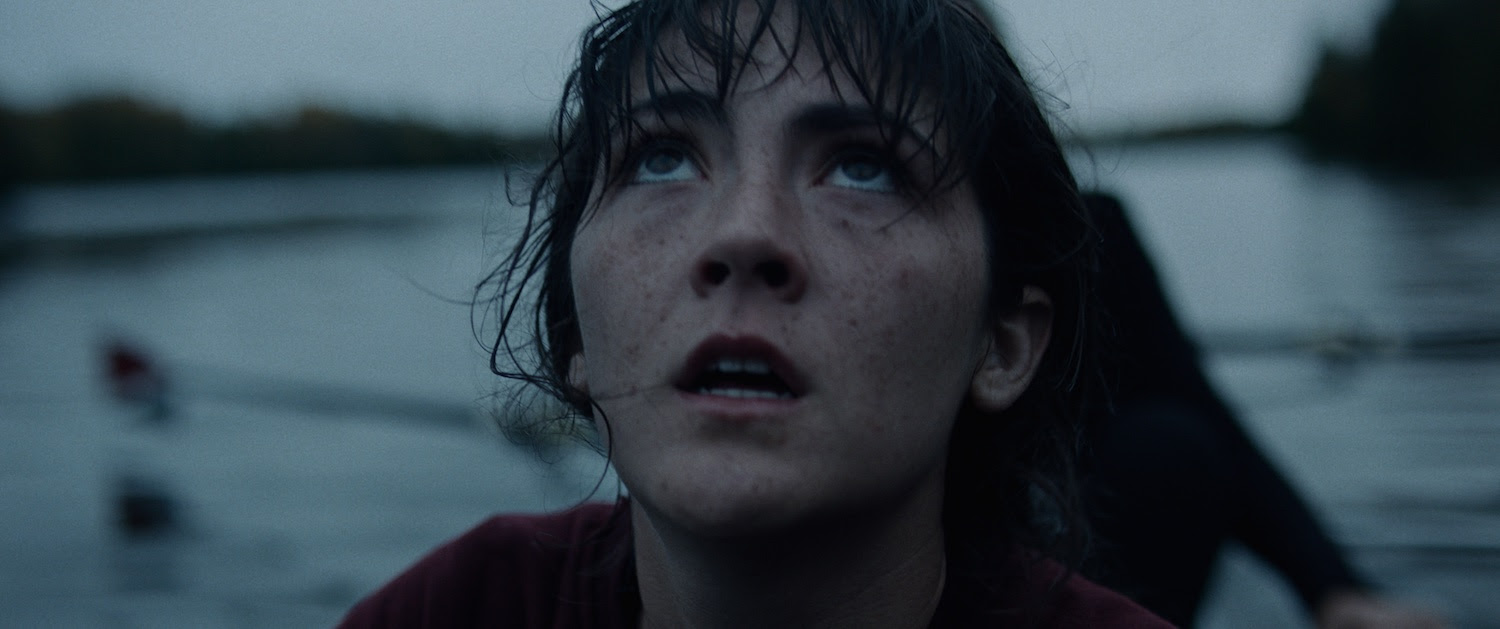 (LBGTQ+ writer/director Lauren Hadaway's film The Novice is nominated for 5 Independent Spirit Awards and his theaters and on-demand Friday, December 17 via IFC Films. Here is Chris Reed's movie review of The Novice. Like what you see here on Hammer to Nail? Why not give just $1.00 per month via Patreon to help keep us going?)
Rowing crew is hard: no matter what kind of shape one is originally in, the strain on the body (and the hands!) is brutal. First-year college crew is especially grueling, as starting from scratch involves not only constant physical exertion but a mental toll, as well. Plus, stroke out of rhythm and you could end up severely banged up and thrown into the water, which gets colder and colder as the fall and winter arrive. I should know, as I was such a beginner once, though I didn't stick it out beyond the first semester (I loved how fit I became, though). In writer/director Lauren Hadaway's debut feature, The Novice, we are immersed in the sharp intensity of the titular character's workouts and ambitions. She's determined to rise to the top, no matter the cost. As tales of obsessive behavior go, this one proves raw and powerful.
Isabelle Fuhrman (Tape) plays Alex Dall, just arrived at Wellington College and ready for what comes next. She's one of the institution's Presidential Scholars, an honor bestowed to students who graduated at or near the top of their high-school class. But as she explains time and again to the teaching assistant in whose class she sits to the very end of the allotted exam time, she got where she is through hard work, not brilliance. Achievement doesn't come easily to her, and every grade and milestone is earned through effort, and then some. Alex brings this same work ethic to the crew team, where she hopes to make her mark. Unfortunately, that goal also looms initially elusive, and it will take even more struggle than usual to reach it or even come close. Still, even if her body is smaller than her teammates', her will is stronger.
Cinematographer Todd Martin (also on his first feature) photographs the practices and competitions with a series of evocative tableaux in frame sizes ranging from tight to wide, as needed, and angles high, low, and everything in between. Hadaway and her co-editor Nathan Nugent (Disobedience) cut this stunning footage together in effective sequences (though there are a few too many montages for my taste) that reveal the almost superhuman labor involved in Alex's transformation. We even end on a nice freeze frame, à la François Truffaut's The 400 Blows, showcasing Alex's final wise gaze. As an example of creative visual storytelling, The Novice excels. Fuhrman's performance is also a highlight. What emerges is a portrait of a young woman in the process of self-discovery, with all the dramatic ups and downs of that process.
The rest of the ensemble—including Amy Forsyth (CODA) as a rival rower, Kate Drummond (Secrets in a Small Town) as the head coach, and the model Dilone as Dani, the aforementioned T.A., with whom Alex eventually becomes romantically involved — all shine, adding to the depth and breadth of the narrative. It's unfortunate, however, that Hadaway's imagination could not come up with a relationship for Alex to pursue that would not involve some problematic professional ethics (writes me, the college professor). Still, Dani provides a nice counterbalance to her partner's almost mania, urging her to find balance in a world that pushes her towards all kinds of extremes. 
The film can be read as a universal coming-of-age parable or the unique odyssey of this specific character. Either way, it offers moments filled with uncomfortable truths about the human experience. In short order, this novice learns tough lessons about herself and the world. It's a profound education, worth the price of tuition and more.
– Christopher Llewellyn Reed (@ChrisReedFilm)
IFC Films; Lauren Hadaway; The Novice movie review