(The Look of Silence is the follow-up to 2012's The Act of Killing which was a unique and chilling look at the 1965 Indonesian genocide. It was nominated for an Oscar as is The Look of Silence which is in theaters now via Drafthouse Films.)
Back in mid-2012, documentary director Joshua Oppenheimer released volume 1 of his devastating look at the 1965 Indonesian genocide, entitled The Act of Killing, first at film festivals, and then later, in 2013, on Netflix (where you can still find it). That movie was eventually nominated for Best Documentary at the 2014 Academy Awards, where it lost out to Twenty Feet from Stardom. The winner was a very strong film, for sure, and much more of a happy crowd-pleaser, but ultimately less vital of a movie. Oppenheimer pursued the perpetrators of the mass killings in Indonesia – many of them not only still alive but still in power – and asked them to reenact their horrible murders. Amazingly, they not only showed no remorse, but expressed pride in the work they had done. You see, when one is ideologically pure, then all is permitted.
How does one rationalize this human capacity for great cruelty? On the one hand, we are a species of tremendous accomplishments, frequently inspired to do much good for our fellow living creatures, and yet we can so easily descend into the worst depths of psychotic behavior. My favorite works of art to explore this human tendency towards evil, until Oppenheimer's first Indonesian film, were Australian Inga Clendinnen's masterful history of how the Nazis trained their soldiers – Reading the Holocaust – and British writer Martin Amis' brilliant short novel Time's Arrow. In the former book, Clendinnen explores the dangers of branding the Nazis as anomalous outliers, showing how all of us, under the right circumstances, might be able to commit atrocious acts, ourselves. In the latter book, Amis follows his protagonist – a Nazi doctor – in reverse, placing an innocent consciousness inside of him that is born on the day he dies, and grows older as the doctor grows younger; when this consciousness sees bodies born of the ashes of Auschwitz (since his "time's arrow" moves in the opposite direction), he marvels at the wonders of creation. In this way, Amis indicates that the atrocities are impossible to comprehend unless you invent a fantastical reason for them to occur.
In The Act of Killing, Oppenheimer combines both approaches. On the one hand, his main characters are extraordinarily ordinary – just like us – while on the other hand they, almost 50 years earlier, murdered hundreds, if not thousands, of innocent people with their bare hands (and the occasional machete and gun). The only way they seem capable of living with themselves is to have bought – hook, line and sinker – the fantastical ideology that was fed to them: all of the victims were Communists, sworn to overthrow the government. They had to be exterminated. As we watch them proudly visit the killing fields and recall their horrifying exploits, we recoil in disgust, but not without wondering at their banality (a nod, perhaps, to Hannah Arendt, and her "banality of evil" ideas about Nazis). It's a boisterous and absurdist movie, and a scathing indictment of all forms of absolutism.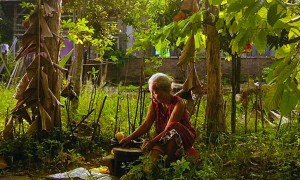 Now, Oppenheimer is back, with a film that is much quieter and therefore, if possible, even stronger than his previous one, since its truths sneak up on you. This second volume – which he first released at select festivals in 2014, and later, last year, in limited theatrical engagements – places its focus more on the victims, though the perpetrators are very much part of the story. Our main character is, Adi, a 44-year-old ophthalmologist who was born two years after his older brother, Ramli, was killed in the purges. Somehow, his parents kept their sanity, moved on, and found the will to have another child. As the movie begins, Adi has decided to track down his brother's murderers and ask them if they feel regret for their actions. Not surprisingly, none of them do. But as they tell their stories – again, boasting – some members of their families react with horror, never having heard the atrocities described. Or so they claim. In The Look of Silence, the quiet of the title refers to the willful national amnesia about the past. No one wants to remember. But Adi refuses to forget.
It's an absolutely remarkable cinematic tour-de-force, not the least because of the genuine risks that Adi – whose complete name is never revealed – and even Mr. Oppenheimer face at every turn. While the assassins may enjoy discussing their exploits, they do not like questions that probe too deeply. As one of the interviewees – the longtime head of the national legislature – states, looking menacingly at Adi, "If you keep making a big deal about the past, it will happen again." What a completely Kafkaesque reversal of the oft-cited George Santayana quote (you know, "Those who cannot remember the past are condemned to repeat it")! The arrogance of power knows no bounds. Speaking of which, Oppenheimer makes clear the complicity of the United States – intent on expanding its sphere of influence and destroying global Communism – in the Indonesian genocides. Again, we are all capable of evil acts.
Though the subject may be brutal, the film is a work of beauty, stunningly photographed (by Oppenheimer and many "anonymous" Indonesians, their names hidden for their own safety) and carefully edited to maximize the intensity of the awkward moments between interviewer and interviewees. I have rarely watched a film that held for so long on such powerful gazes between people: the killers want to do to Adi what they did to Ramli, while Adi looks for some sign of humanity in their eyes (the "silence," perhaps, also applies to these long minutes of discomfort). At the end, if the sins of the past are not quite expiated, at least they are exposed. This is a film for all to see, now and tomorrow and for ever more.
– Christopher Llewellyn Reed (@ChrisReedFilm)