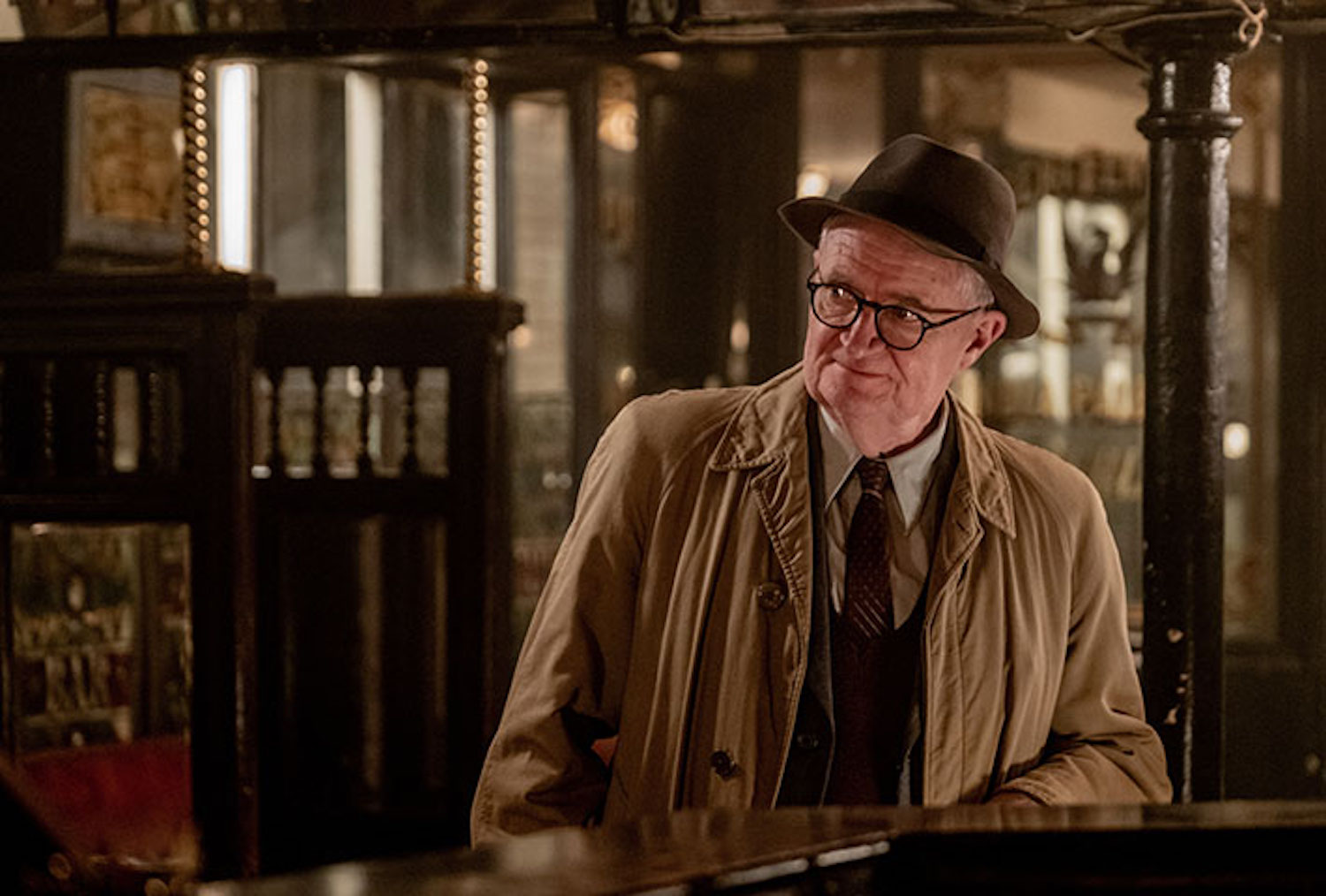 (Check out this movie review of The Duke, in theaters now via Sony Pictures Classics. Seen it? Join the conversation with HtN on our Letterboxd Page.)
Based on a true story, Roger Michell's The Duke dramatizes the 1961 theft of Francisco Goya's famous portrait of the Duke of Wellington, the reasons behind the crime, and its aftermath. Starring Jim Broadbent (King of Thieves) and Helen Mirren (The Good Liar), among others, the film is rich in talent, as well as whimsy. Stealing from museums may normally be no laughing matter, but here the entire affair is played to the comic hilt, even as it explores more serious issues of income inequality, social class, prejudice, and grief. There's no stopping the little guy when he gets his dander up.
Broadbent stars as the real-life Kempton Bunton, a pensioner from Newcastle, a city in the northeast of England, who loves to pick all sorts of quixotic fights with the system. When first we meet him (after an opening prologue at the criminal trial to which we will later return), he is arguing with representatives from the government-run British Broadcasting Corporation (BBC) who want him to pay for the same television license that everyone else does. He refuses on principle, and even shows them that he's removed from his set the receiver that would allow him to watch the BBC. No matter. It's off to prison. It won't be the last time.
His long-suffering wife Dorothy (Mirren) wants nothing more than to live, as she puts it, a "normal life," yet that's virtually impossible given her husband's proclivities to stir things up. Incapable of holding down any kind of part-time job, Kempton threatens to add to Dorothy's already considerable burdens as a housekeeper for a wealthy couple in town. There are also lingering tensions in the marriage from the long-ago death of their daughter, for which Kempton blames himself. He takes refuge in the plays he writes about the tragedy; Dorothy chooses never to talk about it at all.
Fortunately, there are two sons in the mix, one of whom, Jackie (Fionn Whitehead, Port Authority), gets along swimmingly with dad, so much so that when Kempton returns from a trip to London with the Duke of Wellington in tow, Jackie helps him hide it. Wait, what? How does this sixtysomething man steal a celebrated painting that was just purchased, with great fanfare, and installed in the National Gallery? That, indeed, is the question, and with great panache and delightful cinematic smoke and mirrors, director Michell (My Cousin Rachel)—who sadly passed away in 2021—keeps us guessing as to the truth, thanks to the fine screenplay from writers Richard Bean and Clive Coleman.  It's even better that we thought we knew what happened, without a doubt, but no.
Eventually, Kempton is caught, and the ensuing court proceedings become a referendum on the way England treats its citizens in need. The accused claims he was just holding the painting for ransom so that he could use the money to buy TV licenses for others like him. That's a hard sell–or is it?—though his defense lawyer (Matthew Goode, Silent Night) is determined to get him off. The jury's verdict hinges on how they balance their delight in Kempton's self-deprecating humor, on full display on the stand, and their desire to uphold the law.
As fun as it all is (and it is), there is also a deep undercurrent of melancholy thanks to the trauma at the heart of Dorothy and Kempton's relationship. Before there can be any kind of happy ending, they must find a way to reconcile. It's a tribute to all involved that the sentiment is treated respectfully even as the manic comedy gets its full due. All hail the Duke, for he has earned our honest tribute.
– Christopher Llewellyn Reed (@ChrisReedFilm)