A Conversation with Anton Corbijn (SQUARING THE CIRCLE)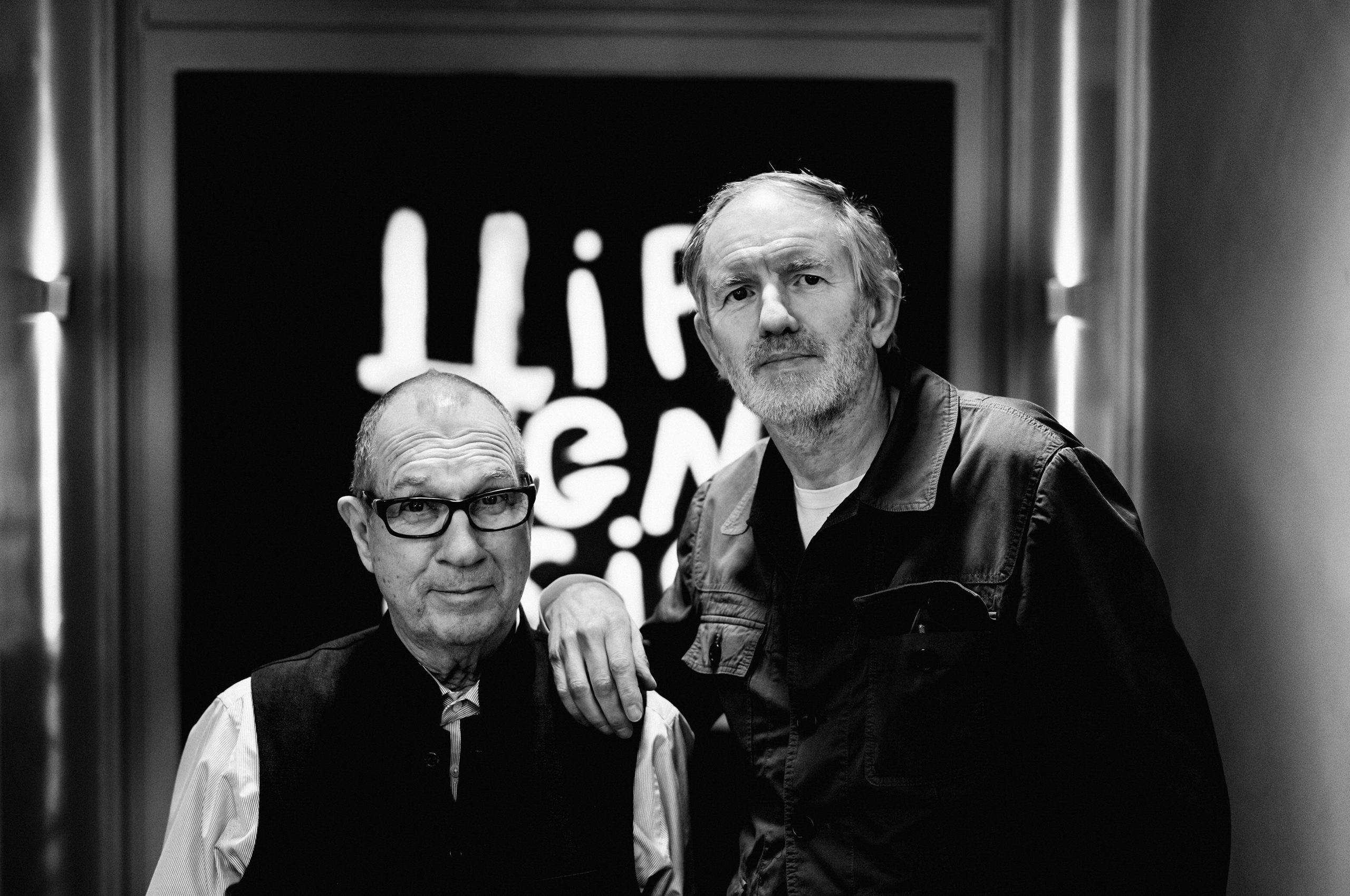 Having been behind some of the most seminal photos of the past few decades, Anton Corbijn seamlessly transitioned from photography to directing music videos, narrative features, and now his first documentary with Squaring the Circle (The Story of Hipgnosis). The film, which had its world premiere at Sundance this year, explores the partnership between Storm Thorgerson and Audrey "Po" Powell, aka "Hipgnosis," the creative geniuses behind some of the most iconic rock album covers ever. It features quite a list of interviewees: Paul McCartney; Peter Gabriel; Noel Gallagher; Jimmy Page and Robert Plant of Led Zeppelin; Roger Waters, David Gilmour, and Nick Mason of Pink Floyd; and more.
The documentary is now playing at NYC's Film Forum, before its LA release on June 16th. I had the honor and pleasure of talking with Mr. Corbijn about the film, where we brought up his favorite album covers, set experiences, and his next film with Helen Mirren.
Hammer To Nail: This film really immerses us in the minds of the dynamic duo of Storm and Po. When did you first become aware of Hipgnosis's work?
Anton Corbijn: It was in the '70s when I started photography myself. The highest aim in those days was to be in a music magazine or be on a record cover because there were not many museums or galleries dedicated to photography in the '70s. I think "Atom Heart Mother" by Pink Floyd was the first album sleeve I was aware of. I was a big Peter Gabriel fan as well, so all those album sleeves I knew. And then books started to come out about album covers. It was a real emphasis on making interesting record sleeves.
HTN: I noticed that when it comes to your photography and their photography that there's a very dreamlike, somewhat edgy aesthetic to the way you captured your subjects or whatever it was you were trying to convey. Was there a particular connection you felt between your own work and Hipgnosis's?
AC: Not really. I think they're more academic in their approach. I have a certain amount of insecurity. (Laughs)
HTN: Given how much music has influenced you in your life and your career, do you consider this film something you were always meant to make?
AC: I mean, I think I was attracted to it for the right reasons. I love the album sleeves and photography. Po is a fantastic storyteller as well. He carries the film with his stories. There were a lot of things I enjoyed. I never made a documentary before, and we used a lot of archival footage which was difficult because it's very hard to [find] the right stuff, and some of the things you find were used in other films because it's about the '60s. To find certain stuff was difficult and I was a little all over the place, so I made the decision to make the film in black-and-white in order to unify all these elements. And since the records are in color, they would be the highlight of your existence.
HTN: That was actually gonna be my next question! You kind of answered half of that for me. One factor of this film that really fascinated me was the contrast between everything else in this film which is black-and-white versus the vibrant colors of the albums. The way you captured all these subjects in b&w, as well as the archival footage, kind of ties together these different time periods in a way.
AC: Yeah that was kind of the idea because you don't want to keep stopping in your tracks thinking "Oh this looks terrible" because there's a lot of stuff I have no influence over. But making it in black and white for me meant the past and present coexist nicely. And it makes the record sleeves look stronger.
HTN: Speaking of which, you really learn to appreciate all that goes into making an album cover or sleeve, from the way they capture/create the image, getting the budget together, and all those other factors. Did you always have that fascination for the craft and effort that went into making them?
AC: The movie shows that there was real craftsmanship in terms of getting the pictures, experimenting, and all the other stuff that went into creating something. I stopped comparing it to my own work because it's different. But they got really good ideas most of the time, and then they convinced the people that paid for it to give them the money to execute it. They were really good at the execution of these things. I'm full of admiration that so many great ideas can come from two people.
HTN: Did hearing all these stories while making the film have any kind of influence on you as an artist?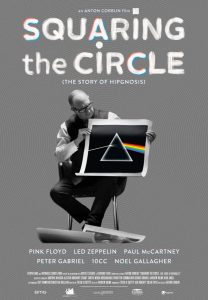 AC: Not so much. I knew quite a few stories from the books that came out about Hipgnosis. I have a very different way of doing things. I very often just take a photograph and make it work on a record sleeve, whereas Hipgnosis started with an idea and then looked at how they can actually do it throughout means. I might sometimes do it with a little painting, but generally, it's a just photograph I do.
HTN: I couldn't help but think of [your first film] Control watching this because they're both black-and-white shot stories set around the same kind of era that's about these rebellious sorts of kids coming into themselves artistically while navigating the ups and downs that come with their work and life. Are you usually attracted to these kinds of stories?
AC: I guess so. That's an interesting comparison. When I made Control, I was pretty young and I felt the same emotions as those people at the time. I was kind of sensitive to this kind of depressing story. When I was younger, Joy Division sounded more depressing. Now I don't think it sounds that depressing, but that's how I interpreted it. That's how I looked at things at the time, and I think Ian Curtis did the same. That's why I think it was a good marriage, Ian and myself, in terms of visuals.
HTN: Did you kind of see yourself and Hipgnosis as some sort of marriage, as you described it?
AC: Not really. Po is a very practical man. I think our visuals are quite different. I don't particularly like some of the influences that he has. But that's fine, it wasn't a battle between him and me. I loved the stuff they made and I wanted to tell that story. But I think we have different influences. I never took LSD either. I think that opened up things for him.
HTN: Did you get to touch that little statuette they made for Led Zeppelin?
AC: Absolutely! I had it in my hands because there was a shot in the film where it moved around slowly and that was me moving it from underneath. (Laughs) It was a wonderful idea to come up with that object. It's amazing. I personally think it would've been a great album sleeve if it were shot in black and white because it was so strong.
HTN: It really makes you marvel at their abstract ways of thinking.
AC: I think that the ideas they can pull off in front of a camera are always the strongest. Like setting a man on fire [which they photographed for a Pink Floyd album] is just a crazy idea, but it's fantastic. The fact that it's for real makes it look so much better.
HTN: Do you have a favorite Hipgnosis cover?
AC: I would say probably "Atom Heart Mother." I love that one.
HTN: That was a really good story on how that happened.
AC: I also love the "Car" album by Peter Gabriel.
HTN: Learning about how Po and Storm tried to make their art synonymous with these bands' music kind of makes you cherish their music even more.
AC: Yeah, I think it's really hand-in-hand, the visuals and the music. Especially with the bigger names because they made more effort, with the Pink Floyds and the Led Zeppelins, even with the intensity of Peter Gabriel. They love that genre. They did a lot for it.
HTN: What projects do you currently have lined up?
AC: I'm on a soft prep for a movie that I'm doing with Helen Mirren. It's about Patricia Highsmith.
HTN: I love Highsmith! Can't wait for that one.
AC: (Laughs) Yeah my job is never-ending. There's always stuff to do.
–  M.J. O'Toole (@mj_otoole93)