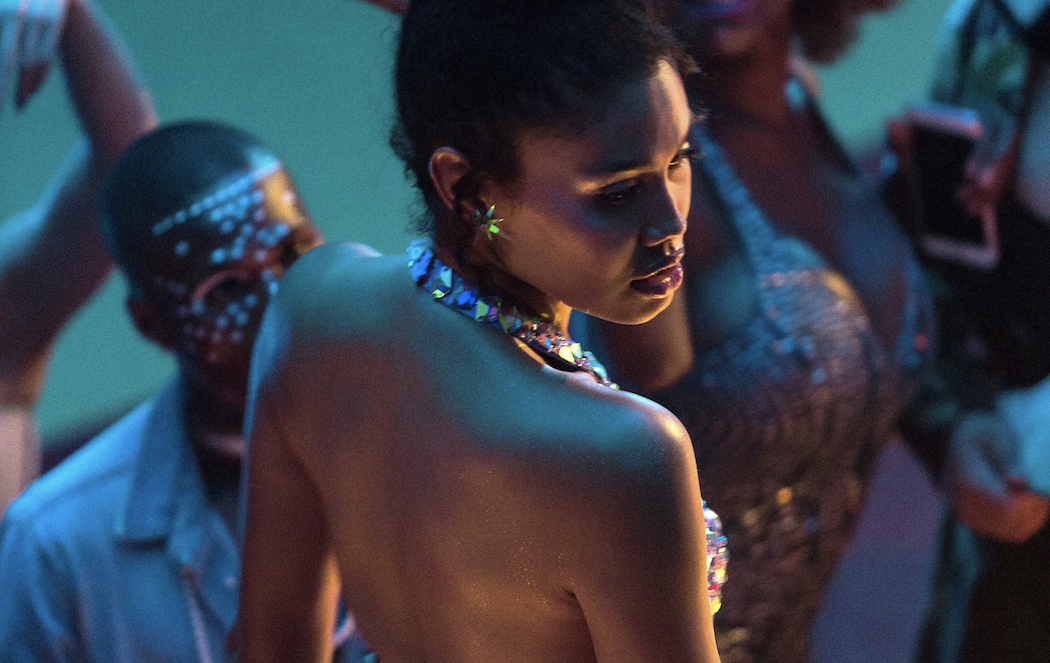 (After it's debut at Cannes, Danielle Lessovitz's Port Authority is in theaters May 28th and On Demand and Digital on June 1, 2021. Like what you see here on Hammer to Nail? Why not give just $1.00 per month via Patreon to help keep us going?)
Paul, a twentysomething white man, steps off a bus at New York's Port Authority, alone and, as it turns out, slightly confused. He walks up to a few young women, asking if they are Sarah, then holds out his phone to any passerby who will look, showing a photo of said Sarah and wondering if anyone has seen her. It's a big city, so no one really has time to stop and respond. Finally, Paul makes his way outside to smoke and finds himself watching a small group of friends, all people of color, possibly genderqueer, dancing together. One, in particular, seems to catch his eye, and she returns his gaze. Still, they walk off, and he remains alone, which, as we discover, has long been his state in life. So begins Port Authority, Danielle Lessovitz's poignant study of love and identity set among the disenfranchised of Manhattan.
After that gentle opening, we follow Paul (Fionn Whitehead, The Children Act) onto the subway, where two aggressive men grab his phone and beat him up (though he fights back). Watching and, eventually, helping out, is Lee (McCaul Lombardi, Sollers Point), who takes Paul under his wing and gives him a place to stay at a local men's shelter. The lodgings come with a requirement to work, however, and the more we discover about the nature of the job, the less savory it becomes. 
Lee and his crew, it appears, shake down undocumented immigrants for appliances, electronics, furniture and cash, threatening to call immigration if their victims resist. Since Paul's half-sister (the Sarah who never showed up at the bus depot) refuses to let him stay with her, he doesn't have much of a choice, though given Lee's constant barrage of homophobic comments and Paul's increasing interest in the group he saw in the beginning, we sense a gathering storm of conflict ahead. Paul, from Pittsburgh, is also on probation, so he shouldn't be in New York, anyway, which further complicates the situation.
In the meantime, Paul makes contact with that woman with whom he first locked eyes. She is Wye (Leyna Bloom), part of a tight-knit, self-selected "family" (as they call themselves) that both live and dance together, their universe revolving around the kiki ballroom community, where young, queer people of color can express themselves as they wish, away from the judgement of heteronormative expectations. Though he is white and presents as very straight, he and Wye slowly develop not only a friendship, but also a romance. Until, that is, he discovers that she is trans. 
What thereafter transpires emerges from Paul's struggle to accept who Wye is and whether that matters. His feelings are strong enough that it looks like love might conquer all, but there is his own displacement to confront, plus the sordid nature of what Lee makes him do. Plus, Lee, as his benefactor and sort-of friend, proves an obstacle in and of himself. And Wye has her own agency and sense of self, and is not so sure she can be with someone with all the baggage that Paul brings.
Lessovitz carefully and respectfully manages the different characters' points of view, plunging us into a unique world and its inhabitants' challenges in navigating their place both within and without their respective circles. Together, Whitehead and Bloom shine – the one barely articulate, the other wearing her feelings proudly – giving their scenes together genuine feeling and urgency. Though Lombardi's Lee is hardly sympathetic, he makes an effective heavy as counterpoint to the young lovers' hopes and dreams. Beautifully realized, Port Authority makes Paul work for what he wants, and by the end, both he and the movie have fully earned the reward of our fascinated attention.
– Christopher Llewellyn Reed (@ChrisReedFilm)