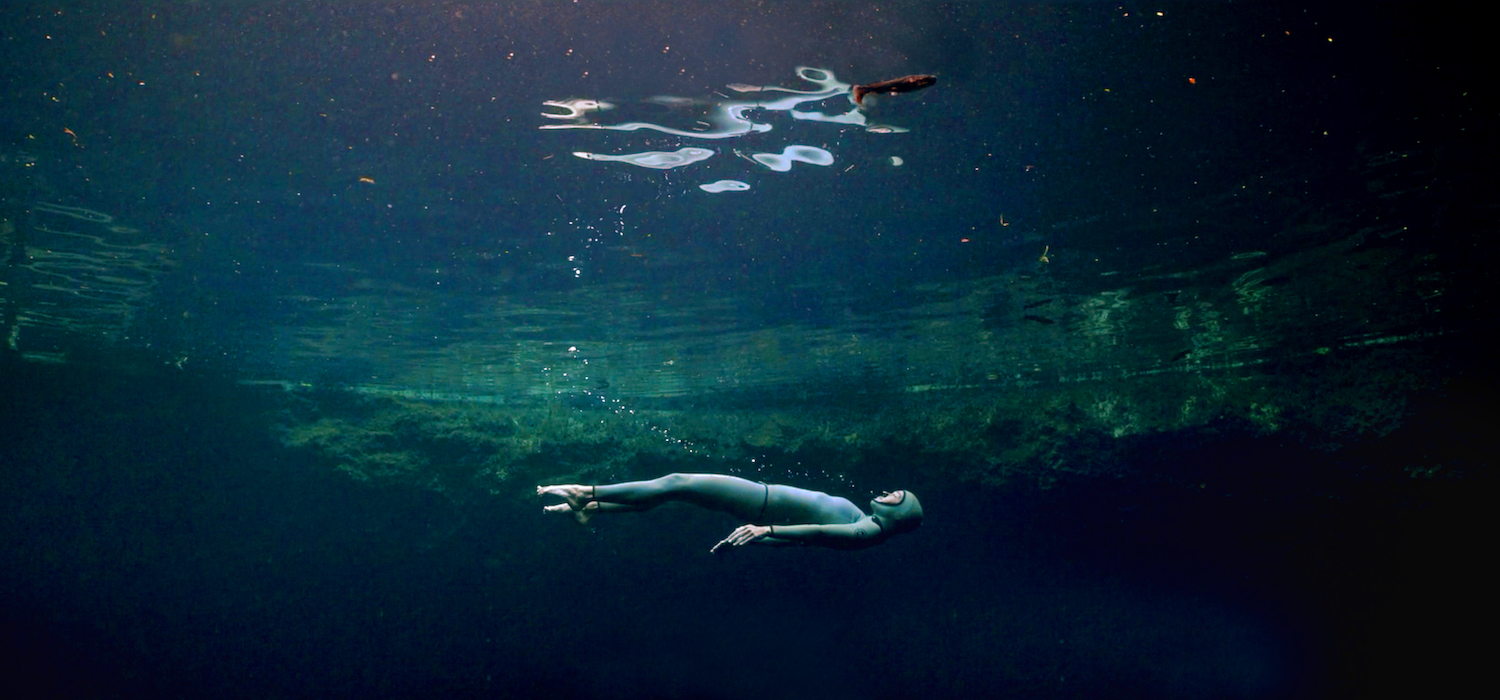 (Check out Chris Reed's movie review of The Deepest Breath which hits Netflix Wednesday, July 19. Seen it? Join the conversation with HtN on our Letterboxd Page.)
It's hard to know what to feel about extreme sports. While it's clear what part of the adrenaline rush may be for the avid practitioners of a particular pastime—much more than just that for them, approaching an all-consuming lifestyle—there are attendant risks that can affect others, be they friends, lovers, family members, and/or colleagues. In her gripping new documentary The Deepest Breath, director Laura McGann (Revolutions) explores both glory and tragedy in the dangerous world of freediving. Expect the thrill of adventure and despair of death.
At the center of this real-life tale are two stars of this mostly ocean-based activity: the Irishman Stephen Keegan and Italian woman Alessia Zecchini. He was a celebrated safety diver who ran a school in Dahab, Egypt, while she is, as of this writing, the current world-record-holder of the sport. They met in 2017 at the Vertical Blue competition in the Bahamas, where Zecchini would first break the then-world record with a dive of 104 meters. They had an easy rapport, fell in love, and continued to work together. Until, that is, one fateful day in 2019.
And what is freediving? It goes by other names, including "breath-hold diving," and is a plunge into the depths without any kind of breathing apparatus, relying solely on the oxygen that years of training equips participants to keep in their lungs for long enough to survive dives of four minutes or longer. How is this possible? I do not know, but it is.
Some of the science is explained in the film, though much is still left to mystery. But we do see quite a lot of archival material showing young Alessia in her swimming-pool days, working up to greater and greater distances. And we are given to understand that the pressure of deeper water affects the body in ways that both help and hurt one's chances of survival. Unlike in technical diving (which involves attached compressed-air tanks), a freediver can swim towards the surface as fast as they are able, without fear of decompression sickness. So there's that.
But the terrifying dangers are all too real, and they include such horrific possibilities as "lung squeezes" and blackouts, the latter of which often seem to strike divers as they finally run out air, meters below the blessed open sky. Fortunately, the sport has evolved to include folks known as "safety divers" (themselves freedivers) who assist competitors should they fail to make it on their own. But who helps the safety divers if they need assistance?
It's a complicated endeavor, for sure. Unlike Alex Honnold—the protagonist at the center of the hair-raising 2018 documentary Free Solo, whose fate was solely, and quite literally, in his own hands—here Alessia and her fellow divers rely on an entire support apparatus to guarantee they don't die (though deaths still happen). And when something goes wrong, then no matter the intense hours of preparation, the worst can, and does, happen.
Such was the case at Dahab's beautiful, but infamous, "Blue Hole." Located on the shore of the Red Sea, it's a deep sinkhole/break in the coral reef, with an underwater arch that many have tried to swim through. It's there, in 2019, that Zecchini strove to follow in the strokes of her idol, Russian freediver Natalia Molchanova (who herself disappeared in 2015 while diving, albeit somewhere else). Things did not go as planned, and the man, Keegan, who was supposed to guarantee her safety did just that, but at the cost of his own life.
My feelings are mixed on these activities, but not on The Deepest Breath. In this beautifully photographed and edited movie, director McGann crafts riveting, and fully three-dimensional, profiles of the protagonists, bringing in plenty of supporting voices and characters, as well. Passion and obsession can be both good and bad, and we get it all here in a robust, cinematic swirl of engrossing currents. Don't try any of this at home, however.
– Christopher Llewellyn Reed (@ChrisReedFilm)
Netflix; Laura McGann; The Deepest Breath documentary movie review