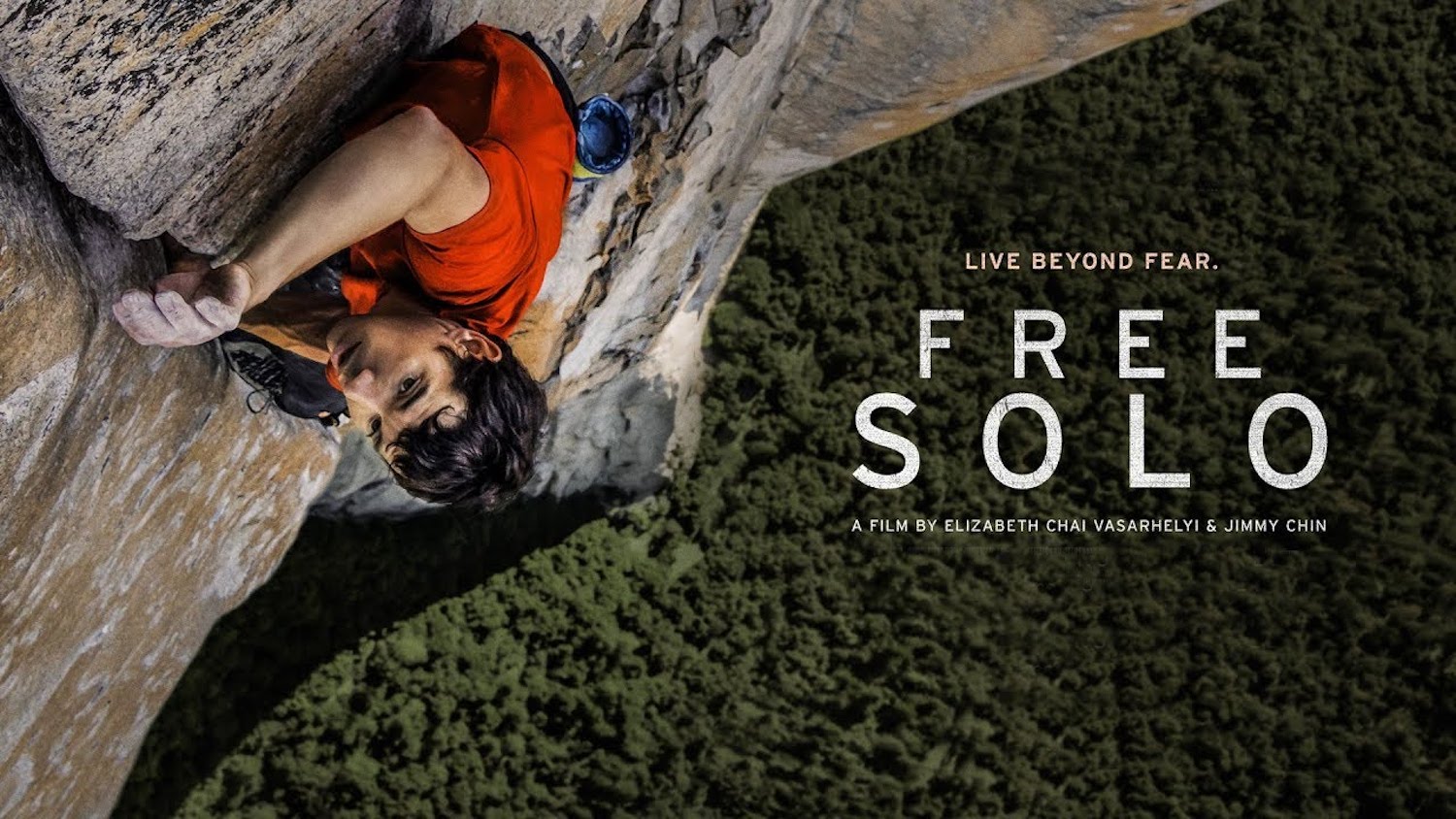 (The 9th annual DOC NYC ran November 8-15 in New York City. Lead Critic Chris Reed was there so stay tuned for his review and interviews. Like what you see here on Hammer to Nail? Why not pay just $1.00 per month to help keep us going?)
Pity the filmmakers behind The Dawn Wall, which premiered at this year's SXSW festival (where I reviewed it). That documentary profiles two climbers as they attempt to "free climb" (that means only using equipment to protect against falls, rather than to assist with ascent) up a heretofore deemed-impossible section of Yosemite's El Capitan cliff face (the "dawn wall" of the title). A magnificent example of breathtaking cinematography combined with an exciting subject matter, The Dawn Wall now finds itself outdone, at least in terms of thrills. For here comes Free Solo (from the directing team that brought us Meru), which premiered at Telluride in August, and turns its own lens on a man ascending El Capitan without any assistance at all (i.e., not even safety ropes), doing it, as the title indicates, "free solo." It's scary to watch, but absolutely riveting. He would be the first and only (so far) person to do it, if he succeeds.
To be fair, each film tells the tale of a different kind of climb, with contrasting challenges, and offers characters with dissimilar backstories, though the lead in one (Timothy Caldwell of The Dawn Wall) is a supporting actor in the other. In Free Solo, we meet Alex Honnold, just over 30 and already famous throughout the climbing world as a remarkable athlete and yes, free soloist. Author of Alone on the Wall, he alternates between tackling new cliffs and going on book tours, on one of which, in the past, he met Sanni McCandless, now his girlfriend, a young woman of remarkable forbearance given the often insensitive ways in which Honnold discusses their relationship, wondering if it will last. Then again, she says that it is his honesty that drew her to him, so perhaps the more he dishes, the more she loves him. As stunning as Honnold's feats of daring may be, however, his love-hate romance with Sanni both fascinates and repels, making him at times a challenging protagonist.
One thing that is not in doubt is the magnificence of his climbs, though they are also reckless. And Alex is only part of the story. Unlike in The Dawn Wall, here co-director Jimmy Chin figures into the narrative, as well. Given the fact that Honnold climbs without safety ropes, anything that threatens his concentration or gets in his way could endanger his life (beyond the already considerable risk of the climb, itself, that is). Chin therefore has to place his camera operators (themselves suspended from cables) in locations that deliver great shots without interfering in Honnold's ability to focus. Since Chin and many of his crew have known Honnold for years, their emotional investment in not killing him runs even higher than the usual human empathy. At one point, as Honnold makes his final attempt, the operator on the valley floor below, Mikey Schaefer, has to frequently look away from his viewfinder, so terrified is he of what could happen. If even experienced climbers are afraid, it must be truly dangerous. Whatever their fears, though, they capture astonishing footage.
Part of the appeal of Free Solo, beyond the thrills, is its discussion of what makes Honnold do this. Much as in The Dawn Wall, where Caldwell's past formed the anchor of that film's moving drama, here we explore the clues in Honnold's life that drive him to danger. Despite his occasional ambivalence to Sanni (who, herself, remains loyal), he is not without charm, especially since he seems to have very little filter between thought and spoken word (that "honesty" Sanni loves so much). Raised in a household where no one hugged and no one said "I love you," he is perhaps as emotionally healthy as he one could be in such situations. Despite a recent influx of sponsorship money, he still lives in a van (designed for his peripatetic lifestyle), yet otherwise, when out in the world, is sociable and engaging. And he has many friends – including Caldwell, his character opposite in many ways, who helps train him – who help soften his rougher edges to the viewer. He also has a foundation, which works to bring solar energy around the world. Maybe he's not such a challenge to spend time with, then, after all, with good values underneath the boyish bluster.
So why does he climb, then? Because he can, for one, and is good at it. He is not oblivious to the risks and is not above cancelling a climb if he feels it is not going well. We all have obsessions, though most people's don't hold the possibility of killing them. Without such crazy dreamers, documentarians would have far fewer choices in subjects for adrenaline-fueled movies like this one. Honnold survives (for now), we survive, and all is good. Still, the filmmakers remind us that free soloists do, eventually, tend to die doing what they love, so let's hope there's no tragic sequel. Free Solo promises one great climb. May Honnold quit while he's on top.
– Christopher Llewellyn Reed (@ChrisReedFilm)
Like what you see here on Hammer to Nail? Why not pay just $1.00 per month via Patreon to help keep us going?