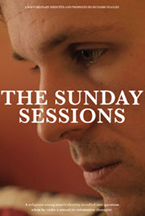 (Available now on all VOD platforms via First Run Features, The Sunday Sessions by filmmaker Richard Yeagley's takes an in-depth look at conversion therapy. Like what you see here on Hammer to Nail? Why not share just $1.00 per month via Patreon to help keep us going?)
Out now on Amazon, iTunes, Kanopy and DVD, documentarian Richard Yeagley's The Sunday Sessions comes on the heels of two 2018 narrative features – Boy Erased and The Miseducation of Cameron Post – on the same theme of gay-conversion therapy. Here, however, not only is the topic presented in a nonfiction format, but the main subject, Nathan Gniewek, has not been forced into a program against his will, but has chosen it, himself, seeing his homosexuality as an affront to his Catholic faith. In a long series of "Sunday sessions" with psychotherapist Christopher Doyle, Gniewek struggles to overcome his natural urges, convinced he is damned if he doesn't.
Doyle, who once identified as gay, as well, offers a gentle environment for men to discuss their feelings and find ways to learn to be attracted to women. Though still legal (for now) in Maryland, where Doyle and Gniewek live, the practice is deeply controversial. Despite the fact that I in no way approve of the denial of sexual identity – we are who we are – I was impressed with the way Yeagley approaches the matter, offering Doyle a chance to explain what he does and why, thereby revealing him in all his own flawed humanity. He may be misguided, but he is no one-dimensional cartoon villain. Still, though he does not act with intentional; malice – and claims he is only there to help those who seek his services – most of his clients remain troubled throughout their treatment.
Gniewek starts out with a boyfriend, Cameron – a lovely, understanding soul who attends therapy with him to help understand the why and how of it – whom he gradually, over the course of the film's 90 minutes, abandons more and more, Doyle urging him to leave such friendships behind. It's all up to Gniewek, of course, but once committed to a process, it can be hard to step back and realize that investment does not equal improvement: the more you give, sometimes the more you lose. Sure enough, Gniewek grows angrier and more depressed. It's more work for Doyle, a perfect vicious circle.
Viewers seeking an unequivocal condemnation of conversion therapy will leave the film frustrated, I am sure, though Yeagley leaves the clear evidence of failure up on the screen. He prefers that observational route, eschewing voiceover or title cards to indicate his directorial point of view. His unpolemical approach, evenhanded and subtle, is occasionally unsettling, but ultimately to the benefit of the movie. Less is more here, and we can tell the difference.
*[Note: Richard Yeagley is an alumnus of the university in which I teach, though I never taught him while he was a student, as he graduated just as I arrived.]
– Christopher Llewellyn Reed (@ChrisReedFilm)
Like what you see here on Hammer to Nail? Why not pay just $1.00 per month via Patreon to help keep us going?