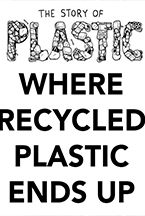 (DOC NYC runs November 6-15. Lead critic Chris Reed is there bringing you tons of coverage so stay tuned! Like what you see here on Hammer to Nail? Why not pay just $1.00 per month via Patreon to help keep us going?)
Forget climate change (actually, please don't)…the world as we know it will soon come to a clogged end, choking on the petroleum-based product known as plastic. That's right, one way or another, fossil fuels are coming for us. In the case of plastic, however, it could be sooner than we think. The last 15 years has seen the creation of over half the amount of plastic that has ever existed. Think about that. Then consider the arrogance of the titans of industry who keep foisting this virtually eternal substance on the world, pointing to the developing countries with the worst pollution records as the true culprits. How does that work? If even the industrialized nations of the world can't handle their plastic problem, how are places with a fraction of the infrastructure supposed to manage? But, you know, it's always easier to punch down.
Director Deia Schlosberg (Cold Love) lays out the facts in all their depressing presaging of doom in her doc The Story of Plastic. Beyond the accumulation of first-generation bottles, bags and more, it's the degraded materials (and plastic degrades easily into smaller pieces, though sadly not into nothingness, lasting for eons) that pose some of the greatest threats, invading rivers, oceans and our drinking water. Yes, whales die by swallowing bags – something we can all wrap our minds around, however tragic – but what is the effect of the ingestion of these non-digestible materials? We don't yet really know.
Assembling a diverse and engaging cast of characters, Schlosberg travels the globe visiting Indonesia, the Philippines, China, and the good ole US of A, among other places. From journalist Zoë Carpenter to activist Tiza Mafira to ecologist Martin Bourque and others, including members of the Break Free from Plastic Movement, she presents an array of opinions on the (non)future of our planet. She simultaneously gives us a timeline of how we got here, from the original development of the "miracle" (as it was called) of plastic, to industry tactics in the 1970s to turn attention away from the evils of production towards tax-payer funded recycling programs (that's right, make us pay for the clean-up of your mistake), to today's reality, where China no longer wants to accept the world's recycling (which it has been doing for a while), forcing the West to reconsider how it handles the issue (you mean, we can't just give it away?). And on it goes. We are fat-rucked.
Fortunately, the film does offer some hope in the faces and words of its interview subjects, who remind us that there are good people out there working to create some possible solutions. And, as with all fine activist documentaries, it ends with a call to action on what we can do. First and foremost, however, we can at least try to stop using plastic in our own lives. Every bit counts.
– Christopher Llewellyn Reed (@ChrisReedFilm)
Like what you see here on Hammer to Nail? Why not pay just $1.00 per month via Patreon to help keep us going?