THE CRITERION CORNER: THE SQUID AND THE WHALE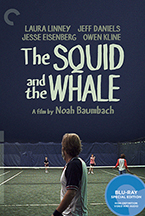 (We here at Hammer to Nail are all about true independent cinema. But we also have to tip our hat to the great films of yesteryear that continue to inspire filmmakers and cinephiles alike. This week, our "The Curbside Criterion" continues where HtN staff can trot out thoughts on the finest films ever made. Today HtN Lead Critic Chris Reed wipes info all over you on the new release of the film that put Noah Baumbach on the map, The Squid and the Whale.)
Released in 2005,The Squid and the Whale marked a turning point in the career of New York-based filmmaker Noah Baumbach. His third official feature, after Kicking and Screaming (1995) and Mr. Jealousy (1997) – Baumbach had made an earlier third feature, Highball (also in 1997) that he later disowned – the movie earned Baumbach an Oscar nomination for Best Screenplay, as well as a slew of other awards and nominations. After 8 years in the directorial wilderness, during which time he wrote scripts for and with others (including Wes Anderson, on whose screenplay for the 2004 The Life Aquatic with Steve Zissou he collaborated), Baumbach had arrived. And with good reason, since The Squid and the Whale is a stirring, fresh coming-of-age tale about divorce and the toll it takes on children that is both witty and naturalistic in its presentation of what could be (but isn't) a glum catalog of misbehavior.
The movie was more than just Baumbach's newly redesigned calling card, however, but also the launch pad for Jesse Eisenberg, who had made a few films before – including a favorite of mine, Roger Dodger (2002) – but without, yet, a major breakthrough. And then there was Jeff Daniels, best known at that point for his work in lighter fare, including The Purple Rose of Cairo (1985), Something Wild (1986) and Dumb & Dumber (1994), to whom The Squid and the Whale offered the opportunity to take his career in a significantly different direction. As he says in one of this disc's special features, without Baumbach's movie, there would be no Jeff Daniels in Aaron Sorkin's HBO series The Newsroom (which would be a shame). Rounding out the superlative ensemble cast are Laura Linney (You Can Count on Me), newcomer Owen Kline (son of Kevin Kline and Phoebe Cates, though none of the special features here mention that fact), William Baldwin (Backdraft) – who has never been better, before or since – Anna Paquin (The Piano) and relative newcomer Halley Feiffer (also You Can Count on Me). It's a tour de force of well-written independent filmmaking, using its low budget to create a bare-bones, documentary-like aesthetic that plunges us into the simultaneously appealing and repellant dysfunction of a disintegrating family, set in the mid-1980s and based on Baumbach's own experience with his parents' divorce.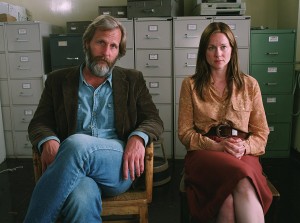 Daniels plays Bernard Berkman, a once-successful writer and classic narcissist, if there ever was one. Now a bore to his wife, Joan, played by Linney, he takes it hard when she decides to emancipate herself. They have two kids, and each has a different favorite: the 16-year-old Walt, played by Eisenberg, adores his father, who can do no wrong in his eyes; the 12-year-old Frank prefers Mom. As things go from bad to worse, we watch in stunned awe as the parents use their children as weapons – Bernard far more than Joan, who is the more sympathetic of the two – causing all sorts of problems for both, as if the normal challenges of adolescence weren't enough. Filled with memorable performances and brilliant dialogue, The Squid and the Whale holds up well, showcasing Baumbach's burgeoning talent and a harbinger of strong work to come, including Greenberg (2010) and While We're Young (2014).
And now the film gets the Criterion treatment, released on Blu-ray in a fine presentation, scanned in 4K from the original Super 16mm negative, with a 5.1 surround-sound mix. The audio-visual quality of the disc is superb, up to the (mostly) usual standards of the company. The included special features, briefly reviewed below, are informative and comprehensive, and add to our understanding of the backstory and production history. It is well worth buying for Baumbach aficionados and casual fans, alike.
SPECIAL FEATURES:
 BOOKLET:
 There are two separate essays:
Essay # 1: "4 Way Street," by Kent Jones: Kent Jones is the Director of the New York Film Festival, and director of the documentary Hitchcock/Truffaut (2015). He has here written an excellent overview of the film and its production, placing it firmly in the tradition of New York "street movies," a sort of modern-day Mean Streets. A self-described friend of all the participants, he provides helpful biographical information on Baumbach and his family. It is well worth the read.
Essay # 2: "Noah Baumbach," by Jonathan Lethem: Originally published in BOMB magazine, this interview suffers a little from Lethem's intrusive self-regard, but is still chock full of interesting insights into the production, including the fact that Daniels wore Baumbach's father's actual old clothes during the shoot. Baumbach also recounts how potential financiers balked at the idea that Bernard never gets a redemptive moment. Despite its occasional flaws, it's still a good companion piece to the movie.
 DISC:
There are seven video extras:
Interview with Noah Baumbach from 2016 (27:40): Provides good background on the status of Baumbach's career at the time (including his collaboration with Wes Anderson, who is a producer on this film), how he gathered the cast, and why he chose to shoot the entire film handheld.
Revisiting The Squid and the Whale (2016) – Interview with Laura Linney, Jesse Eisenberg and Owen Kline (20:14): Great content here, with all three actors explaining how they came to be in the film, what they thought of it, and what happened during and after the production.
Interview with Jeff Daniels (2016) (7:57): Another wonderful interview, in which Daniels shows himself very generous in spirit towards Baumbach and his fellow actors. I wish it were longer!
Auditions (2016) (20:39): There are five different audition scenes here, one with Eisenberg and Kline and the four others with Eisenberg and Feiffer. Both the audio and video are of pretty terrible quality, and it is visually uninteresting, so it's much more for diehards than casual observers.
Conversation between Noah Baumbach and composers Dean Wareham and Britta Phillips (2016) (13:49): Here we learn how Baumbach first came across husband-and-wife Wareham and Phillips through their work in the band Luna and how they both arranged previously recorded music and composed new music of their own for the film. It's a good addition to the disc.
Behind The Squid and the Whale (2005) (9:57): Shot by Baumbach's brother Nico on the set, this is short and sweet.
Trailers (4:07): Two slightly different trailers here, which play back to back. If you like trailers, these fit the bill.
There you go. Enjoy!