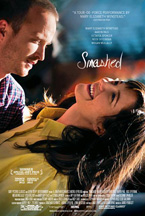 (Smashed is now available on DVD
, Blu-ray
, and at Amazon Instant
through Sony Classics. It world premiered at the 2012 Sundance Film Festival and opened theatrically in many more markets on Friday, November 9, 2012. Visit the film's official website to learn more. NOTE: This review was first posted on September 17, 2012, in conjunction with the film's screening at the 2012 Toronto International Film Festival.)
I was initially drawn to James Ponsoldt's Smashed by its cast. Mary Elizabeth Winstead, Nick Offerman, Megan Mullally, Octavia Spencer, Aaron Paul: this is substantial talent with an impressive range (though in truth I'd watch Aaron Paul read the phone book). As Katie Hannah, an alcoholic trying to get sober, Winstead gives the anchoring performance, but Ponsoldt's film really is an ensemble piece, deftly making the most of even the smaller characters and scenes. There's a giddy, anticipatory enjoyment in seeing top-tier television actors take on film roles, a pleasure the director seems to share with his audience. Working off the restrained, elegant screenplay by Ponsoldt and Susan Burke, the cast said they felt little need to improvise. I attribute this to Ponsoldt's balanced direction, and his almost musical instincts for the tonal shifts of a scene. Addiction is inherently dramatic, and stories centered on it can easily devolve into miserablism or hot mess histrionics. Smashed pulls back from that drama in favor of a milder, much more realistic tone. It's also very funny without being Apatow-ish. This shines through in Winstead's immersive performance as Katie, a young woman stumbling, painfully, toward responsibility. It's her honesty that wins our sympathies, and distinguishes Smashed from more conventional stories of addiction.
On the surface, Katie Hannah appears to live a normal 20-something life in Los Angeles. She teaches elementary school, and shares a hip, disheveled bungalow with her husband Charlie (Paul), a writer. They cruise around on vintage bikes, down beers and tequila shots, and sing drunkenly at karaoke. They party like everyone else they know, but the difference is that Katie can't stop. Her drinking invariably ends with some sort of an episode, and these range from the embarrassing, like urinating on a bodega floor, to the dangerous, like smoking crack under a freeway overpass. Katie skirts the line between freewheeling and free falling, until several crash landings scare her into acknowledging her addiction. It complicates matters that her well-meaning husband is a borderline case himself, more amused than frightened by her blackouts. He doesn't pass out in public, but neck-deep in empty bottles at the kitchen table.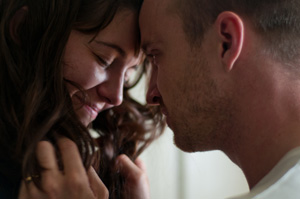 Reminiscent of Half Nelson-era Gosling, Katie sneaks drinks from a flask before work, until a vicious hangover unmasks her in front of her coworker, vice principal Dave Davies (Nick Offerman). Instead of judging Katie, Dave offers to take her to his AA meeting. At first Katie can barely say the word "alcoholic," but sorrow and fatigue overcome her resistance. She finds a friend in the mothering Jenny (Octavia Spencer), who becomes her sponsor, and together Dave and Jenny help Katie edge into sobriety. The seemingly orphaned Katie desperately needs to feel cared for, a need that the people in her orbit try to meet, with mixed results. While Jenny is all warmth and heart, Katie gets tough love from her boss Principal Barnes (Megan Mullally). Dave indulges a slightly creepy attraction to Katie, but Offerman plays Dave with such low-key charisma that his lines get some of the biggest laughs. If Dave takes his awkward crush on Katie too far, he is still a more stabilizing force than Charlie, who seems put off by Katie's sobriety.
Katie's commitment to a clean start inevitably exposes the fault lines in her marriage. Charlie's not a villainous enabler, and he loves his wife intensely, even if he doesn't know how to help her. The scenes between Katie and Charlie are some of the best in the film, particularly a riveting, late-act fight between them. Charlie is up against a woman in a formidable state of transformation, a truth that seems largely lost on him. Bewildered, Charlie fumbles for connection, but a single glance or word can cause a tectonic shift in Katie's emotions. In all fairness, Katie doesn't really understand herself either, but she's in a more primal state of survival, and can't afford the emotional indulgence that her marriage to Charlie requires. As she puts it, "love is the easy part, it's the rest of this shit that's hard." That could be the film's tagline: it points to the strength of Smashed, the way Ponsoldt avoids easy answers to the questions the film raises. By refusing to villainize or victimize his characters, he brings us much closer to their complicated reality.
— Susanna Locascio