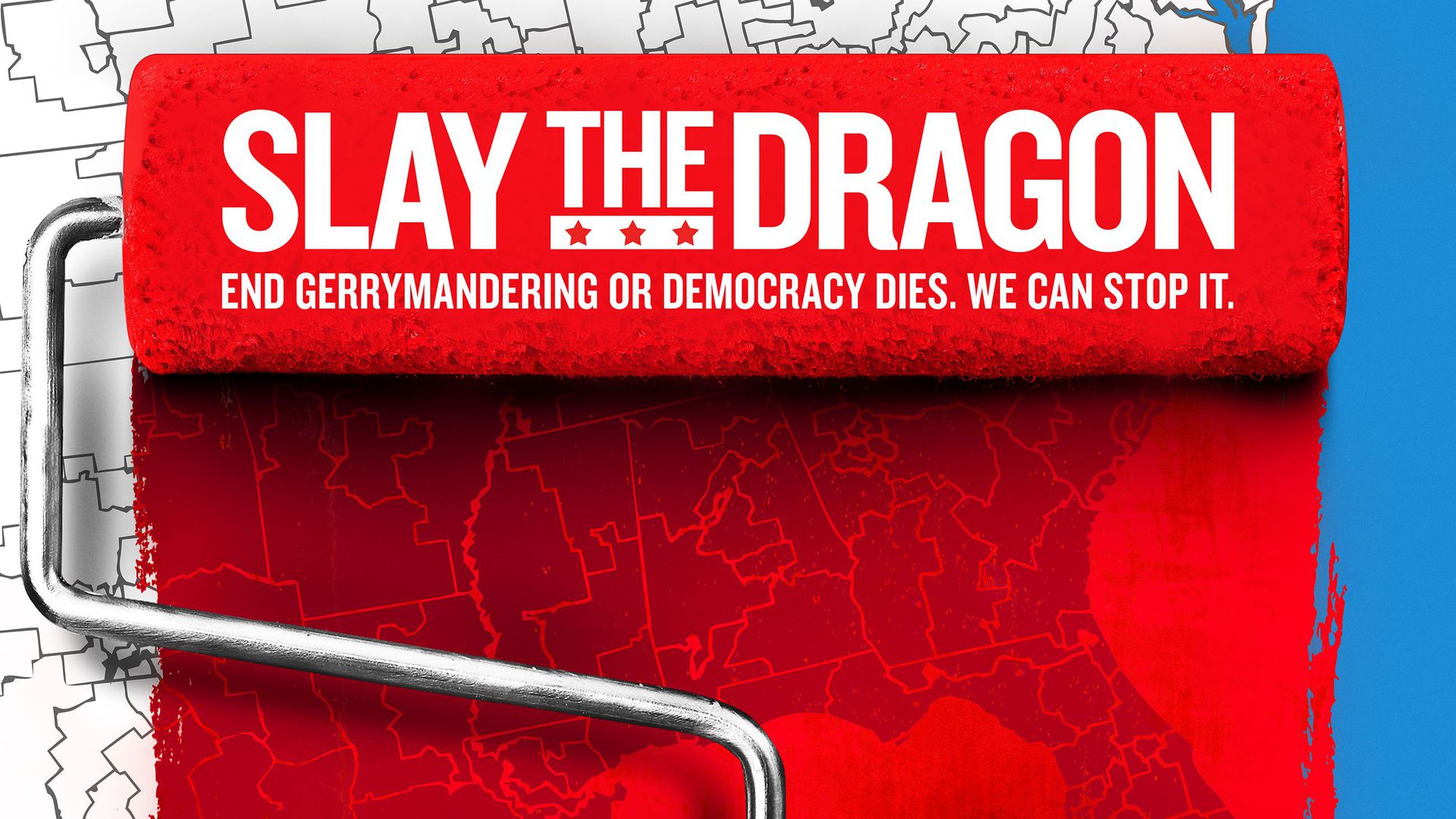 (Slay the Dragon is a documentary film about gerrymandering in the United States from directors Barak Goodman and Chris Durrance. It's available April 3rd on VOD via Magnolia Pictures. Like what you see here on Hammer to Nail? Why not give just $1.00 per month via Patreon to help keep us going?)
Making a documentary about partisan re-districting that's entertaining seems like an uphill battle, but directors Barak Goodman and Chris Durrance do an admirable job with Slay the Dragon, their new film that takes on the beast of political corruption and the everyday citizens fighting it. Unfortunately, we cannot all be on the front lines of democracy, but this educational and inspiring doc may bring more activists into the fold. One way we can all participate is by voting this November.
The right to vote is our most crucial one as it impacts everything else. But growing swaths of the American populace believe their vote doesn't matter, and in certain states they would be right. Motivated people across the country, like 27-year-old Katie Fahey of Michigan, are fighting for the voices of millions to be heard.
Partisan gerrymandering has been around for ages, but in 2016 Republicans were able to redraw lines with pinpoint precision. With an enormous amount of voter data at their disposal, outside consultants used analytical tools to redraw districts to pre-determine the best outcomes for the Republican candidates. They followed a method called 'packing and cracking' – putting all the likely democratic voters together or spreading them thin enough to not have an impact so that Republicans retain control of the most districts. As one interviewee in the film puts it, this is "an astonishing manipulation of democracy." In Michigan, Katie Fahey leads a group called Voters Not Politicians, and we follow their fight to give redistricting power to the people and put an end to gerrymandering.
The structure of the film is somewhere between traditional talking heads and a hero's journey a la Netflix's Knock Down the House. Obstacles are conquered, such as collecting an absurd amount of signatures (a U-Haul full of binders) and dealing with personal attacks (the opposition uses Katie's name in robo-calls). But unlike Knock Down the House which followed Ocasio-Cortez and others running for office, Fahey is not trying to get elected—instead she's trying to change the state constitution. In some ways that is more noble, and though Fahey does not have the movie star charisma of AOC, she is certainly relatable, such as in a scene where she breaks down in tears on Facebook live.
Recent docs like Rigged: The Voter Suppression Playbook and the yet to be released The Fight cover much more ground, but Slay the Dragon digs deep into one aspect of our corrupt political system. At times it can feel like a long 101 minutes, and though the graphics are flashy, colorful squiggly lines on a map don't make for the sexiest visuals. But it's worth sticking around until the end, because the film does point to solutions, and the outcome in Michigan is a political and emotional victory. In a disaffected, increasingly dystopic society, it's a victory we desperately need. Over 18 states have already taken action. Will your state be next?
– Matthew Delman (@ItsTheRealDel)