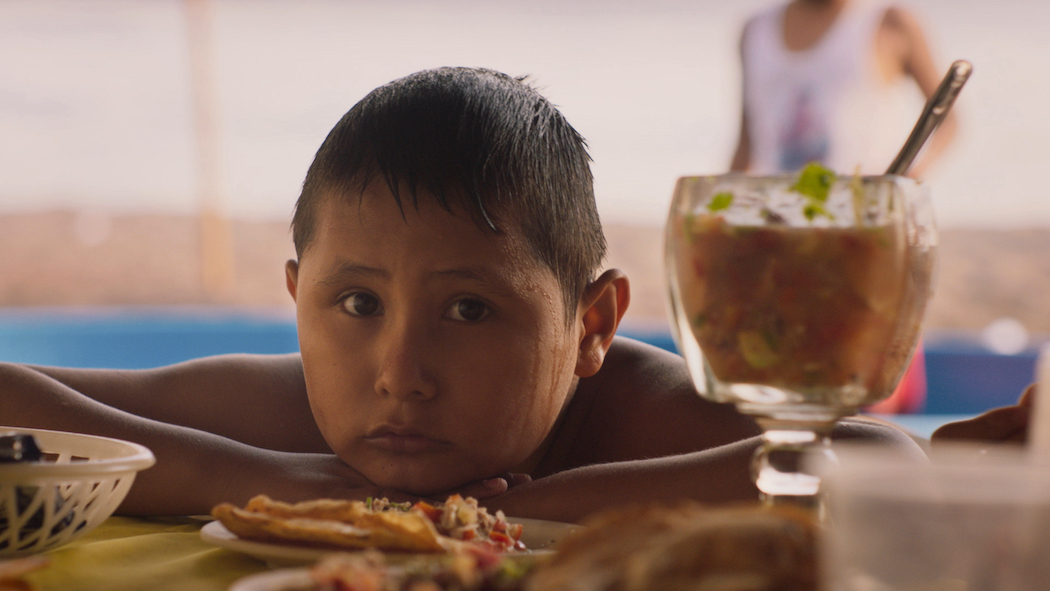 (The 2022 Tribeca Film Festival ran June 9-26 both online and in-person. Check out Chris Reed's movie review for Sansón and Me. Seen it? Join the conversation with HtN on our Letterboxd Page.)
Reenactments and recreations ("recreas," for short) have become fairly standard in the documentary world, so there's nothing surprising in finding them within Sansón and Me, the new film from director Rodrigo Reyes (499). What stands out, however, is the fact that the main character—the titular Sansón—is absent, and that many of the supporting roles are played by members of his own family, here incarnating people other than who they actually are. His uncle plays his father, an aunt his mother, a cousin Sansón as a boy, and so on. Reyes stars as himself, and a young man approximately the same age as Sansón plays the protagonist. It's an exciting series of performances.
Out of necessity comes this invention, which Reyes, according to the film's press notes, prefers to call a "re-imagining" rather than a recrea. And indeed, these are never meant as literal stagings of what happened, but as creative interpretations of the past. But it all starts with the fact that Sansón is in prison, tried and found guilty, at 19, of being an accessory to (if not actually the mastermind of) a first-degree murder. Without any kind of direct access to Sansón beyond his letters, Reyes improvises.
His interest in the case comes from having served as Sansón's interpreter at the trial. An immigrant brought to California by his mother after life had taken a turn for the worse in Mexico, Sansón had never learned much English, though he did his best to adapt, find work and make himself useful. That's what happened on the day of the crime, according to his version of events: he was helping his wife's younger brother run an errand (he thought) and ended up an inadvertent accomplice when that "errand" involved a homicide.
Disturbed by what he deems an excessive and unjust verdict (life without the possibility of parole), Reyes decides to explore the steps that led Sansón to where he is today, presenting scenes from various milestone moments. Along the way, he also considers the actual lives of his actors and meditates on his own place in the world as a Mexican American man. The result is an ever-engaging, innovative and moving treatment of race, class, and the criminal-justice system.
Despite the heavy themes, the movie is also very playful, Reyes taking clear joy in his mise-en-scène and inviting us to do the same. He makes no attempt to hide his technique, instead embracing transparency and revealing all the tricks of the trade. There's no reason we can't have fun even as we ponder the big issues, and Sansón and Me shows us how it's done.
– Christopher Llewellyn Reed (@ChrisReedFilm)
2022 Tribeca Film Festival; Rodrigo Reyes; Sansón and Me documentary movie review