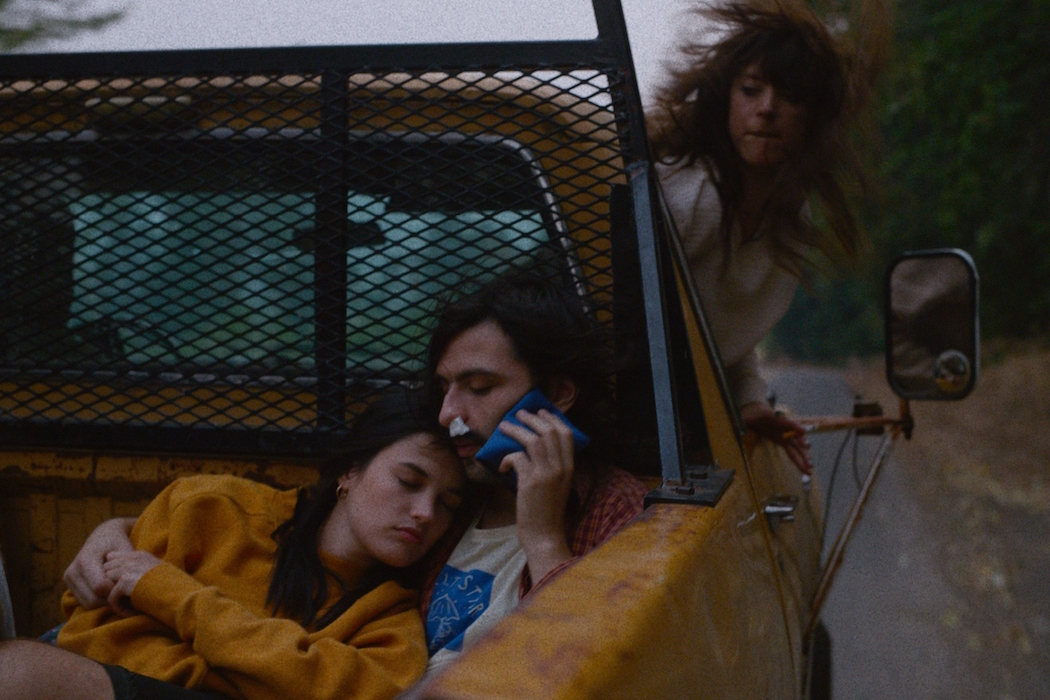 (Andrew Morgan's Samantha Rose is available now on VOD. Like what you see here on Hammer to Nail? Why not give just $1.00 per month via Patreon to help keep us going?)
In Samantha Rose, from director Andrew Morgan (Long Gone By), the titular protagonist goes on a journey of self-discovery in multiple parts. First, she travels back in time; after that, forwards to the future. Though her coming of age has its trauma, it also offers new experiences filled with pleasure. Along the way to opportunity, however, Samantha must overcome long-standing obstacles, most of them family-related. If this sounds boilerplate, it is, but only insofar as its structure. What lifts Samantha Rose above its garden-variety cousins is the vividness of the details and naturalism of the performances. Led by non-binary actor Sam Rose (also a producer) in the main role, the cast (majority first-time actors) delivers mostly engaging and moving moments, throughout, though the dialogue (especially certain voicemails) can be excessively expositional. The indie-rock soundtrack also provides buoyant atmosphere. With all its various elements, then, the film is an overall effective work.
We first catch sight of Samantha as she works the late shift at a copy place in New York City, her mother's phone message playing in the background. It's a dead-end job, made more so because, as we learn, Samantha has dreams of exhibiting her photography. When mom brutally informs daughter that she has to move out to make way for a new boyfriend, said child gives a melancholy shrug and heads west, landing in northern Oregon, where she grew up. There lives her father, an alcoholic now two years sober. It's been over five years since Samantha left in the aftermath of her parents' divorce, and she finds that not that much has changed. Or so it seems at first glance, but her father appears a genuinely changed man. Working for him in his body shop is Taylor (Johnny Dawson), a childhood companion with his own grief to bear. They renew contact, and he introduces Samantha to his friends.
Who are an exuberant bunch, all living in a makeshift commune in the woods, each bringing their own specific skill set and ennui. As she spends her days with them, Samantha explores her own past in reflected close-up. Her mother proves a final hurdle to overcome, since she and Samantha share a dysfunctional, codependent bond. At least her father has gotten his act together well enough to play the role of responsible adult, even if Samantha can't fully forgive former behavior. Gently rolling towards its conclusion, the movie presents Sam's awakening not as inevitable, but as welcome. And though her final choices may not fully surprise, they do delight.
Nevertheless, the ending is rushed, a story told in quick montages that grossly oversimplifies the life and success of an artist. Furthermore, Samantha's photos, a major plot point, hardly impress enough to warrant their place in a gallery. There's nothing wrong with them, beyond their mundanity; they exist, they demonstrate a decent sense of composition and perhaps show promise. Maybe this is why director Morgan creates that final montage, to obscure that which cannot withstand scrutiny. It's too bad, since the movie's cinematography is gorgeous. At least the characters, and the actors who play them, deserve our full admiration. They not only impress, but inspire.
– Christopher Llewellyn Reed (@ChrisReedFilm)