ROCK HUDSON: ALL THAT HEAVEN ALLOWED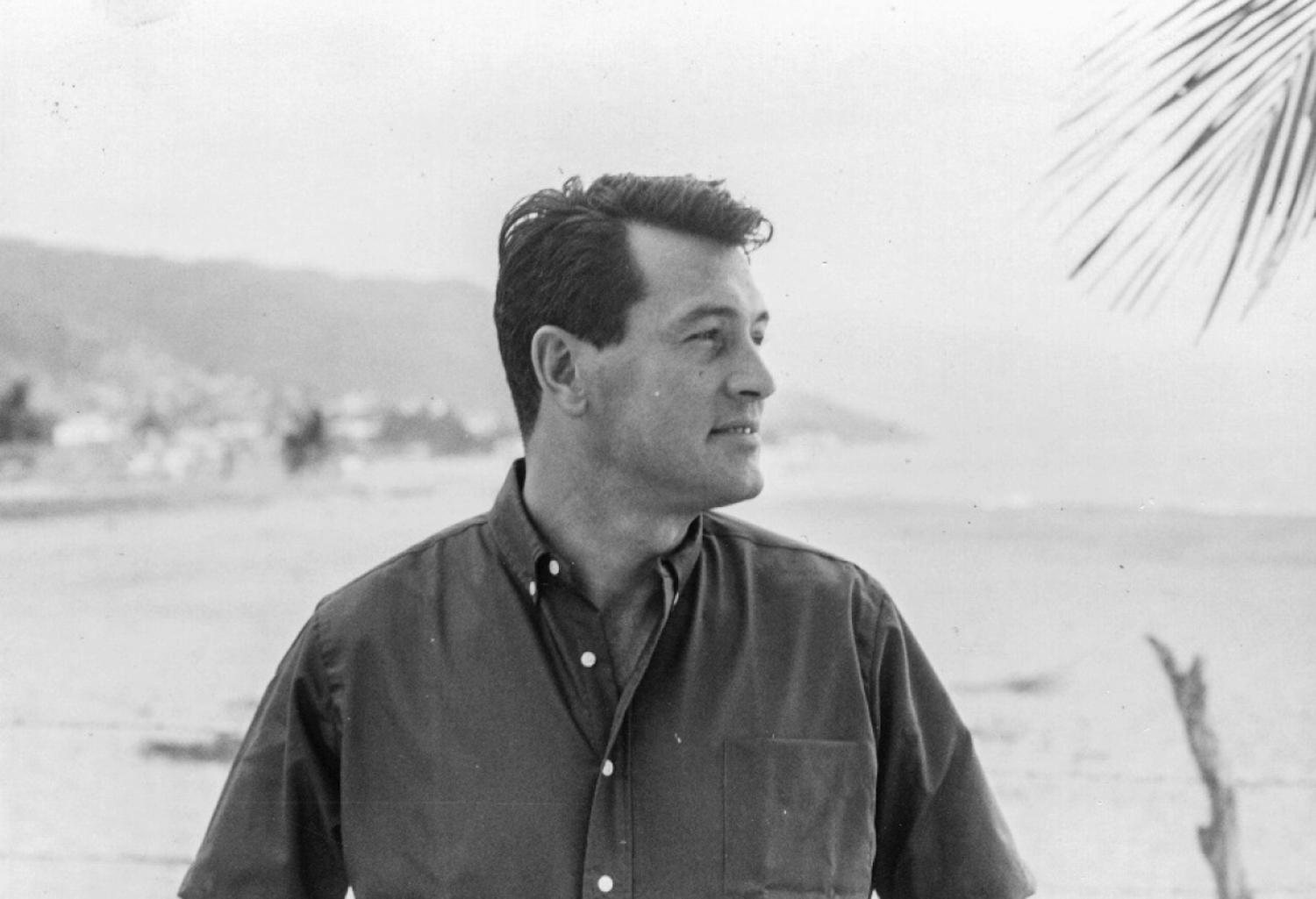 (The 2023 Tribeca Film Festival ran June 7-18 and HtN has a ton of coverage coming like Chris Reed's Rock Hudson: All That Heaven Allowed documentary movie review. Seen it? Join the conversation with HtN on our Letterboxd Page.)
In his heyday, actor Rock Hudson (1925-1985)—born Roy Scherer, later changed to Roy Fitzgerald—was the seeming epitome of American masculinity, his large, muscular frame and chiseled good looks rocketing him to the pinnacle of stardom in the 1950s and 1960s. Little did the public know that he was gay (not that gay men can't be virile), a fact carefully hidden from them through a life lived in the closet. When he died of AIDS in 1985, at the height of fear and stigma over the disease, the secret was out, much to many people's shock. Some good did come of it, however, for his death helped break the silence about HIV.
In Rock Hudson: All That Heaven Allowed, director Stephen Kijak (Sid & Judy) follows his subject's story from early days to tragic end. This tale has been told at least once before, in Mark Rappaport's 1992 documentary Rock Hudson's Home Movies, but with the benefit of even greater remove from the events recounted, Kijak gains additional perspectives. The archival collection from which he draws is rich and varied, though Hudson was so careful with his persona that there aren't as many behind-the-scenes visual revelations of his true self as we might wish. Still, there are enough interviews—past and present—with the folks who knew him to bolster the narrative.
What results is a deep dive into the star's rise and early troubles camouflaging his sexuality. Most prominent in the efforts to make the rumors go away was a sham marriage orchestrated by his agent, Henry Wilson (with whom he had an affair, as did many of the men Wilson represented), which lasted just three years. The gossip never reached most moviegoers, however, who saw in Hudson's powerful physique and square-jawed handsomeness exactly what they wanted to see.
Kijak walks us through the roles that made Hudson a star, including the seminal movies he made for German-born director Douglas Sirk, from one of which, the 1955 All That Heaven Allows, Kijak takes his title. He also explains how Hudson came along at just the right moment when the post-World War II crowd was looking for a different kind of matinee idol, one whose muscularity and straightforward delivery fit the new national ideal. Despite his initially limited talent, Hudson the actor flourished in this environment, and with more experience he improved his performances (check out two films from 1956—Sirk's Written on the Wind and George Stevens' Giant to see just how far he had come by mid-decade).
And then there were the three comedies Hudson made with Doris Day— Pillow Talk (1959), Lover Come Back (1961), and Send Me No Flowers (1964)—in the first two of which he actually pretends to be gay to mask his true intentions vis-à-vis Day. Ha! Good one, Rock! I guess he felt confident enough to play around a bit by then.
It's hardly all fun and games, though, even if we get to see some images of Hudson appearing to have a genuinely good time. Flash forward to the 1980s, and things turn sour, with fear and hysteria surrounding the new mystery illness. When it came out that Hudson had contracted AIDS, he was kicked out of his hospital in Paris and forced to charter an entire airplane just for himself in order to fly back home. It's too bad that Hudson couldn't live to see the shame lifted, and the subsequent grief at his passing make other famous people and politicians more willing to discuss what to do (if slowly, so slowly). And now we have this glorious celebration of his legacy. Let's hope heaven is a playground where you're allowed to do whatever you want and be whoever you want to be.
– Christopher Llewellyn Reed (@ChrisReedFilm)
2023 Tribeca Film Festival; Stephen Kijak; Rock Hudson: All That Heaven Allowed documentary  movie review