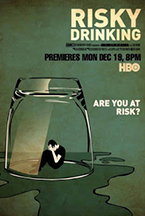 (Oscar-winning director Ellen Goosenberg Kent's latest documentary Risky Drinking is live now on HBO and just in time for that holiday Christmas party.)
Do you or someone you know…drink more than intended?…spend a lot of time drinking or recovering from hangovers?…try to cut down or stop drinking but fail?…continue to drink even though it makes you anxious or depressed?…drink even though it's causing problems with friends or family?…experience cravings?…have to drink more to get the same effect? Are you, in other words, a risky drinker? These are some of the questions that this new HBO-produced documentary, from Oscar-winning director Ellen Goosenberg Kent (Crisis Hotline: Veterans Press 1) asks up front, pushing its polemical point straight into our eyeballs in bold red text. Intercut with these initial title cards are shots of a quartet of human subjects, all in the process of consuming copious amounts of alcohol. One of them appears near death. It's not pretty, and nor is this film. But it is effective, as is this film. Sure, alcohol is a great social lubricant, and can lead to good times, but can also be a great destroyer. The strength of Risky Drinking is how it allows its protagonists free reign to choke on their words of praise for the product that is ruining their lives.
Kenzie, Mike, Noel and Neal are the central figures in each of the movie's four parts, entitled, respectively, "The Problem with Binge Drinking," "Dangerous Drinking," "Mom's Happy Hour" and "The End Game." They have all agreed to allow the filmmakers' total access to their bouts of drinking, even though that means that they are completely exposed at their worst. Kenzie is a young twentysomething who likes to party, even though every night out seems to end in a crying argument after at least 10 drinks. Mike is a fortysomething divorced dad who lives in apparent paradise – the U.S. Virgin Islands – yet can't stop drinking even to spend time with his visiting teenage son, slurring his speech and jerking spasmodically by mid-afternoon. Thirtysomething Noel is part of a happy-hour group with three other mothers, one of whom, Rhonda, writes a blog entitled "Mom Who Drinks and Cusses," yet she is the one among them who seems most negatively affected by the bottles they all drink by the dozen, unable to quit even though she misses her daughter's fifth-grade graduation. Finally, there's 57-year-old Neal, with a blood-alcohol level of .43, who can't stop drinking to save his life, in spite of many stints in detox. At the end of each segment, a different talking-head expert appears to walk us through statistics and treatment options. No surprise, the film is sponsored by the National Institute on Alcohol Abuse and Alcoholism of the National Institutes of Health. Brutal stuff, but necessary for some to see.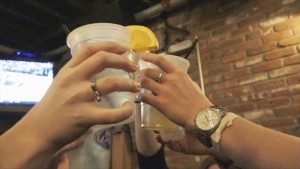 If the film has a weakness, it is in its strange refusal to place abstinence at the center of its treatment options. The experts do a great job breaking down the risks of the behavior we witness, and explain how risky drinking can turn into full-blown alcoholism, yet a lot of breath is wasted on discussions about moderation, when it is clear from the visual evidence at hand that – for these four, anyway – moderation will not work. At the end of the fourth section, that particular expert, George Koob, Ph.D., finally mentions the many support groups, including Alcoholics Anonymous and Rational Recovery, that help addicts free themselves from the burden of their disease. Sure, not everyone needs such organizations to stop drinking, and not every problem drinker must quit entirely, but based on what we see in this movie, the four poor souls on display need to abandon alcohol entirely. This criticism aside, Risky Drinking is a powerfully persuasive piece of filmmaking about the perils of addiction and the toll it takes if those who suffer don't take action.
– Christopher Llewellyn Reed (@ChrisReedFilm)