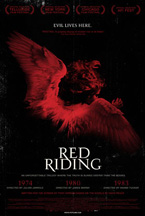 (The Red Riding trilogy is now available on DVD
and Blu-ray
. A special New York City roadshow presentation of the Red Riding trilogy opened at the IFC Center on February 5, 2010. It opens in LA exclusively at Landmark's Nuart on February 12, 2010, followed by select theaters nationwide on February 19th. Visit the film's official page at IFC Films to learn more.)
David Thomson opens an essay on the Red Riding trilogy by stating: "Red Riding is better than The Godfather." I'm not sure if this is true, because I've never seen The Godfather. According to every guy I've ever dated, this renders me ineligible for making films or even discussing them. But I know myself, for better or worse, and mafia narratives (be they tragic, comic, starring a Pacino, a De Niro, or even my beloved Hugh Grant) leave me utterly cold. I guess I'm generally nonplussed by a complex web of crime. For instance, I cannot get into The Wire and refuse to be sorry, or to "hang on until season two."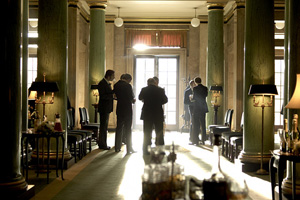 Here are some things I do like: serial killers (especially ones that prey on prostitutes, behavior I do not condone but enjoy seeing investigated by hard-nosed police detectives); the filthy, funny-sad realism of Mike Leigh, Ken Loach, Lynne Ramsay; and the British Broadcasting Corporation. The BBC is the home of all things delicious: sitcoms like Ab Fab and Gavin and Stacy, bodice-ripping miniseries, and Prime Suspect, a procedural drama starring Helen Mirren as hot-bitch Vice Squad detective Jane Tennyson. It's the only cop show ever to get me going.
Despite the fact that it's a crime serial about long-buried secrets and flaming vendettas, Red Riding also appealed to all my aforementioned passions. It promised to explore the misdeeds of a menace called the Yorkshire Ripper while examining the cultural angst of Thatcherite England. Red Riding is also a fascinating filmmaking model: three different directors (Julian Jarrold, James Marsh, and Anand Tucker) all helming scripts by one writer (Tony Grisoni) based on a series of pulp novels by David Peace. This omnibus originally aired on the BBC, but IFC is presenting the trilogy in a "roadshow" format—five hours, two intermissions, and free popcorn with your ticket stub. A true event, like a Rocky Horror singalong! Upon entrance to Red Riding, you are also handed a fat program, which diagrams the web of characters and the directors' various working methods, and contains the aforementioned essay by Thomson—an excellent piece that provides much-needed cultural context for the films.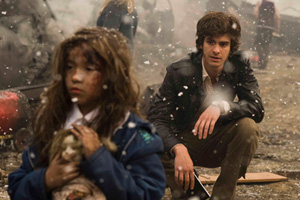 The evening started off with Red Riding: 1974, a stunning sonata of brutal violence, alleviated only by scenes of very sad people fucking. Julian Jarrold's smoky, autumnal 16mm film centers on Eddie Dunford, a cub-reporter nicknamed "Scoop" who is researching the disappearance of a young Yorkshire girl and stumbles upon a terrifying web of deceit and corruption that will set the series in motion. Andrew Garfield shines as Eddie, a bony hardhead desperate to prove his worth—but who's in way over his head. Manohla Dargis felt Garfield was "not up to the leading-man task" but I beg to differ. That could have been because I am really attracted to him, but there are plenty of guys I want to smooch who I can't watch act for two hours (Casper Van Dien, I'm talking to you.) James Marsh is in charge of Red Riding: 1980, a claustrophobic noir that follows Paddy Considine's terrifying descent into the mysterious hole Eddie opened. Marsh is most known for his doc Man On Wire, but his little-seen narrative The King proved him as a skilled psychological terrorist. Red Riding: 1983 is the work of Anand Tucker, a self-proclaimed "softie" who "always goes for cheap tears." Indeed, his contribution is the most heavy-handed, but it also delivers the most genuine chills, thrills, and the only laugh-out-loud moments of the series.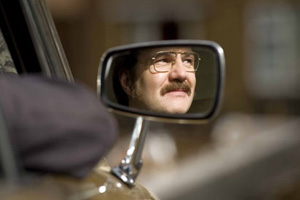 The Red Riding films are beautifully shot, meticulously cast (with just the right buck-toothed chubsters and pale beauties) and more complex than anything American television audiences are used to. The directors are an all-star band, as Julian Jarrold lathers the viewer into a terrible frenzy, James Marsh solidifies our suspicion that something is rotten in Yorkshire, and Anand Tucker delivers a soaring conclusion that raises more questions than it answers. And, although I'm proud to have powered through this iron man film-going event, I might recommend checking it out On Demand. I almost gauged my eyes out during certain scenes of torture. Such unremitting bleakness would be well-tempered by a remote control and a lack of surround sound. I, for one, am still anxious.
But then again, the true test of a film's power is how much its concerns permeate life post-viewing. After my first time watching Center Stage I walked around en pointe for several days. Post-Red Riding, I was frozen with fear in the IFC Center bathroom, highly suspicious of my cab driver, and couldn't decide whether I was more likely to be assaulted taking the elevator or the stairs up to my apartment. Unable to get comfortable in my own bed, I crawled into my sister's. There, I dreamed I was the sexual plaything of a corrupt police officer who swore he'd kill me if I ever told a soul.
— Lena Dunham