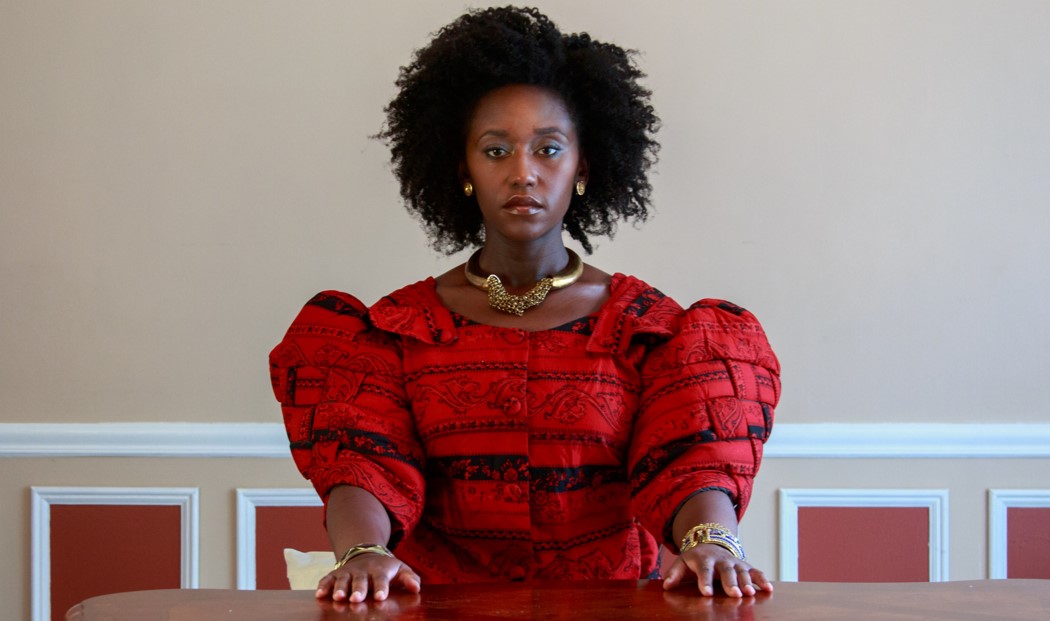 (The 2021 Tribeca Film Festival opened Wednesday, Jun 9, 2021 and ran all the way through Sunday, Jun 20. hammer to Nail has you covered with tons of reviews and coverage, coming your way! Like what you see here on Hammer to Nail? Why not pay just $1.00 per month via Patreon to help keep us going?)
Anyone who grew up with a large, close-knit, traditional, yet dysfunctional family has had to grapple with its cultural pressures. Many will relate to writer/director/star Nana Mensah's genuine, touching, and endearing directorial debut, Queen of Glory. Set mostly within a Bronx community, Mensah's story is full of fresh humor, poignancy and tenderness. As a Ghanaian-American coping with a variety of ups and downs, some of which stem from her complicated relationship with her heritage, her breakout lead performance is also one that's full of gravitas and heartfelt depth in this tale of a multicultural part of New York.
The film centers on Sarah, a Columbia science PhD candidate who's preparing to relocate to Ohio with her married-with-kids boyfriend, Lyle (played by Gimme the Loot director Adam Leon), where he has landed a new comfy academic gig at a university. Lyle unflappably swears he will divorce his wife before they relocate. Sarah's plans are soon thrown into disarray when her mother unexpectedly passes from an aneurysm. While planning both her memorial and funeral, she's forced to reach out to her estranged father Godwin (Oberon K.A. Adjepong) who moved back to Ghana years ago. His return home provides her little comfort or support, he is more interested in watching the soccer game on TV.
If that's not enough, Sarah is soon thrown for a loop when she finds out she has inherited her mother's Bronx Christian bookstore named "King of Glory." When she stops by the bookstore, she meets the sole employee Pitt (Meeko Gattuso), an ex-con who was given the job by her mother after his release from prison. His heavily tattooed face catches Sarah off guard, but behind that lies a generous, kind, and easy-going person. He remains highly loyal to her mother for giving him a second chance. Through her time spent at the store, she ends up finding solace and companionship in Pitt (and his "special" baked goods). Although, complications loom as she's covertly planning on selling the place. 
The film builds up numerous predicaments in Sarah's life ranging from her relocation plans with Lyle, to her feelings of guilt from selling the store behind Pitt's back, to her strained relationship with her father, to handling her mother's affairs on her own. But the film also signifies her solidity and tenacity through her efforts to work through her problems. In addition to Gattuso's Pitt providing a sense of warmth and altruism that lights up the screen, there's also Sarah's childhood Russian-American acquaintance Tanya (a radiant Anya Migdal) who not only provides her support in a time of need, but whose chaotic, but loving family provides insight into the lives of these diverse supporting characters. 
In Queen of Glory, writer-director-star Nana Mensah has put forth a striking New York story that is both hopeful and true to life. It also relies on various motifs throughout; from vintage black and white footage of Ghanaian people celebrating their traditions that intertwine with the present, to the street vendor passionately trying to sell his bootleg DVDs, which help emphasize the film's sense of culture, humor, and overall appeal. Cybel Martin's cinematography also helps bring some spark to the film, invigorating the mise-en-scène with a sense of life. Aside from her filmmaking, Mensah's performance gives authentic soul to Sarah's journey, connecting with her heritage and hopefully figuring out her place in life. Mensah proves herself as a triple-threat, marking the beginning of a bright new face in indie film.
– M.J. O'Toole