PRISONERS OF THE GHOSTLAND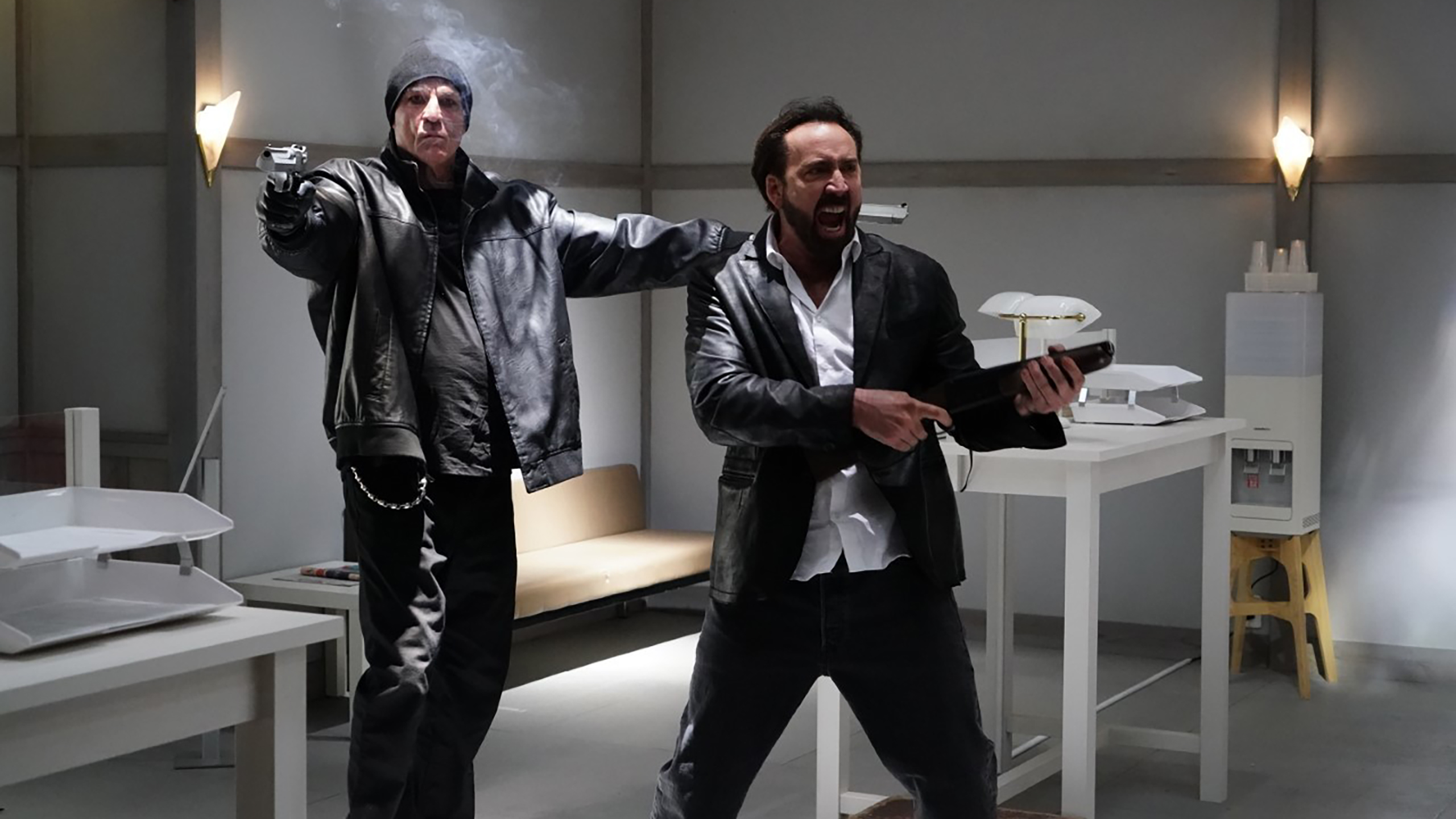 (The 2021 Sundance Film Festival runs January 28- February 3, all virtually as well as with drive-ins sprinkled around the U.S.. Hammer to Nail is bringing you a ton of coverage so, keep coming back! Like what you see here on Hammer to Nail? Why not give just $1.00 per month via Patreon to help keep us going?)
Madness. An orgy of blood. Musical numbers. A samurai sword fight set to the melancholy strains of Jim Croce's "Time in a Bottle." George Miller meets Sergio Leone meets Akira Kurosawa and more. A pastiche of a pastiche's pastiche. Overacting from all involved, not the least of whom is the real hammy McCoy, himself: Nicolas Cage (Mandy). Does any of it make a shred of sense? Maybe. Does it matter? Not sure. Does it kick cinematic ass? Pretty much.
Such is Prisoners of the Ghostland, the first English-language feature from cult Japanese director Sion Sono (Tag). Prepare yourself for guts and glory, the first spewed all over the screen, the second an elusive goal for the protagonists. Or maybe testes and gore is more accurate, since one explodes, leading to the other. Not for the faint of heart, the movie is crazy enough to define its own terms, whatever they may be.
Cage stars as the unnamed hero, a man thrown in prison because of a botched, murderous opening bank heist. Dragged from a jail cell, years later, by a mysterious gangster (Bill Moseley, The Horde), known as the Governor by his rapturous followers ("Governor, Governor," they chant and clap upon his arrival), Cage is given the task of finding and returning the man's granddaughter, Bernice (Sofia Boutella, Hotel Artemis), who has somehow vanished. Actually, we see her flee early on, and why wouldn't she, given that something is not at all right with the paterfamilias.
At one point, Cage exclaims to a motley crew of outcasts straight out of a demented Mad Max takeoff, "You are all f***ing nuts!" Words to live by in this movie, for sure. If we're not seeing said misfits trying to stop time (in a bottle, or otherwise), dressing catatonic newbies in shards of discarded mannequins, or screaming that, "Yes, we need another hero" (my paraphrase), there's more insanity where those bits came from. It's like an acid trip for the sober (and otherwise). Lie down and prepare to hallucinate.
But don't relax too much, as soon the arterial flow begins, swamping the lens, and the characters, in colorful designs of differing shades of red. Choose your weapon: an explosive suit, rigged to maim and kill if a mission isn't accomplished; a comparatively simple blade; or just a plain old firearm. Nuclear holocaust is on the table, too, though only for the ghosts. After all, this is their story, too.
And so it goes, one outrageous plot point after another, Cage going from outlaw to mercenary to savior, all in just over 100 minutes. True, he does not emerge unscathed, but as Alexander Godunov famously opined in Witness, you only need one ball. How's that for a mission statement? Sion Sono, we are not worthy of your lunacy.
– Christopher Llewellyn Reed (@ChrisReedFilm)