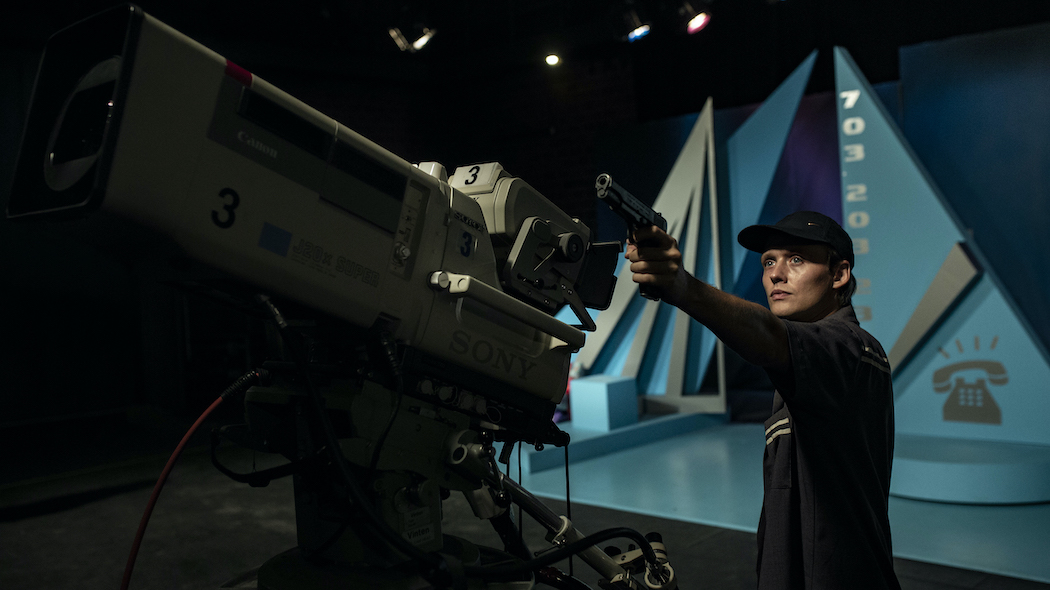 (The 2021 Sundance Film Festival ran January 28- February 3, all virtually as well as with drive-ins sprinkled around the U.S.. Hammer to Nail is bringing you a ton of coverage so, keep coming back! Like what you see here on Hammer to Nail? Why not give just $1.00 per month via Patreon to help keep us going?)
It's New Year's Eve, 1999, in Warsaw, Poland, just over 10 years since the official end of communism in that former Eastern Bloc nation. Life has been good to some and much less so to others, the vagaries of the capitalist system long desired by Poles, Czechs, Hungarians, Russians and others proving wilder and more punitive than previously thought. What is left when dreams fade? Despair.
Such is the set of given circumstances in director Jakub Piatek's directorial debut, Prime Time, which opens in a TV station celebrating the pending new millennium by giving away a brand-new car before the festivities begin. Except that Mira (Magdalena Poplawska, Honey Hunters), the host of the program, never quite gets to finish her phone call to the lucky winner before being interrupted by the arrival of Sebastian (Bartosz Bielenia, Corpus Christi), a distraught young man who takes her and Grzegorz (Andrzej Kłak), a security guard, hostage. All Sebastian wants is to be allowed to deliver a speech to the entire country. About what? He's not saying.
What follows is a mad rush to prevent the situation from turning lethal. The forces of law and order gather to plan a rescue, but it's not going to be easy, as a broadcast studio is more of a fortress than one might think. Still, Sebastian is but one man with one gun. Every time he begins to soften and bond with his captives, however, something sets him off again. He is the symbol of the dispossessed, and though they may not know exactly what they want, it's not what they have.
In the 20-plus years since this fictional drama, many of the countries that ripped off the shackles of dictatorship in the late 1980s and early 1990s have returned, at intervals, populist and/or totalitarian governments to power. They may lean politically to the right now, rather than to the left, but as you go around that circle, it's all the same. Concentrate rule in the hands of those who promise security over freedom, and those liberties you just won fade away. It even happens in countries with longstanding democratic norms: witness recent events in the good ole US of A. 
The beauty of Prime Time, beyond the fine central performances, is how little of this is spelled out, Piatek preferring hints and subtle reminders to blatant exposition. Instead, we watch a hostage crisis unfold, tensions rising with each new thrust and parry. There's no chance Sebastian will get what he wants. He's no one, and in a world of might and wealth, is doomed to fail. Still, the hope is in the attempt; maybe he'll shake things up a bit. Or not. After all, we all live in the real present, and know full well how the last two decades have gone. Happy New Year! The countdown is on.
– Christopher Llewellyn Reed (@ChrisReedFilm)