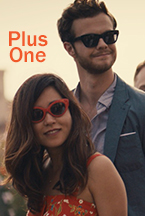 (The 2019 Tribeca Film Festival ran April 24-May 5 in New York City. HtN has writers Matt Delman, Chris Reed and Mike S. Ryan at the fest to get ready for our always deep coverage! Like what you see here on Hammer to Nail? Why not pay just $1.00 per month via Patreon to help keep us going?)
"You're not that great." That's what Matt (Beck Bennett) says to his close friend Ben (Jack Quaid) towards the end of Plus One, a fresh romantic comedy from the directing duo of Jeff Chan and Andrew Rhymer. But the same can't be said of the film, which just won the Audience Award at this year's Tribeca Film Festival, and is by all accounts praiseworthy, especially for its sharp-tongued dialogue. Those barbs are most pointed coming from Alice, played by the fabulously filthy Maya Erskine (Hulu's PEN15), who rattles the romcom genre with some raucous repartee. She teams up with friend-boy Ben to 'gang-bang' the wedding season as each other's dates in a series of matrimonial moments that lead up to their inevitable coupling. Plus One fills the void left by studios who've steered away from original romantic ideas, but mostly it's a star vehicle for Erskine who is, unlike Ben, destined for greatness.
Recently dumped Alice is a little gross and occasionally more than a little drunk, and that leaves Ben taking care of her after his attempt at corralling a bridesmaid goes wrong. They make a pact to never leave the other stranded at the singles table. Meanwhile Ben's father Chuck, played by the inimitable Ed Begley Jr., announces to his son that he is getting married to wife number three. The inclusion of Chuck's storyline proves vital to the heart of the story, providing insight into Ben' character as well as rounding out the narrative structure with Ben acting as his father's best man at the last wedding of the film. The romance between Ben and Alice is somewhat believable—perhaps more as companions than lovers. When Alice brings Ben home to meet her tiger mom (Rosalind Chao) and doormat dad (Tom Yi)—in one of the best scenes of the film—we get a sense that for her it is more than just a casual fling. So then later, Erskine is quite convincing when she bursts into tears during the conventional breakup scene.
Crisp cinematography by Guy Godfree and original music from indie band Real Estate raise the production values, as does the production design by Francesca Palombo who was tasked with planning a dozen weddings. The witty millennial banter is a strength, delivered by a supporting cast of comedians and character actors that add a lot of color to the ceremonies. Chan and Rhymer, who are also credited as producers, pulled together a team of fellow NYU-alum to help achieve a vision more polished than most directorial debuts.
Quaid is fine playing the straight man, but all eyes are on Erskine's Alice, who wears her heart on her sleeve. This is the type of breakout performance sought out at film festivals. At time the script feels more buddy comedy than love story (perhaps a result of two buddy directors), but its strongest moments are ones that involve family. The third act has quite a few touching moments, and it's easy to see millenials watching this with their parents. With wedding season around the corner, Plus One acts as a good primer for those looking for a 'happily ever after.'
– Matthew Delman (@ItsTheRealDel)
Like what you see here on Hammer to Nail? Why not pay just $1.00 per month via Patreon to help keep us going?