CHRIS REED RANKS THE OSCAR NOMINATED ANIMATED SHORTS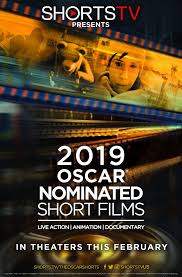 (Hammer to Nail lead critic Chris Reed checked out all the Oscar nominated shorts. We've split his rankings into three parts so get ready to win that office Oscar pool! Like what you see here on Hammer to Nail? Why not pay just $1.00 per month via Patreon to help keep us going?)
What follows are brief capsule reviews of all films, listed in order of my preference within their categories, with the order of the categories, themselves, also in order of my preference. Overall, I found the documentaries to be the best as a collection, though two of them could have been shorter, and would have been the better for it. In the live-action arena, there were two I liked very much, a few I liked less, and one I hated. I didn't actively dislike any of the animated films, and enjoyed two quite a lot, so I put it second. Below are my more complete thoughts on each.
Bao (Domee Shi, USA, 8 minutes)
When I first saw this film – it played before the main feature at screenings of Incredibles 2 – I was not all that taken by it, though I found its visual aesthetic quite appealing. Bao tells the story of an Asian-American family – of the mother and her son, specifically – as the years go by. Using an adorable, but fragile, dumpling as an evocative metaphor of the fierce protectiveness of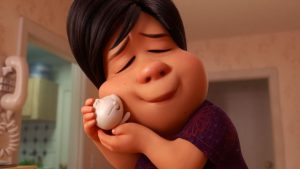 maternal love, filmmaker Domee Shi presents said dumpling as the child, himself, the mother creating him out of sheer will and raising him to be a self-sufficient, independent adult. Unfortunately, that independence proves more than mom can handle, leading to an eventual, shocking climax (and a sweet denouement). I am not sure what didn't click with me initially, as Bao has now become my favorite of this year's animated shorts: beautifully crafted and emotionally resonant.
One Small Step (Andrew Chesworth/Bobby Pontillas, USA, 8 minutes)
Another film featuring Asian-American characters, One Small Step gives us young Luna, a girl who dreams of becoming an astronaut. Raised by a single father in his cobbler shop, Luna grows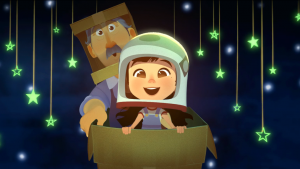 from child to adult across the film's brief 8 minutes, first failing at her exams and then trying again, her father always patiently fixing her shoes while she runs off to the next adventure. Determined to succeed, she lets nothing stop her, not even the movie's central tragedy. A moving tribute to love and perseverance, One Small Step is almost as powerful as Bao, making it a solid #2 on my list.
Late Afternoon (Louise Bagnall, Ireland, 10 minutes)
An old woman sits in a room with a caretaker who packs belongings into boxes and serves her tea. As a piece of the accompanying biscuit falls into the liquid, its descent prompts a series of memories of a life gone by, starting with a delightful beach scene and moving on from there. By the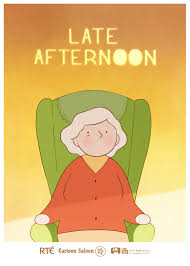 end, this journey through reminiscence prompts a recognition that the woman in the room with her may be more than just a nurse. A dreamy, gentle film, Late Afternoon wears its heart on its cinematic sleeve, though since we can predict the trajectory from the start, the emotional impact of the conclusion is less than it might be, otherwise. Still, the animation is lovely, and there is still plenty to recommend.
Weekends (Trevor Jimenez, USA, 16 minutes)
A creepy nightmare of an exploration into a child's view of his parents' divorce, Weekends intrigues even as it repels. Despite how much I did not really enjoy the experience of watching it, I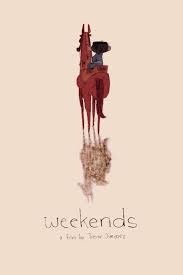 find myself still thinking about certain images from its unsettling narrative. We follow a young boy as he goes from mom's to dad's, the easy rapport with each eventually shaken as they find new lovers. Shadowy figures emerge from the darker tones of the compositions to haunt the child's vivid imagination, blending the real with the fantastical. More experimental than the other four nominees, Weekends is also the most artistically ambitious, coupling its more more twisted visuals with a slight lag in the movement on the frame, creating a quasi-slomo effect. Ultimately, I found it difficult to engage with the story, but appreciated the filmmaker's efforts.
Animal Behaviour(David Fine/Alison Snowden, Canada, 14 minutes)
We find ourselves in a group-therapy session of anthropomorphized animals presided over by a
dog, featuring a cat, a pig, a bird, a praying mantis and a leech. Each explores their particular neuroses and things are moving along just fine until Victor, an Ape, walks in, his presence quickly disturbing the status quo and driving everyone further into their own innate, species-specific behavior. It's cute, but also more than a little too on-the-nose with its commentary on nature vs. nurture, instinct vs. education. I enjoyed the hand-drawn animation but found the story less than compelling.
– Christopher Llewellyn Reed (@ChrisReedFilm)
Like what you see here on Hammer to Nail? Why not pay just $1.00 per month via Patreon to help keep us going?