2020 Oscar-Nominated Short Films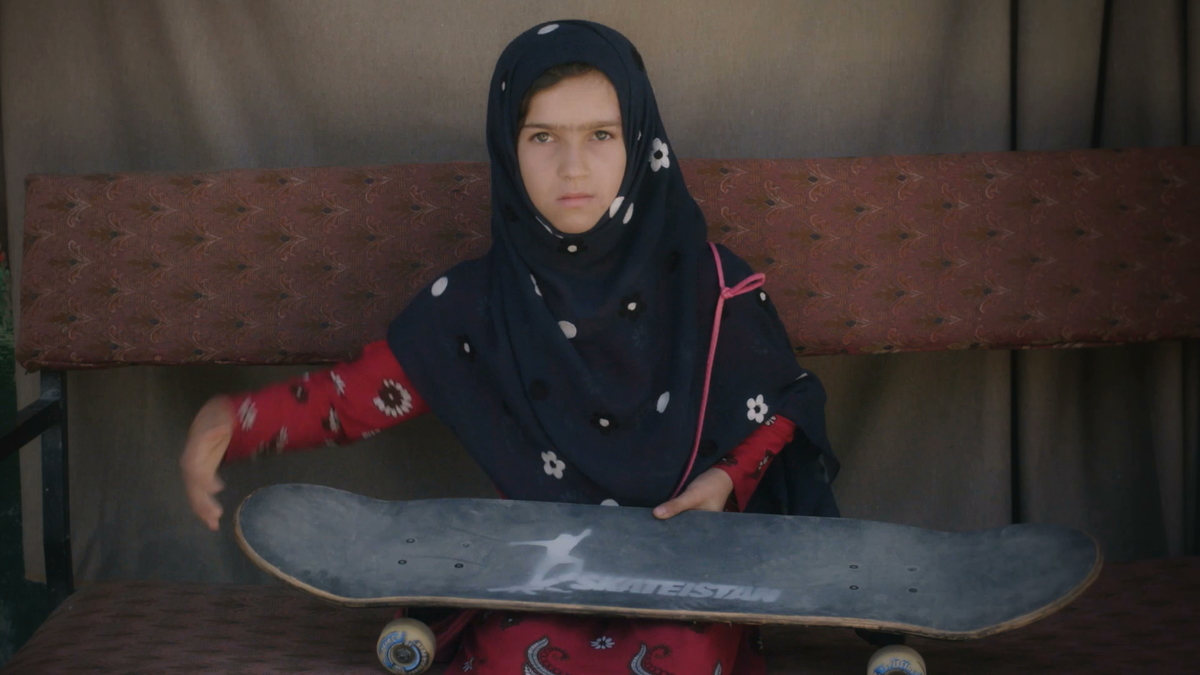 Every year, I sit down and watch all 15 Oscar-nominated short films. They're broken down into three categories: Animated, Documentary and Live Action. The animated and live-action films share the same eligibility requirements; the documentaries are treated slightly differently. You might be able to watch them in a theater near you, thanks to ShortsTV, which has been releasing them in separate programs, before the Academy Awards, for over 10 years. A number of them are also available online; where such is the case, the movie's title is hyperlinked directly to its viewing site.
What follows, as always, are brief capsule reviews of the films, listed in order of my preference within their categories, with the order of the categories also in order of my preference. This time, my favorite section was the animated one, followed by the documentaries and then live action. Below are my more complete thoughts on each.
I. ANIMATED SHORTS
1 (tie). Hair Love (Matthew A. Cherry, USA, 7 min.)
This lovely little film with a huge heart follows a young African American girl as she struggles to comb and shape her unruly hair before leaving the house. As her exasperated father initially gives up and tries to get her to simply wear a hat, our heroine insists that better can be done, thanks to the instructional video she's watching, apparently recorded by her absent mother. Once dad settles down, the two are able to work some coiffure magic, before heading off to a poignant hospital visit. Beautifully animated and inspiring, Hair Love, from director Matthew A. Cherry (9 Rides), is also a breath of inclusive and diverse fresh air in a format that is often filled with white faces.
1 (tie). Kitbull (Rosana Sullivan, USA, 9 min.)
Pixar's SparkShorts program is, according to their website, "designed to discover new storytellers" and produce work "on a smaller scale than [their] normal fare." Coming out of the company's animation department, Rosana Sullivan makes her directorial debut with Kitbull, which moved me as much as did Hair Love, albeit in a different way, focusing as it does on animal, rather than human, protagonists (though there is a great cat in the former film). Here, we meet a tiny-but-fierce kitten whose junkyard home in an abandoned box is suddenly disturbed by the arrival of a young pit bull destined for the fighting ring. Despite the animals disparities of size, species and temperament, they grow close, the one helping the other in their respective moments of need. Beyond the sweet and entertaining narrative, Kitbull also comes with a strong anti-cruelty-to-animals message. And all this without a word of dialogue.
3. Daughter (Daria Kashcheeva, Czech Republic, 15 min.)
I feel bad putting this third, as the artwork here is breathtaking. Czech filmmaker Daria Kashcheeva has somehow achieved the effect of a handheld camera moving through a stop-motion world, exploring the earlier memories a daughter has for her dying father. Flashing between the sad present and evocative past, Kashcheeva uses the seemingly endless possibilities of the medium to transform her characters from human to doll to one of the many recurring bird metaphors. I found her figures' eyes the most intriguing, since they seem to sit and blink within the face of puppets that look so photorealistic that the animation becomes unsettling. Were I not so moved by Hair Love and Kitbull, I would put this at the top.
4. Mémorable (Bruno Collet, France, 12 min.)
Another well-designed film, Mémorable follows the increasingly rapid mental deterioration of a man succumbing to Alzheimer's disease. A painter, he naturally sees the world in a rainbow of patterns and colors, and as he loses his memory, all that remains are these impressionistic interpretations of what is immediately in front of him, his long-suffering wife included. Time and recollection blur, paint drops swirl, and the dizzying resulting blend is melancholy but vivid. I was less a fan of the voice work (it's in French, with English subtitles), the pedestrian dialogue and acting diminishing the beauty of the animation.
5. Sister (Siqi Song, China/USA, 8 min.)
The least effective of the five nominees, Siqi Song's Sister is not without its own interest, even as it devolves into the obvious of its conceit by the end. A story about a young man's sister that is a metaphor for the ravages of China's now-discontinued one-child policy, the film follows its protagonist through remembered childhood scenes that, it turns out, may not be exactly as depicted. The animation is simple, pleasant enough, but not particularly noteworthy.
II. DOCUMENTARY SHORTS
1. In the Absence (Yi Seung-Jun, South Korea, 28 min. )
Made for Field of Vision, Yi Seung-Jun's powerful In the Absence chronicles the entirely preventable Sewol ferry disaster of April 2014, when over 300 passengers (out of 476), many of them high-school students, died after the ship sank during what should have been a routine voyage from the mainland to Jeju island. Even as the vessel listed and plunged rapidly into the deep, government officials dithered about what to do, some of them eventually faking rescue efforts in order to convince President Park Geun-hye that something was being done (three years later, she would be impeached, in part because of lingering anger over her response). We watch and listen in horror to footage shot within and without the ferry (some of it recovered years later after the ship was finally raised), the archival material supplemented with present-day interviews of survivors and survivors' parents and haunting shots of the roiling sea. This is strong stuff, as it should be.
2. Life Overtakes Me (John Haptas/Kristine Samuelson, Sweden/USA, 39 min.)
The Netflix documentary Life Overtakes Me, from John Haptas and Kristine Samuelson, is another well-photographed, affecting film, this one about "resignation syndrome," a condition I had previously never heard of. Though it is not unique to Sweden, it is most prevalent there, affecting children of immigrants, would-be immigrants and asylum seekers who first descend into listlessness, and then comas, as their residency status remains in question. The three children we meet here have all experienced some additional trauma either first- or secondhand, heightening the anxiety that contributes to the condition. According to the medical professionals interviewed for the movie, the coma is not permanent, so as long as parents are willing and able to care for their children while they are catatonic – feeding and exercising their limp bodies – then one day, especially if they sense, vicariously, that the family's situation is safe, they should make a full recovery. In the meantime, however, they exist like sleeping corpses. This heartbreaking story is told through a combination of testimonials, observational footage and expressive visuals, the parts coming together in an emotionally intense mix.
3. Learning to Skateboard in a Warzone (If You're a Girl) (Carol Dysinger, UK, 39 min.)
Full disclosure: Carol Dysinger (Camp Victory, Afghanistan) director of Learning to Skateboard in a Warzone (If You're a Girl), was one of the (best) professors in my MFA program at NYU. She was an inspiration, and I wish I could put her film first on my list…except that I really loved the previous two. This one is a very strong treatment of its subject, however, which is the education of girls in Afghanistan at the Skateistan School, an institution which combines rigorous academic courses and skateboard training. Given the fact that outdoor athletic activity for girls is severely frowned upon in Afghanistan, but that a sound body is just as important as a sound mind, this blend makes more sense than one might think, initially, since the extensive indoor ramps are well hidden from public view. The girls thereby get their exercise and develop physical coordination and confidence, while also broadening their mental horizons, all in one place. Divided into multiple lessons – "Standing on the Board," "Pushing Off" and "Skating the Ramp," among them – the film also incorporates information from the students' and teachers' lives outside the school. Though perhaps a little long, it is still an effective exploration of an important topic.
4. Walk Run Cha-Cha (Laura Nix, USA, 21 min.)
Available through The New York Times, Walk Run Cha-Cha, from director Laura Nix (Inventing Tomorrow), is the shortest of the bunch, yet somehow doesn't feel that way. Though its subjects, sixtyish Vietnamese immigrants Paul and Millie Cao, are a compelling duo, the footage begins to feel repetitive. What is lovely is to see how their marriage has evolved and matured over the years, made stronger by their mutual interest in ballroom dancing. We learn the details of their life both pre- and post-Vietnam War, as well as what draws them to the cha-cha. Even if this portrait of them falls a bit short, their example looms large.
5. St. Louis Superman (Smriti Mundhra/Sami Khan, USA, 28 min.)
Missouri state representative Bruce Franks Jr. comes from St. Louis, where his African American community has long suffered from endemic poverty and violence. Fed up after the police shooting of Michael Brown, he runs for office and is elected. We watch as he makes friends on both sides of the political aisle while pushing a bill (eventually passed) that recognizes youth violence as a public-health epidemic, all the while never losing his connection to his constituents, evidenced by his participation in a rap battle. Unfortunately, as inspirational as his tale might be (sadly, he has since stepped down), directors Smriti Mundhra and Sami Khan don't quite do full justice to his story with their often disjointed filmmaking. Franks still shines through the chaos, but less brightly than he might have in a different movie.
III. LIVE-ACTION SHORTS
1 (tie). A Sister (Delphine Girard, Belgium, 16 min.)
Overall, this category disappointed the most, though both this film and the next, below, were by far the strongest. In Delphne Girard's A Sister, we follow an intense car ride in which the female passenger fakes a call to her sister in order to pass information on to an emergency-services operator who, she hopes, will aid in her rescue from a male abductor. Initially gripping, the movie ends just as the tension is ratcheting up, which disappoints. It's not that I wanted anything bad to happen to the woman in the car, but rather that I was expecting the director, so assured in the beginning, to do even more with her premise, especially since she is fortunate to have the mighty Veerle Baetens (The Broken Circle Breakdown) as the operator, her face a marvel of restrained emotion as she struggles to maintain calm and assist the woman on the phone. Still, abruptly though the story may end, it is still effective for most of its length.
1 (tie). Nefta Football Club (Yves Piat, Tunisia/France, 17 min.)
A humorous take on a potentially depressing subject, Yves Piat's Nefta Football Club follows two young brothers in Tunisia after they discover a stash of powdered drugs in the desert, borne by a lost donkey. Though they older child – barely a teen – formulates a plan to sell the find and make a pile of cash, the younger one has a different idea. With its rough-hewn locations and use of non-actors, Nefta Football Club offers real-life atmosphere as background to this funny tale of the resilience of the innocent. It is ultimately slight, but satisfying.
3. Brotherhood (Meryan Joobeur, Tunisia, 25 min.)
Another film from Tunisia, Meryan Joobeur's Brotherhood starts off very strongly before losing its narrative in a confused jumble of misplaced edits. Also with non-actors, the movie follows the return of a family's prodigal elder son from the war in Syria, now with a hijab-wearing wife. Dad is very unhappy, though mom seeks to forgive, the two clashing over attitude and strategy, their two youngest sons unsure of how to behave. Effective in its first half, Brotherhood flubs its ending, though the story remains somewhat interesting enough.
4. The Neighbors' Window (Marshall Curry, USA, 20 min.)
Though I was a fan of director Marshall Curry's 2019 Oscar-nominated documentary short, A Night at the Garden, I am less enthralled by his fiction effort here, though it has its moments. Maria Dizza (Fits and Starts) and Greg Keller star as a married couple – parents to three young kids – who slowly become obsessed with the young folks across the way from them, whose lack of window blinds reveal their every sex act. As the always-tired thirtysomethings lament their long-ago youth, they miss the fact that their own life may be of equal interest to those who don't have what they do. It's a bit of an obvious conceit, unfortunately, and though Dizza shines (as she always does), her partner is not quite up to her level. Still, I was surprisingly moved at the end, so there's that.
5. Saria (Bryan Buckley, USA, 23 min.)
Finally, there's Bryan Buckley's Saria, a film I wanted to like so desperately, focusing as it does on young women in a miserable state-run orphanage in Guatemala who strike a blow against their oppressors, that it took me until the last act to admit that the storytelling was a mess. The actresses impress, as does the location, but the narrative never quite gels. Based on the true story of a 2017 tragedy, the movie succeeds, at least, in drawing attention to the plight of orphans, particularly girls, everywhere.
– Christopher Llewellyn Reed (@ChrisReedFilm)
Like what you see here on Hammer to Nail? Why not pay just $1.00 per month via Patreon to help keep us going?