Jessica Baxter Recaps the 2018 San Francisco International Film Festival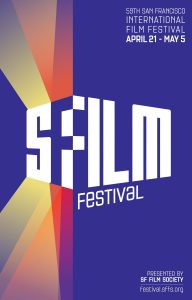 Every April, talented filmmakers from around the world coalesce in the City by the Bay for the San Francisco International Film Festival. Now in its 61st year, SFIFF is the longest running film festival in the Americas. SFFILM, a nonprofit organization, helms the fest which caters to an audience of 75,000 people from both inside and outside the industry. This year, the fest ran from April 4th to 17th and showcased almost 200 films.
SFIFF Highlights:
Half the Picture – Amy Adrion's debut documentary focuses on the film industry which is guilty of some embarrassingly low statistics when it comes to hiring and funding the films of female directors. Hollywood has a gender gap the size of the Marianas Trench.
Adrion's film reminds us that despite all the hashtags, it's not getting any better. In fact, it's worse, and more so with women of color. Racism and gender inequality are built into our society. Adrion interviews a primo crop of women directors of television and film, including Mary Harron, Ava DuVernay, Miranda July, Catherine Hardwicke, and Penelope Spheeris, Jill Soloway, and Kimberly Peirce. They tell of their struggles to break into the industry and how they continue to meet opposition even after proving their mettle. The film will hit theaters in June and VOD on July 10th.
I Hate Kids – Tom Everett Scott (That Thing You Do!) leads a small cast of familiar faces who work their magic on a pat premise. Scott plays Nick Pearson, the writer of a bestselling book about the joys of a child-free life. But his misspent youth comes back to haunt him when Mason (Julian Feder) shows up to his wedding rehearsal dinner claiming to be his long-lost son. The teen has found his father with the help of Fabulon, a mostly fraudulent psychic (Tituss Burgess, Unbreakable Kimmy Schmidt) who has an unexplained moment of legitimacy.
The trio embark on a road trip the day before Nick's wedding so he can shunt Mason onto his birth mother and marry his similarly-minded fiancé. The reason behind Fabulon's continued presence is unclear, but Burgess keeps it entertaining. John Asher directs this family-friendly romp and Scott sells his inevitable transition from curmudgeon to big softie.
Purge This Land – Director Lee Anne Schmitt has made a tragically beautiful essay film inspired by the inevitable hatred and hardship her young mixed-race son will experience as grows up in a country that was founded on genocide and white supremacy. She frames the film with the story of John Brown, a 19th century white abolitionist who spent his life fighting systematic racism. She peppers Brown's chronicle with personal anecdotes and America's greatest hits in terrorizing people of color.
Schmitt's monotone narration plays over museum-quality static images of the grounds Brown traversed as well as dilapidated buildings in underprivileged communities, ironic graffiti, and the occasional mural. She also shares some archival photos of riots and a few personal images from inside her home while her son innocently plays off camera. The jazzy score by Jeff Parker plays over the diegetic sound of cars and natural landscapes.
The most important thing Purge This Land does is refute the "not all white people/all lives matter/reverse-racism" mentality that's behind maintaining the oppressive status quo. The message may preach to the choir or fall on deaf ears. But we must fighting till everyone is free,
Hal – Amy Cargill directs this loving tribute to the one of the most influential directors of independent cinema. Hal Ashby is best known for his unconventional multi-generational star-crossed love story, Harold and Maude. He also got one of the best performances of his career out of Peter Sellers in the brilliant social comedy Being There (a film that Judd Apatow calls "perfect").
Ashby spent much of his career raging against the Hollywood machine. The film reenacts his vitriolic correspondence with the studio shills who would keep him down. There are also heartfelt interviews from his good friends and collaborators, such as Jeff and Beau Bridges, Rosanna Arquette, Jane Fonda, and Jon Voight. Ashby's daughter also weighs in on what it was like to become aquatinted with her father through his films.
The film chronicles Ashby's roller-coaster career from his 7 consecutive masterpieces in the 70s, to his creative nosedive in the 80s, to his untimely death from pancreatic cancer.
Scary Mother – This astonishing debut from a 26-year-old Georgian woman named Ana Urushadze film follows a middle-aged mother and housewife who is consumed by the novel she is writing. It's a smart commentary on gender double standards and what it means be a "real" writer. Urushadze took home the Golden Gate Best New Director award and despite the rampant sexism that plagues the film industry, we should be hearing form this woman again very soon.
Golden Gate Awards:
On April 15th, industry notables gathered at The Lab for the Golden Gate Awards. A jury awarded $40,000 in prizes to veteran and emerging filmmakers alike.
*New Directors Award ($10,000 cash prize for Fiction Feature):
Ana Urushadze (Georgia/Estonia) – Scary Mother
A film with a "confident tone and unquestioning commitment to its fearless protagonist, a complicated artist caught between motherhood and the wilds of her own imagination."
*McBaine Documentary Feature Award ($10,000 cash prize):
Simon Lereng Wilmont (Denmark/Sweden/Finland) – The Distant Barking of Dogs
"[A] film that's, "remarkable, exquisite and unforgettable."
*Special Jury Mention:
Rati Oneli (Georgia/USA/Qatar/Netherlands) – City of the Sun
A film with "stunning use of cinematography and sound design that immerses us in a place that is at once stark and stirring."
*McBaine Bay Area Documentary Feature Award ($5,000 cash prize):
Erika Cohn (USA/Palestine) – The Judge
A film that "[turns] a lens on a charismatic and influential woman who is fighting for equality against all odds, and for its nuanced portrayal of a culture that is often misunderstood."
*Narrative Short Winner ($2000 cash prize):
Jerry Carlsson (Sweden) – Shadow Animals
A film with "masterful control of tone and pacing. Shot from the perspective of a young girl at a dinner party, Jerry Carlsson's short strikes a delicate balance of dread and intrigue, delightfully incorporating surreal, beautiful dance while exploring group mentality anxieties and the potential of one outsider."
*Special Jury Mention Narrative Short:
Carlo Francisco Manatad (Philippines) – Jodilerks Dela Cruz, Employee of the Month
An "impressive and rebellious movie, from the opening credits until the very end, explodes with the energy of a Molotov."
*Documentary Short Winner ($2000 cash prize):
Paloma Martinez (USA) – Crisanto Street
A film that, "skillfully renders a touching and powerful portrait of a family trying to survive on the edges. Never sentimental, Martinez captures the family's struggle with dignity and the ephemeral possibility of hope."
*New Visions Short Winner ($2000 cash prize):
Anthony Svatek (USA/Tuvalu/New Zealand/France) – .TV
"[A]n illuminating and surprising account of the hidden economies of technology and the island nation's eminent risk of extinction due to climate-change."
*Special Jury Mention, New Visions Short:
Ameer Kazmi (USA/France/Germany) – Fair Grounds
"[A] tenacious yet elegant abstract critique and exploration of youthful masculinity."
*Animated Short Winner ($2000 cash prize):
Elrini Vianelli (USA/Greece) – Icebergs
A film that, "weaves together the small, funny, mundane, and most important moments of its characters' lives, presenting only snippets of what are full, complex people: the human condition in 10 minutes."
*Bay Area Short Winner ($2000 cash prize):
Trevor Jimenez (USA) – Weekends
"[A]n animated short with no dialogue, [with] the depth and narrative arc of a feature. The back and forth travels of a young child between his divorced parents' dwellings reminds us all of what constitutes family, and what makes a place, something we call home. Perhaps it is somewhere in between."
*Bay Area Short Second Prize Winner ($1500 cash prize):
Bradley Smith, Tyler McPherron (USA) – 49 Mile Scenic Drive
It "tells the history of San Francisco's iconic 49 Mile Scenic Drive signs and the journey to restore them to their perfectly designed glory."
*Youth Works Grand Prize ($1000 cash prize):
Theo Taplitz (USA) – Goodbye Sam
It's "emotionally embracing the power of friendship, making us laugh and cry and wanting to see more of the oddball story of a boy and his pet bird."
*Youth Works Special Jury Mention:
Florence Winter Hill (UK) – Elle
"[S]triking an emotional chord for all of us who had to face growing up and letting go of childhood dreams."
*Family Film Jury Prize Winner ($1500 cash):
Paloma Martinez (USA) – Crisanto Street
*Special Jury Mention:
William Salazar (USA) – Bird Karma
"[T]aking on astonishing depth with playfulness, simplicity, humor, and beauty."
Congrats to the writers and directors who made these films possible. See you next year!
– Jessica Baxter (@tehBaxter)