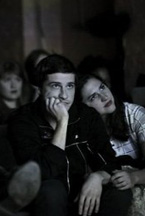 (Open Five 2 is available for free viewing right now at NoBudgeFilms.com, and it also screens in Brooklyn at BFP East on Thursday, March 28, 2013, as part of the Brandon Harris-curated Hammer To Nail Screening Series.)
Perhaps better known to indie film fans for his terrific turns in Factory 25 titles like Amy Seimetz's Sun Don't Shine and Dustin Guy Defa's Bad Fever, Kentucker Audley has made four features over the past half decade, most notably 2007's Team Picture, which beyond containing the greatest sequence revolving around a kiddie pool in cinema history, announced Mr. Audley, formerly Andrew Nenninger, as an intriguing new regionalist voice in American indie cinema. Once again turning his lens on himself and his troubled romantic life, Kentucker Audley's Open Five 2 is as sneakily beautiful as it is surprisingly earnest.
A sequel of sorts to Audley's 2010 effort Open Five, which found Audley and Memphis musician Jake Rabinbach (of Echo Friendly fame) taking a pair of young women on a by turns comical and melancholy tour of Audley's adopted home town of Memphis, the new film finds him a bit older but equally confused, in the midst of a relationship with his girlfriend Caroline (played by Audley's real life girlfriend Caroline White) that is troubled by the distance that separates them; Kentucker, in the midst of editing a film that is more or less the original Open Five, lives Lexington, Kentucky, while Caroline resides in Memphis. Frustrated also by the possibility of sexual betrayal, Kentucker reunites with Jake and his unassuming fashion model friend Z (Elizabeth Behl) to set out on a trip to New Orleans via Memphis, hoping to assuage his insecurities along the way.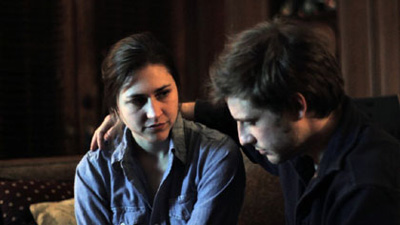 As with his other shoestring-budgeted features with slender running times, Audley wins interesting, naturalistic performances from his actors, including himself, and avoids many of the pitfalls that plague the cottage industry of small movies like this. From 2007's Team Picture on, his has been a cinema that embraces laconic, visually oriented humor while at the same time having characters speak convincingly, and at length about their own minor miseries and triumphs. It's a tricky balancing act and only through his thoughtful editing instincts, which gravitate toward punchy, truncated scenes that are often allowed to play out over longish single takes, does Audley pull it off, embracing dead time in a way that is much less cloying than one is used to from practitioners of this kind of cinema.
Rob Leitzell's cinematography doesn't draw that much attention to itself, but he does a good job at handling even the most uncinematic environments with grace, shooting much of the movie in not terribly flattering, late day winter light and finding snippets of photogenie walk-and-talks around chain link fences or grand southern porches in the early evening. Though he populates the movie with a variety of familiar faces from his orbit, including Defa and Sophia Takal, it's White and Audley's work together which is most interesting; they achieve a level of intimacy that is almost impossible to fake, their characters groping toward some sort of mutual understanding and appreciation that at movie's end feels all but unsustainable, but not for lack of trying.
— Brandon Harris