(Bad Fever opens in New York City at the reRun Gastropub beginning Friday, January 3, 2011. It world premiered at the 2011 SXSW Film Festival and is being distributed by Factory 25. Visit the film's official website to learn more. NOTE: This review was first posted on Thursday, February 2, 2012, as a "Hammer to Nail Pick of the Week" at the Filmmaker Magazine blog.)
For those viewers with a deep-seated fondness for the character-based New Hollywood dramas that were churned out in the 1970s, Dustin Guy Defa's Bad Fever will feel like a welcome return to that glorious past (I should know, as I am guilty of said deep-seated fondness). From the spare opening title card—complete with a copyright tag at the bottom!—to its placing of atmosphere and character firmly in the foreground, Bad Fever recalls films from the past more than it does those it brushed up alongside in film festival programs over the course of the past year. Yet, to be clear, Bad Fever isn't some hip exercise in retro coolness. Defa's film is a darkly funny, ultimately crushing portrait of a lost soul who is unable to forge the type of connection he so desperately wants.
Kentucker Audley plays Eddie, a Salt Lake City loner who lives with his mom (Annette Wright) and dreams of stand-up comedy stardom. The only problem is that Eddie is an Awkward Savant of at first hilarious, then increasingly heartbreaking, proportions. His DNA reeks of Travis Bickle, Rupert Pupkin, and Raymond Babbitt. When he meets Irene (Elèonore Hendricks), it's clear that his body has begun to awaken in a way that it has never awakened before. It turns out, Irene has been hired by a man to videotape herself—on VHS, mind you—interacting with young men such as Eddie, for his, or some other disturbed pervert's, benefit. This footage, which was in fact shot with an actual VHS camera, heightens the film's voyeuristic grittiness, to the point where even an innocent exchange of dialogue is laced with an undercurrent of perversion.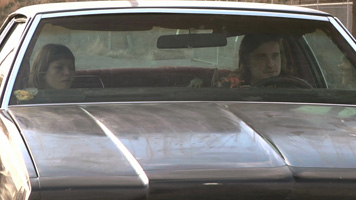 Irene continues to videotape Eddie, but it's also quite clear that she is charmed by his bumbling innocence. Just days into their relationship, Eddie finally confirms a slot performing stand-up at a local club, where he abandons his "jokes" in order to publicly express his feelings for Irene in front of Irene, his mom, and a roomful of strangers. While it would have been so easy for the pathetic spectacle of this moment to overshadow Eddie's honest sadness, Audley's performance will make your stomach curdle as if you were sitting at one of that bar's tables yourself.
Elèonore Hendricks has already proven herself to be one of indie cinema's most assured and dependable actresses (see: The Pleasure of Being Robbed, The Strange Ones), yet it's Audley (a filmmaker in his own right) who is the absolute revelation here. This is unequivocally a real performance by a real actor, who displays a commitment to his character that deserves to be recognized in some fashion during awards season next year. Based on this, and other, recent performances of Audley's that I've seen, I don't feel the slightest bit silly or hyperbolic in stating that Hollywood has a new Paul Newman or Brad Pitt on their hands—if they play their cards right, that is. His looks, his aura, and, most importantly, his gift of delivery, is something that doesn't come around very often, however small or large the production.
The first time I watched Bad Fever, on a screener in conjunction with its world premiere at the 2011 SXSW Film Festival, I remember feeling an unavoidable tinge of disappointment that it hadn't been shot on celluloid. As a filmmaker myself, I understood that this was an unfair, idiotic thing to think, but that only went to show how much I admired Defa's filmmaking. Fortunately, a second viewing has put that issue to bed, and I am now able to give in completely to what Defa and his collaborators have pulled off. Exceptionally well acted, directed, and edited (by David Lowery), Bad Fever beats with a serious heart and burns with a frustrated soul.
— Michael Tully