(Only is now available for rental at iTunes. This review was first posted when the film screened at the 2010 Slamdance Film Festival. Visit the film's official website to find out more detailed information.)
Every time I see a film like Ingrid Veninger and Simon Reynolds' Only, my faith in cinema is restored. One might think a groundbreaking, unprecedented reinvention of the wheel would be a stronger faith builder, but for me, it's more inspiring to watch a simple, familiar story be told in a way that it's never been told before. Only does that (or at the very least, it did that for me). While it will certainly get compared to many films that tread similar terrain—Once, Before Sunrise, Quiet City, or however many countless less successful versions—Veninger and Reynolds do a few different things that make theirs feel so fresh and new.
Daniel (Jacob Switzer) is a lonely twelve-year-old who lives in a motel that his parents manage in northern Ontario. One day, he stumbles across Vera (Elena Hudgins Lyle), another twelve-year-old who is staying at the hotel with her constantly bickering parents. After a curt first meeting, they head off into the snowy woods to escape their boring, solitary lives. Without realizing what's going on, something inexplicably sweet starts stirring between them.
Let me explain two very important things about this film, both of which make it different from so many others. First of all, we're talking about actual kids here. How obnoxious is it in romantic tales when two teenagers—or, God forbid, actual grown adults—have insufferably cute discussions as they get to know one another? Or think about the nightmarish variation, in which characters exchange clever dialogue that is wise beyond their years and pathetically unconvincing. Both of these approaches give love stories a bad name. But in Only, Daniel and Vera are only twelve years old. (Having just written this sentence, the title comes much more clearly into focus: Only, indeed.) This genuine adolescence and inexperience renders their awkward, cute dialogue wholly convincing and, in turn, utterly attack-proof. For this is how these characters would really talk in this situation! In the aforementioned movies, a stiffer, more unromantic viewer would be looking for a way to downpour on the parade. But with Only, there is an honesty sweetness that makes it much more difficult to dismiss.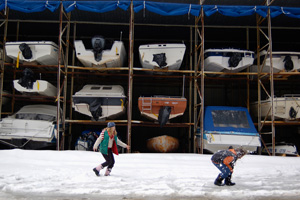 In the case of the budding, day-long relationship between Daniel and Vera, I wouldn't even necessarily call it love. I'd call it crush. It's clear that they're still at a far more innocent age, when these feelings haven't even arrived yet. And that is another hugely important point. Veninger and Reynolds' film isn't even about falling in love, per se. It's about waking up to the idea of love. Most people fall in love more than once in their lives, to varying degrees. But there's only one chance to feel that possibility as it presents itself for the very first time. Only captures that rare, magical moment in time.
As usual, a strong script will only take you so far. With a film like this, casting is even more important, for there is an unavoidably dangerous dependence on the chemistry between the lead actors (not to mention the performances on their own). Fortunately, in Switzer and Hudgins Lyle, Veninger and Reynolds have found two incredibly endearing leads. Oh yes, of course, Switzer just so happens to be Veninger's son (speaking of magic). While the press notes say Only was scripted, you wouldn't know it from the exchanges between these two youngsters, which have a comfort and ease that feel improvisatory. Without that effortlessness, the whole film would fall apart.
Only is a slight film, but it wouldn't work if it had been made any other way. While viewer temperament will certainly determine how strong a reaction it invokes, I can say for myself that it made me feel tingly in remembrance for how I felt when I was young, when the world was still hopefully and miraculously wide.
— Michael Tully