Once Upon a Time in Uganda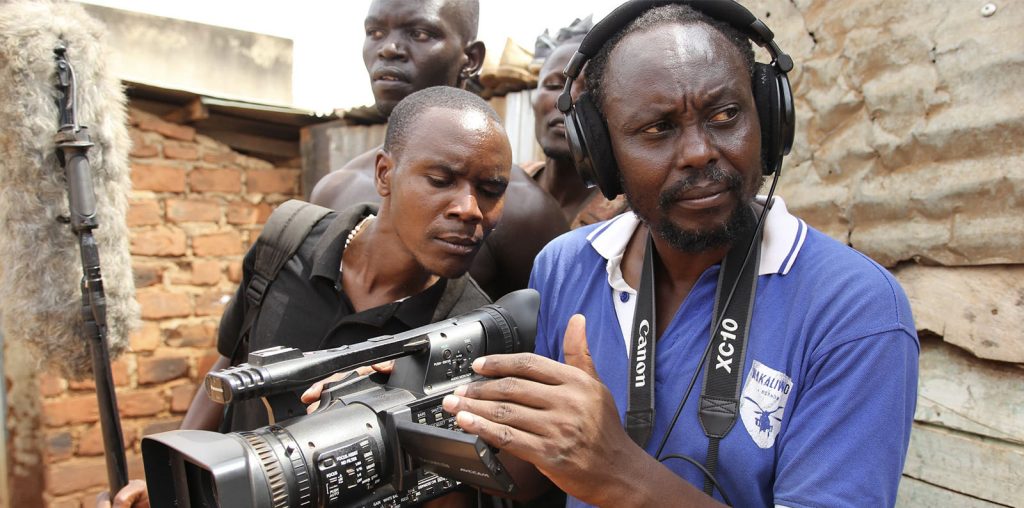 (The 2020 SXSW Film Festival was sadly cancelled. Yet Hammer to Nail is still reviewing films that were slated to premiere at the fest! We present, #LostFilmsofSXSW. Like what you see here on Hammer to Nail? Why not give just $1.00 per month via Patreon to help keep us going?)
We in the United States have an enduring tradition of cultural self-centeredness, whereby it becomes hard to recognize innovations from abroad, particularly from less developed nations outside the European West. Such attitudes are infectious, even within those other nations, where local innovators may find themselves overshadowed by outside product. Enter Isaac Nabwana, a Ugandan jack of all trades (and master of many) who, among other noteworthy accomplishments, makes kick-ass low-budget movies. With his Ramon Film Productions, located in the poor Wakaliga neighborhood of the country's capital, Kampala, Nabwana has single-handedly launched a homegrown film industry that has long delighted the general populace (if not the elite), and may soon be poised to spread well beyond Africa. In the new documentary Once Upon a Time in Uganda, directors Cathryne Czubek and Hugo Perez plunge us deep into the delightful frenzy of Nabwana's "Wakaliwood," where we can enjoy cinematic mayhem to our heart's content.
Nabwana makes a splendid protagonist. Beyond his perpetual bonhomie – it's remarkable how cheerful he always seems – he comes across as profoundly capable of just about everything to which he applies body and mind. A former bricklayer, there is little of either manual or mental labor that seems to surpass him. Still, given that his ambitions outstrip his budget and cultural reach, he is grateful for help, however it manifests itself. When an unemployed American actor, Alan Hofmanis, a fan of his work, pays a visit, the two become fast friends, Hofmanis pledging to use his professional connections back home to broaden Nabwana's international appeal. At first, I was worried that the filmmakers were merely using a white guy as an entry point into an African story – and maybe he was their entry point – but I soon let go of those fears as I saw how integral to each other's lives the two men became. Hofmanis genuinely believes in Nabwana's genius, and Nabwana needs someone to bring his work to the West. They form a good partnership.
Though it is not without its low points, especially once Nabwana finally, independent of Hofmanis, earns recognition from within Uganda. Suddenly, there is the potential for real money to be made, at home, and foreign plaudits can wait. It's the first major test of the two men's friendship, and they weather it poorly. More importantly than that, though, Nabwana gains greater legitimacy among Ugandan movers and shakers. One can understand, however, why he has heretofore been seen as a novelty, rather than a serious artist: his films are filled with cartoonish violence and cheesy effects, often parroting the style of Hollywood blockbusters. At least that's how they seem, initially; further study shows how the stories are a natural response to the many war zones and attendant trauma on the continent, of which Nabwana and a lot of his actors and crew are victims. He challenges Westerners who only want to validate African dramas that deal directly with the conflicts. That's not what Ugandans want to see, he says. What's wrong with entertainment?
Eventually the rest of the world does discover Nabwana, with films like Who Killed Captain Alex? and Crazy World paving the way after Hofmanis arranges a screening of the latter at the Toronto International Film Festival in 2019. And how could people not love the movies, as exuberantly fun as they are, testaments to the restless and passionate spirit of their creator? Czubek (A Girl and a Gun) and Perez (Summer Sun Winter Moon) do us all a great favor by showcasing the man and his great talent, throwing all the tools of modern documentary filmmaking into the mix to serve his story as best as they can. Once upon a time in Uganda, there was a director worth celebrating. Start the party.
– Christopher Llewellyn Reed (@ChrisReedFilm)