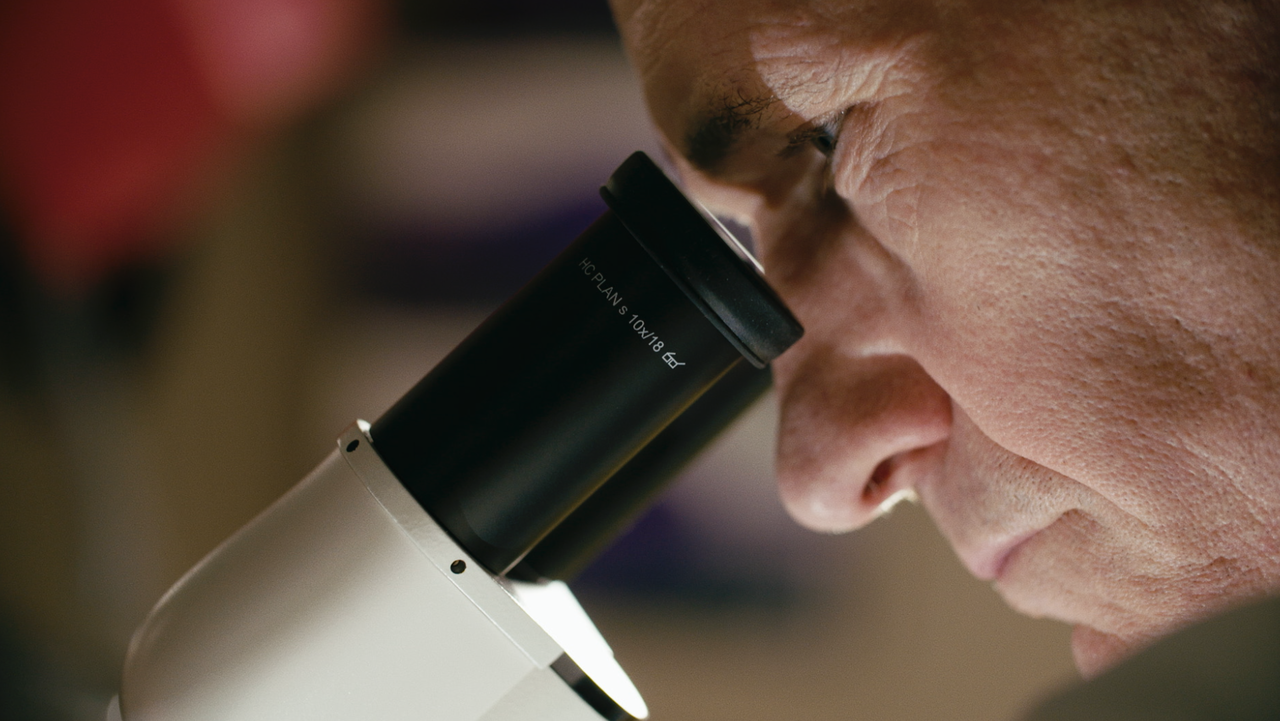 (The 2022 Tribeca Film Festival runs June 9-26 both online and in-person. Check out Matt Delman's movie review for Of Medicine And Miracles. Seen it? Join the conversation with HtN on our Letterboxd Page.)
The work of doctors has been the subject of many documentaries, though perhaps never so groundbreaking than here, in director Ross Kauffman's Of Medicine And Miracles. Seeing as clinical trials typically start in mice, "Of Mice And Men" would've been an equally fitting title were it not already taken. Miracles are rare, about as rare as a documentary with a happy ending. Kauffman follows the discovery of a new cancer cure—a term the interviewees don't throw around lightly—through the doctors, scientists and patients, namely Emily Whitehead, that proved its efficacy. Beating cancer is a process, and Kauffman splices talking head interviews with home-and-hospital videos from the Whitehead family to convey the physical and emotional toll, similar to Jennifer Brea's Unrest (2017). Though that film painted doctors as mostly baffled and gender-biased, here Kauffman champions the medical team as heroes. Both sides are true. Kauffman has already won a documentary Oscar in 2004 for co-directing Born into Brothels, and he looks to repeat with a headline grabbing story told with cinematic finesse.
Emily Whitehead was diagnosed of Leukemia at the age of five. After chemotherapy failed, her parents sought an experimental treatment as a last resort. The family foundation explains on their website, "the process involved collecting her T-cells (a type of white blood cell), genetically reprogramming them to recognize and attack cancer cells, and infusing the modified cells back into Emily's blood." It's been called a 'living' treatment since it remains in your body forever. Even more fascinating is the use of HIV in this technique, which raised a lot of questions. Can doctors use HIV to cure cancer in kids? Turns out they can, with 15,000 patients treated since Emily was patient zero.
The doc is pretty straightforward in its storytelling techniques, perhaps because the story itself is so extraordinary. You could listen to it as a podcast and be equally riveted. Kauffman is also credited as one of three cinematographers, and though his shot selection is somewhat sterile, he is best at eliciting emotion from his subjects. He remains mostly unseen and unheard, but his purpose shines through in the filmmaking, which feels quite personal despite it not being about his own family. Editor Hypatia Porter weaves in the home movies and B-roll with surgical precision, ensuring the audience can follow along with the doctors' strategy.
We don't get to know Emily too well, but instead the real star is Dr. Carl June who leads the research team at UPenn, and the Children's Hospital of Philadelphia (also known as CHOP). The film gives ample time to his backstory, his obsession with human anatomy, and losing his first wife to Ovarian cancer. He boils most of his accomplishment down to luck, using Alexander Fleming's inadvertent discovery of penicillin as an analogy. To the viewer, it's clear there is much more than luck going on here. There's an admirable doggedness to this team of brilliant and dedicated professionals who are saving lives by training our bodies to go to battle against the toughest of disease.
– Matthew Delman (@ItsTheRealDel)
2022 Tribeca Film Festival; Ross Kaufman; Of Medicine And Miracles movie review