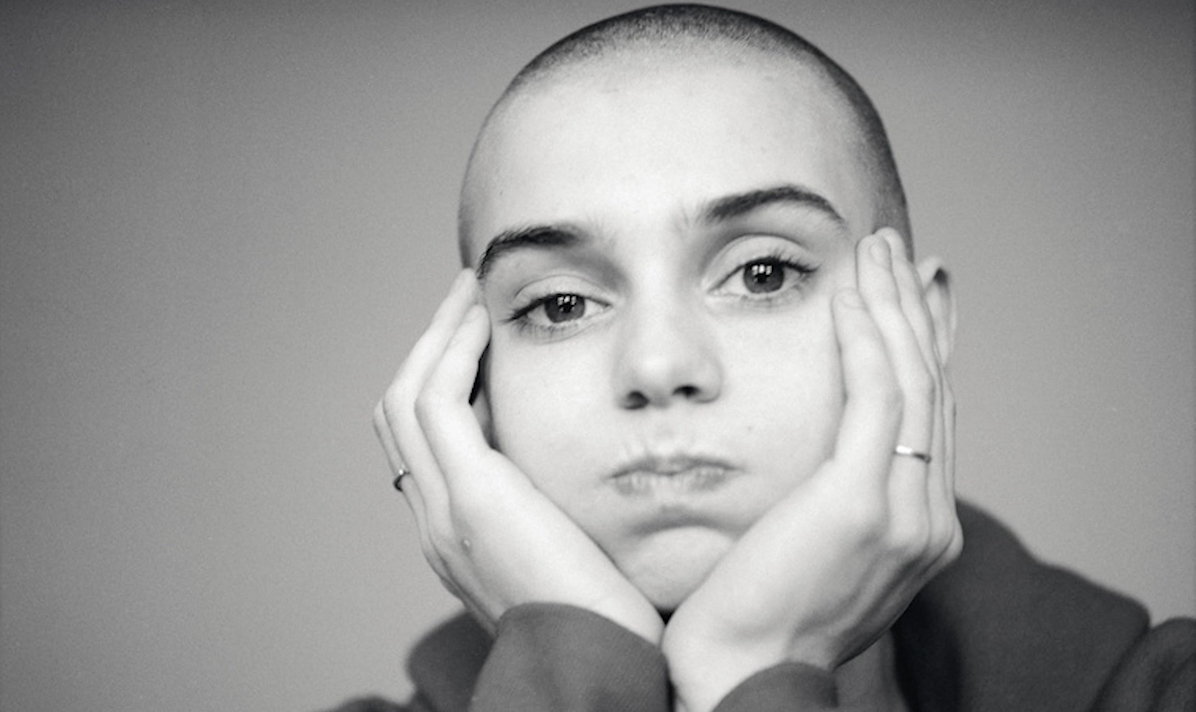 (The 2022 Sundance Film Festival runs January 20-30 all virtually. Check out Chris Reed's movie review of Nothing Compares. Like what you see here on Hammer to Nail? Why not pay just $1.00 per month via Patreon to help keep us going?)
Like many a member of Generation X, I came of musical age in the 1980s, encountering Irish singer-songwriter Sinéad O'Connor upon her album debut, The Lion and the Cobra. Her marvelously expressive voice—at times powerful, at others plaintive, and always mesmerizing—wound its melodic way through ballads such as "Troy" or pop singles like "Mandinka." But it was her second album, the 1990 I Do Not Want What I Haven't Got, that would produce the global hit "Nothing Compares 2 U" (composed by Prince), from which director Kathryn Ferguson's first feature-length documentary, Nothing Compares, takes its title. 
That song would mark the high point of O'Connor's fame and success, for she soon thereafter dared attack the venerable institution of the Catholic Church on Saturday Night Live, ripping up a portrait of the Pope after singing Bob Marley's setting of a Haile Selassie speech calling for an end to racial inequities. After that, her career cratered when radio stations stopped playing her music. It was mainstream cancel culture before we had a word for it, directed at someone unable to properly defend herself. Today, our understanding of the sins of the priesthood have caught up to that protest, but the damage is done. We learn all the ins and outs of the why and the how here, and it makes for an ever-engaging, comprehensive portrait of O'Connor (who now goes by Shuhada Sadaqat when not performing) and a searing condemnation of the forces that tried to ruin her.
Ferguson opts for audio interviews only, never showing her subjects–O'Connor, friends, lovers, colleagues and more—except in archival footage, though she at least ends the movie with a sequence of the present-day singer once again in the studio. O'Connor acts as primary narrator, events corroborated and further explicated by other witnesses. The treasure trove of material impresses, with copious contemporary television interviews supplementing the performance and music-video footage. Though misogyny and paternalism are still alive and well in our current world, it can be easy to forget just how much more they were pronounced back then, even for those of us alive at that time. Lest we fail to remember, Ferguson provides the receipts, allowing the questions posed by male interviewers to hoist the askers by their own petards.
We also learn about the roots of O'Connor's early trauma, grounded in her mother's mental illness. She sees her mom's fragility and subsequent cruelty towards her as coming out of a repressive upbringing in deeply Catholic Ireland, where women were offered no outlet for any self-expression, vessels for childbearing and nothing more. A troubled youth, herself, as a result, O'Connor spent time in the same kinds of institutions that molded materfamilias. Though she found love and friendship among some in those schools, including a music teacher who inspired her, let's just say that the nuns, also a product of that brutal environment, were not particularly kind. Is it any wonder she bore a righteous grudge, based on lived experience?
And then there is the music. O'Connor is, after all, a singer and a songwriter, and there is plenty of that in this documentary. If you enjoy seeing the formative years of someone you admire, hearing how your favorite songs came to be, it's all here. I especially loved learning how the gorgeous "Nothing Compares 2 U" video was filmed.
If the film has a (very minor) flaw, it's that we jump far too quickly from the aftermath of the SNL episode to the present, skipping over what must have been very difficult years (tragedies which have continued with the recent suicide of her teenage son); then again, maybe we don't want to know. As it stands, the narrative trajectory of Nothing Compares offers a profoundly moving cinematic odyssey of one of the great artists of the last 40 years, who suffered for being ahead of her time and now is well overdue for a reappreciation. Ready, set, listen.
– Christopher Llewellyn Reed (@ChrisReedFilm)
2022 Sundance Film Festival; Kathryn Ferguson; Nothing Compares documentary movie review