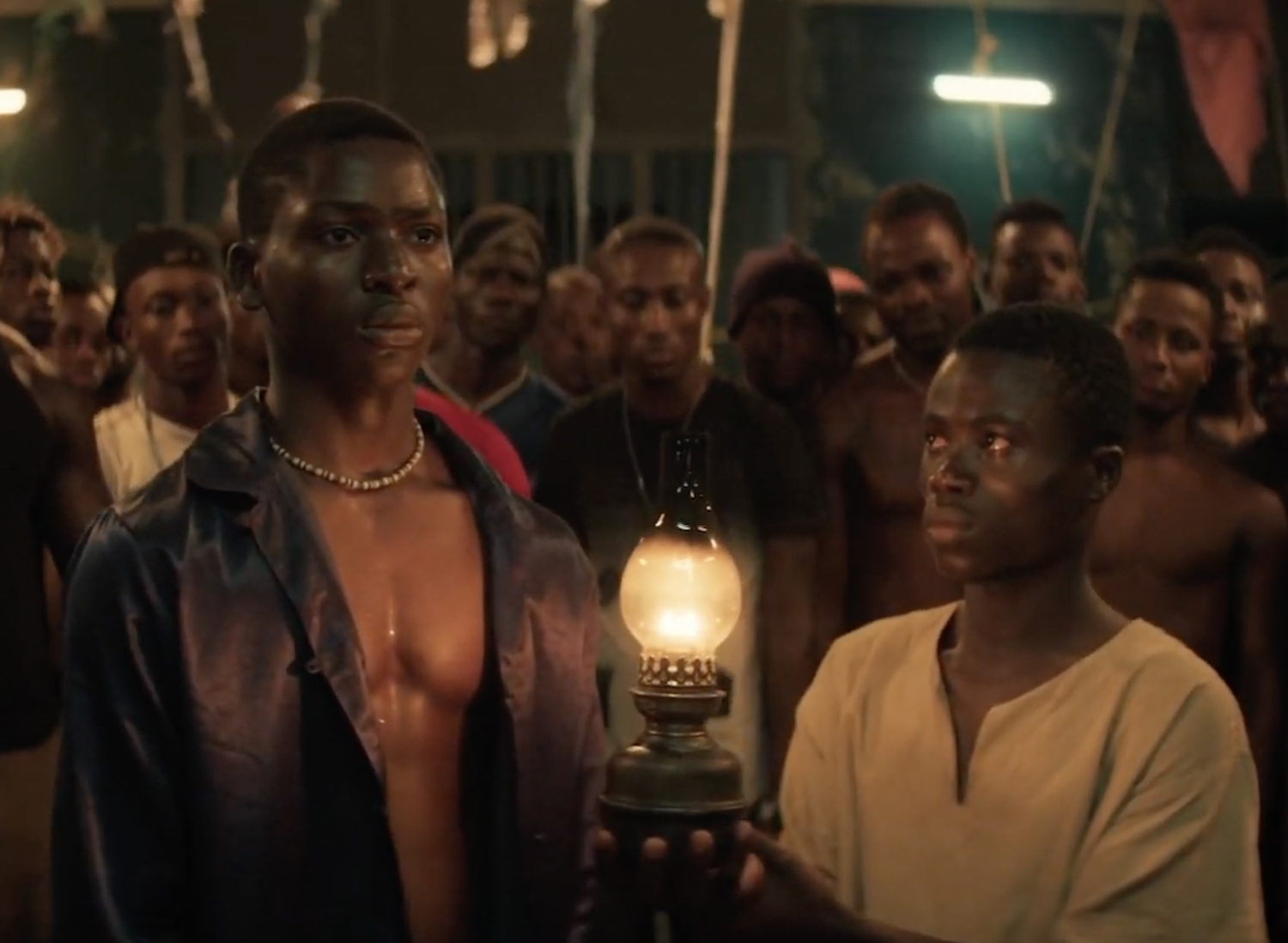 (The 2020 New York Film Festival (their 58th!) ran September 17-October 11. Like what you see here on Hammer to Nail? Why not give just $1.00 per month via Patreon to help keep us going?)
In his latest film, Ivorian director Philippe Lacôte (Run) explores the intersection of myth, folklore and post-colonial discontent in a gripping jailhouse drama filled with fascinating, three-dimensional characters, each with his own survivalist agenda. Set in Côte d'Ivoire's capital city of Abidjan's MACA prison, the movie follows the high-stakes narrative of a new convict thrown into the middle of a deadly power struggle between rival factions. As the mortally ill boss-among-inmates struggles to ensure a smooth handover of authority to his chosen successor, everything is on the existential table. To come out alive, our young hero must tell a tale as fascinating as it is endless, for when the sun rises on the morning of his second day inside, tradition dictates that he be executed once his story is done. Such is Night of the Kings, where fate has no mercy and luck is of your own making.
As we discover via opening title cards, MACA is only ostensibly ruled by its guards. The true head is the "Dangoro," a prisoner whose right to lead, once established, is only taken away if and when he becomes sick. Once that happens, it is his sacred duty to kill himself. The current Dangoro is "Blackbeard" (Les Misérables), who is nearing his end, still physically robust enough but requiring frequent puffs from an oxygen tank to get by. Knowing his days are numbered, Blackbeard seizes on the arrival of a teenage boy whom he quickly dubs "Roman" (storyteller) to prepare for the fabled "Night of Roman" signaled by the red moon rising in the sky. Though the poor kid swears he has no idea how to tell stories, he quickly realizes he has no choice, and since he is in prison because of crimes committed while in the company of a now-deceased legendary local gangster named Zama, decides to fabricate details from that man's life to save his skin. And so, drawing from his own imagination, actual facts and the legends learned from his griot mother, he spins his yarn, hoping to make it till dawn.
It's quite a wild ride of a fable, too, incorporating medieval warfare and magic, layered on top of the harsh realism of today's working class. Newcomer Bakary Koné, as Roman, thoroughly engages as a kid way out of his depth who nevertheless manages to come up with something in the way of an escape plan. The rest of the ensemble shines, as well, among them Leos Carax regular Denis Lavant (Holy Motors), cast, refreshingly, in the kind of mystical-sage role usually reserved for actors of color in all-white movies (here he is the only white face). All the elements, including the excellent cinematography, along with lyrical singing and dancing, come together in a consistently thrilling mix, making of Night of the Kings a majestic cinematic experience.
– Christopher Llewellyn Reed (@ChrisReedFilm)