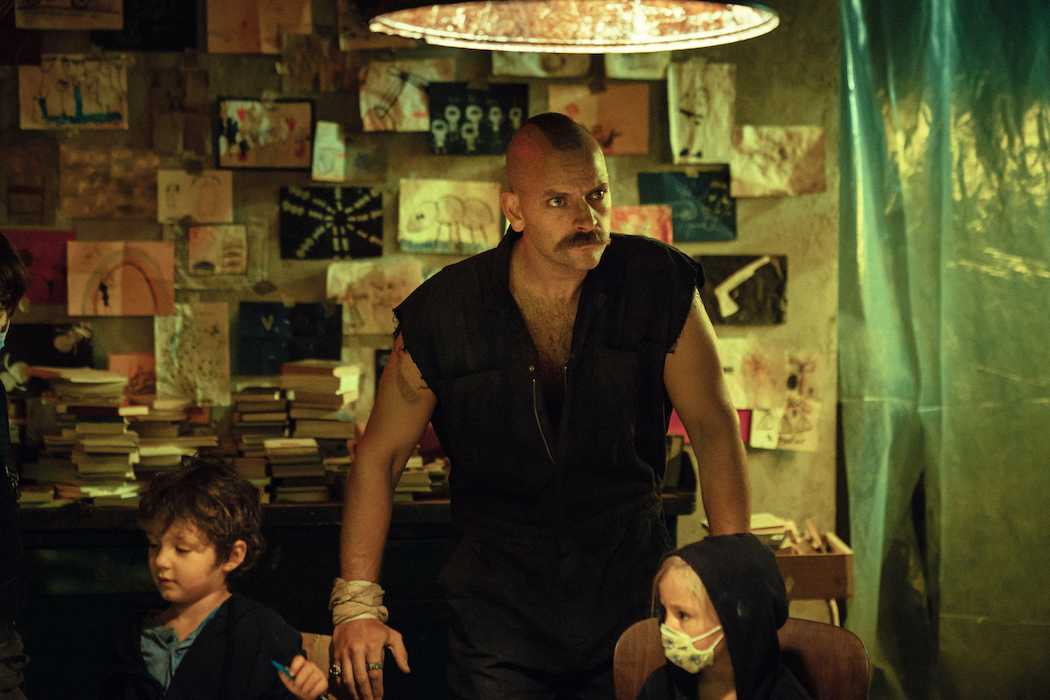 (Check out Chris Reed's movie review of Mondocane, available now from Kino Lorber. Seen it? Join the conversation with HtN on our Letterboxd Page.)
It's a dog-eat-dog world out there, the traces of post-apocalyptic ruin not as present as in many a sci-fi dystopia, but still creeping around the edges of the frame. When young would-be gang members burn down a local pet store/vet's office—the titular Mondocane ("dog world") of Alessandro Celli's thrilling, chilling debut feature—that terrorist act's lead architect takes on the name of the place he destroyed. Or rather, he is given it by Testacalda ("hot head"), the leader of the "Ants," a quasi-military youth group that plunders surrounding communities for what riches remain. With no other adult figures around, what are kids to do? It's like the boy scouts, except for the killing and arson. Lord of the Flies, meet Mondocane.
Civilization exists, but at a disadvantage, the listless energy of fortunate survivors often no match for the raw vitality of the dispossessed. But there's a balance of sorts, children captured by the police and delivered to a regional orphanage, which then works (via its own brand of cruelty) to create productive citizens. Which is worse? There are pros and cons to both sides. Perhaps it's better for each dog to look after themselves.
Pietro (Dennis Protopapa) and Cristian (Giuliano Soprano) are best friends, raised by an old fisherman who, we later find out, offered them his own sick form of parental depravity. They dream of nothing more than to join the Ants, but since Cristian suffers from epilepsy, it's unlikely he would ever be invited in. They already have a nickname for him: "Pisciasotto" (or "pissing oneself"), since Cristian inevitably urinates during his seizures. But though Pietro—now Mondocane—is welcomed with open arms after the fire, he won't go without Cristian. There's more to the latter than Testacalda (Alessandro Borghi, Naples in Veils) initially realizes, however. Once he sees the resolve in Cristian's eyes, as well as his ability to act ruthlessly, Testacalda relents.
The forces of law and order do not sit idly by. Police officer Katia (Barbara Ronchi, Everything's Gonna Be Alright)—who grew up in the orphanage (as did Testacalda, we later learn)—is on the case to find who attacked the pet store, and thereby take down the Ants. She locates a potential witness, Sabrina (Ludovica Nasti), a girl currently in that same orphanage, who saw Pietro casing out the shop (where she worked). But since Sabrina, Pietro and Cristian have separately been forging a secret friendship, Katia may be out of luck. So, too, may Pietro and Cristian, whose friendship frays in the maelstrom of battle.
Meanwhile, there is murder, violence and general mayhem sweeping this beachside district, the haves not so secure in their position vis-à-vis the have-nots. The underlying causes of near-societal collapse are never quite clear, but they don't have to be. The roots of what we see exist in our own universe of today. Take it a few steps further, concentrating wealth in smaller and smaller enclaves and leaving only crumbs for the rest, and Mondocane could happen anywhere and at any time. On top of these vast and powerful culture resonances, the performances—particularly of the children—in this high-octane drama are all top-notch. These dogs came to play.
– Christopher Llewellyn Reed (@ChrisReedFilm)